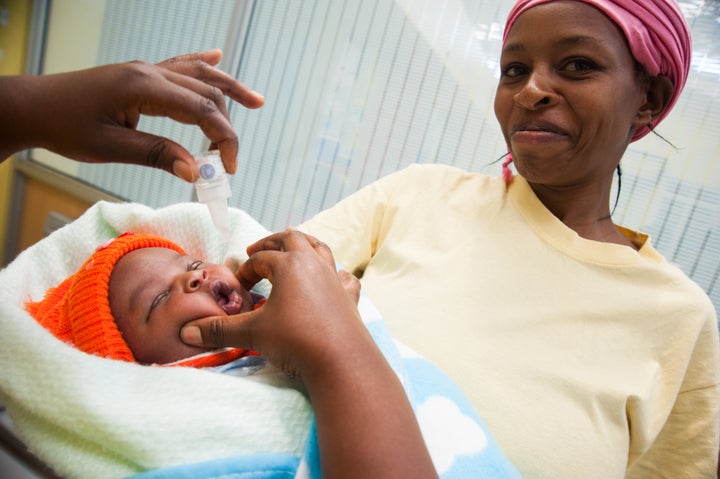 When a typical person hears the phrase "return on investment" or "ROI," what do they think of? I'd wager they're weighing a personal financial choice, like whether to put their retirement money exclusively into stocks or bonds, or whether the car they just bought will have good resale value five years from now.
The same idea can be applied to the investments we make in keeping ourselves, our children and our communities healthy. And the same financial calculus that's useful for maximizing your retirement portfolio can be applied to health interventions that not only save lives but do so in a cost-effective way. One of the best ways to get the most bang for your global health buck is to immunize children and women.
Last week in D.C., the World Bank and International Monetary Fund (IMF) hosted their annual meetings, where central bankers, government ministers, academics and members of civil society met to discuss economic development and the state of the world's economy. It was a multi-day affair where social justice, finance and international affairs played in the background while financial gurus passionately chewed on topics like ROI.
It's typically near important touch points like these where I like to put on my chef's hat and serve up a three-course argument for why policymakers should commit to fund health and why vaccines are one of the best levers we can use to build stronger communities and economies.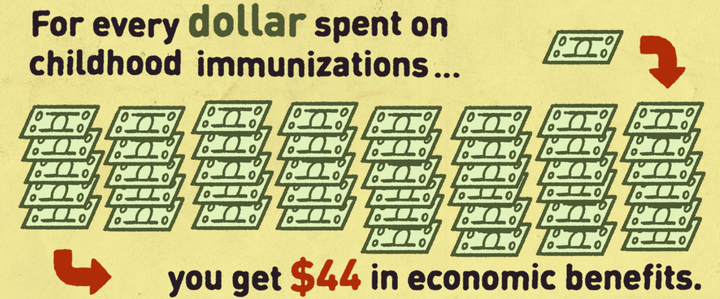 First, for the starter course of the argument. Investing in health not only saves lives, it safeguards societies from lost human capital and productivity. Healthy nations are prosperous ones. And as health investments go, vaccines are simply one of the best health tools ever invented. Every $1 spent on childhood immunization returns up to $44 in economic and social benefits, and according to the Copenhagen Consensus, vaccines are nearly on par with aspirin's use as a heart attack therapy when it comes to benefits per dollar spent on health. In part, that means if we invested the same amount into immunization that Americans spend annually on pet grooming and boarding alone—around $5 billion—we could have $80 to $220 billion in economic and social returns. Even in cash-strapped nations with the smallest budgets, investments in vaccines provide a public health safety net that help to strengthen health systems, avoid outbreaks and stave off emerging threats like antimicrobial resistance.
Unsurpassed health impact is the main course, and there's a lot to feast on. Vaccines have played a big part in helping halve the number of child deaths since 1990—and today, vaccines are estimated to save 2-3 million lives each year. Thanks to leadership from partners like Gavi, the Vaccine Alliance, developing countries have added up to 10 modern vaccines, immunized close to 640 million children, and prevented more than 9 million deaths over the past 17 years. Diseases such as smallpox have been eradicated, and once omnipresent illnesses like polio, meningitis and measles have experienced dramatic reductions—some nearing 90 percent. All thanks to immunization.
Dessert? That's easy: eradication. Smallpox is the only human disease ever eradicated completely from the world—a feat only made possible with an effective vaccine. And what health program gives you a better return on investment than one that vanishes a disease all together.
"So what's the rub?" you might ask, with no food puns intended.
The rub is that although vaccines have been proven safe and can save lives for pennies on the dollar, their life-saving potential doesn't yet reach all of the world's children. Virtually every child in the world can access a Coca-Cola, yet globally, one in every seven children is still excluded from vaccines. In Africa, one in five go unvaccinated.
Though critical gaps in data cloud the picture for millions of children in the hardest-to-reach communities, we do know that two-thirds of un-immunized children live in conflict-affected countries where civil strife, poor governance, and inadequate health system infrastructure leave them vulnerable to preventable, life-threatening diseases.
It doesn't have to be this way. With a concerted global effort, we can simply do better and reach these children. And, as was highlighted during this week's World Bank and IMF meetings, the world now has a tremendous opportunity to build on the progress of decades' past. It starts with national governments, donors, and the private sector continuing to invest in health and innovations that support immunization. And it means we must accept nothing less than ensuring that children everywhere are immunized, while never losing sight of vaccines as the proven life- and cost-saving modern miracles they are. Bon Appétit!
Popular in the Community