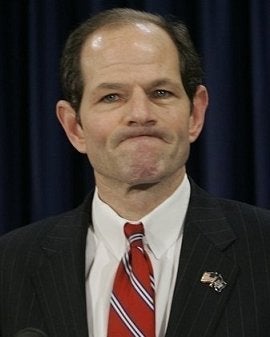 You know what they say: big ears, big...circulation numbers? Playgirl has offered to make former New York Governor Eliot Spitzer "a very attractive offer" to pose for their magazine. On a posting today on the Playgirl blog, the mag invited Spitzer to show them "what you saved for such a select few," dangling the $1 million figure offered by Hustler to callgirl Ashley Alexandra Dupré, whom Spitzer first met as "Kristen" and who has since been revealed happily offering up the goods for free on various "Girls Gone Wild" videotapes.
Here's the post that went online earlier today on "playgirlmag.wordpress.com," which ETP has confirmed actually IS the blog of Playgirl Magazine:
Dear Eliot,

It's not fair. We've been watching you; and we've seen how you've been crucified by the mass media, conservatives, and Republicans. We've stood by as your call-girl was offered $1 million by Hustler to show the world what she's already been showing the world for a whole lot less.

We think you've had a terrible, horrible, no good, very bad week. But we've been thinking.

Your political career is sadly over; and you owe a lot of money to a lot of people. Hell, you may land in jail before too long. So consider this letter a brief note of urgency.

How about making some loot back, by showing us what you saved for such a select few? How about strutting your sexuality, and defending your right to get down for the magazine and Playgirl.com? Couldn't you use a little rent money right about now? Seriously — get in touch with us. We're ready to make you a very attractive offer. Someone get Spitzer on the line: Playgirl needs him naked, now.
Wow — imagine what they'd pay Paterson! We confirmed the legitimacy of the offer with Playgirl editor-in-chief Nicole Caldwell — so, Spitzer, if you're reading this, you have options!
Also, an old-media/new-media note here: Caldwell said she understood our skepticism about the wordpress URL, noting that the magazine is separate from the website and blog, which are completely separate. She said that plans are afoot to merge the two, eventually. Update: A full-Spitzy preview? Courtesy of Elizabeth Benjamin at the NYDN's "Daily Politics" blog, below: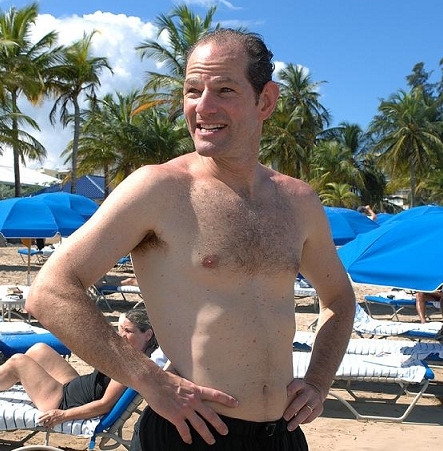 Photo by Debbie Egan-Chin
Calling all HuffPost superfans!
Sign up for membership to become a founding member and help shape HuffPost's next chapter