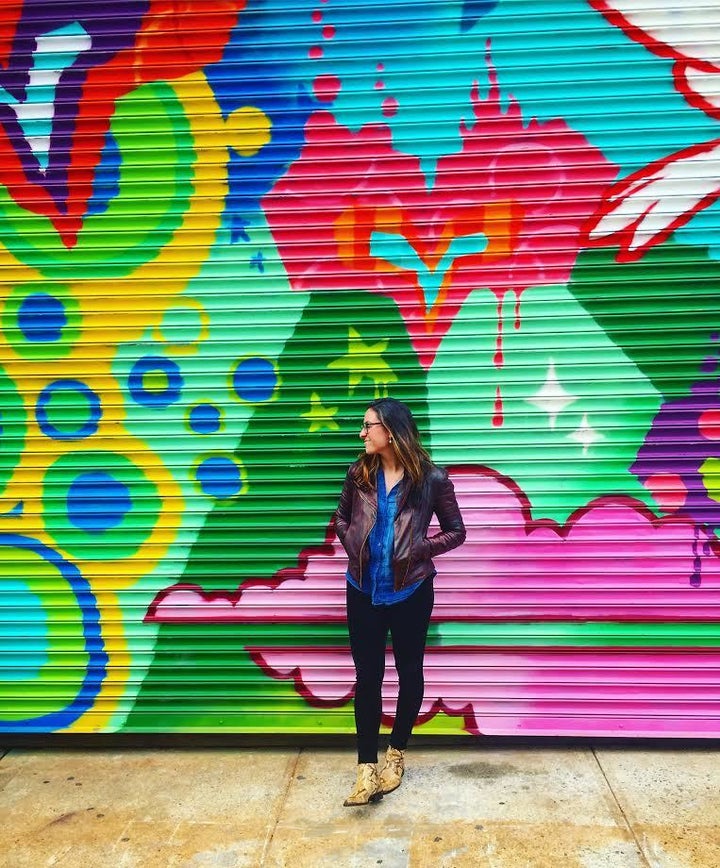 Not all of Adulthood has to be shitty.
Not all days are going to be confusing and weird. Not all days are going to have a huge question mark hovering over your head.
Some days, it feels like the training wheels can come off.
Remember when you were first learning to ride a Big Kid Bike, and your mom or dad or older brother let you go for a quick second? They kind of hunched over behind you, and you just kept peddling. Legs pumping, wobbling from side to side, tongue sticking out in concentration.
I'm sure you were thinking: "I'm doing it? I'M DOING IT." And, for an instant, you felt free. Alive.
Those fleeting moments of confidence can be rare in Adulthood.
But, sometimes you feel like the training wheels come off. Sometimes, the chains of confusion are unlocked — even for just a second.
A fall afternoon in New York, October 2016
Fall is a time of change in New York.
The brown and red outfits that dot SoHo's streets serve as a better signal of the new season than changing leaves. But nonetheless, there's a smell in the air of what's to come: sweaters and red wine and cozy nights in your apartment.
One of those late September days, I found myself strolling to meet some old co-workers for drinks after a long day. It was warm enough for light cardigan, and the sun was setting along the Hudson.
It was the kind of evening where everyone was trying to soak up the few in-between days of summer and fall. TriBeca's sidewalk restaurants were filled with cool couples and classy happy-hour folk.
Rverything just felt right in that moment. Calm. Like I belonged.
There are so many times as a 20-something we feel like we're faking it. Like, when someone asks for your opinion at work — you automatically do a double take. Or when you accidentally stumble into Whole Foods, you feel like everyone knows you're a loyalist at Trader Joes.
It's tiring to feel like you don't fit in.
But, sometimes you get a taste of those moments when This is It and you don't enter the wrong subway station and your heart doesn't pound when you see the bill at drinks.
As I was absorbing that moment, I began to think that Growing Up doesn't always suck. Because, as we get older, we become more comfortable with things that made us feel awkward as a kid.
Like our knobby knees. Or crazy hair. Or our snort-laugh.
The qualities that set us apart when all we wanted to do was fit in now make us Cool. Different. Interesting. Confident.
In that moment, I realized that I'm a Hugger. To me, shaking hands feels like the epitome of Being Fake.
I was never one for tough handshakes, competing for who could have the most powerful grip. Growing up in a Big Greek Family, handshakes weren't a thing. If you didn't kiss someone twice on the cheek you got a slap on the wrist.
So, hugs were my natural greeting — especially when I felt like this person and I had some type of connection.
This posed a problem when I entered a competitive business school in college. Handshakes were a competition. Handshakes showed who would Make It.
And after I graduated, I worked at a Big Bank — my first job out of college — where every meeting started with a tough handshake. Every after-work drinks ended with a handshake and a nod goodbye.
Even though I saw these people more than my family.
I remember at the end of my summer internship at said Big Bank, I went in for a hug to some senior, male managers. I knew them! I respected them! They felt like uncles to me at that point.
But, it couldn't have been more awkward.
Awkward enough that it scarred me well into the beginning Adulthood. It showed me that to be taken seriously, you had to be a Handshaker.
Well, on that September night, I realized that I'm a Hugger. I always have been, and always will be. And, I strolled into that bar with my head held high — hugging each and every one of my old co-workers.
I know it sounds like a small thing — and kind of silly, to be honest. Who cares if you're a Hugger or a Handshaker? It can't have that much of an impact on your life, right?
But, it takes a lot of guts to (1) realize and (2) make peace with the parts of you that you don't like. That don't fit in to society's picture of who you should be.
And, practicing those feelings of acceptance with the small (e.g. I'll never be a morning person, I'm not that organized, I'm a Hugger) makes it that much easier to accept who you are with the Big Moments.
Those Big Moments: when you accept who you love, or what you want to do in your career, or where you want to live — especially if it's different than the norm.
Because, those realizations are hard. And, fitting into the world's view of Who you should Be is easier.
But, when you finally get to that moment of acceptance — that freeing, airy feeling of This is Me — is what growing up is all about.