 A heart-felt presentation by Mazin Al Masrouri, a senior chemical engineering student from Oman who has bridged his Arab roots with some southern hospitality at the University of South Carolina (USC), has inspired me to reflect on the power of diversity and globalization. Could this be the next generation of leaders that will take America back to the constitutional spirit of 'one perfect union' that made it a world superpower?
A majority-minority America, emerging technologies, BRIC countries, blurred economic boundaries and social media are only a few of the many layers beginning to reshape the definition of competitiveness in today's global economy. However, are we equipping our youth to become best-in-class leaders to sustain our country's position in the world? In an America where issues of diversity and race still seem to taint political and corporate decision-making and immigration gets misunderstood as a handicap instead of a strength, it is gatherings like the one at USC's M.O.S.A.I.C. Symposium (Meaningful Opportunities for Students to Achieve International Competencies) that fuel a spirit of American academic excellence and leadership.
"Going abroad is your step into life... studying abroad was going to college for me," said Sheimaliz Glover, student in the International Business and Chinese Enterprise Program at the Moore School of Business as she reflected on her life experiences in China and desire to succeed in the global marketplace.
However, while she values her edge through study abroad experiences and multilingual abilities, she is part of the shy 1 percent of American higher education students who participate in a study abroad program. In fact, in the 2010-2011 academic year, only 273,996 U.S. students studied abroad for academic credit, according to the Institute of International Education and U.S. Department of Education's National Center for Education Statistics, leaving 99 percent of U.S. college students at a disadvantage in a changing and more culturally-diverse society.
For example, half of the citizens of the European Union speak at least one other language than their mother tongue at the level of being able to have a conversation while only 18 percent of Americans report knowing another language, leaving Americans with a concerning language gap as reported by the U.S. Department of Education. The gap gets even broader with the youth given that 69 percent of Europeans ages 15-24 are bilingual compared to 20 percent of American children.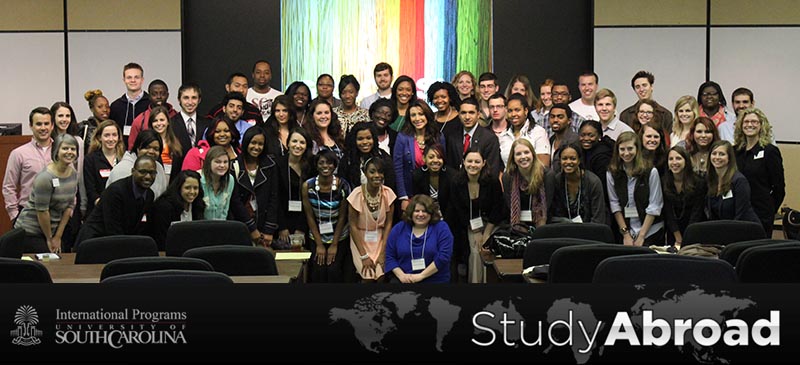 Could the statistics be indicative of a greater issue or a low CQ ("Cultural Intelligence") society? As most Americans have grown up expecting the rest of the world to learn their language, the rest of the world is not only learning 'their language' but also learning two or three more to maximize the collaborative power of global innovation.
But there is hope -- as embodied by the spirit of over a hundred students in Columbia, S.C., who seek to elevate their Cultural Intelligence through life experiences and academics that will set them apart from the 99 percent who are comfortable with the status-quo.
"Many of our student participants may come from families where international education is neither a priority, nor is it perceived as an opportunity for personal and professional growth. It is our hope that students see that international experiences are a prerequisite for professional success and not just something "extra" and therefore nonessential. Students who have never been forced to interact with other cultures will be at a disadvantage when they enter a globalized workforce" said Rachel Hardison, Assistant Director, Study Abroad Office, University of South Carolina.
As fiscal concerns challenge our prosperous nation and a majority-minority society emerges within the next fifteen years, I am confident American academics will be equally challenged to rethink the content, requirements and experiences to build the next generation of professionals. It will be students like Trevor Gilchrist, senior advertising major with a minor in psychology at USC, who has completed internships and projects in Jamaica, Denmark, Ireland and China, who represent the leadership pipeline that will help secure America's position in the world. Trevor has not only embraced the power of globalization but served as an ambassador to black Americans as he filmed documentaries in Dublin and Denmark that exposed nuances of culture across continents.
"Traveling abroad has helped me realize that this American perspective is not right... you have to see the world to know the world; while also letting the world know who we really are. In China, people wanted to take a picture with me because I was black and looked like 'Kobe' and I became the first black person my little 11-year-old host cousin in Denmark met in his life!" said Trevor Gilchrist as he reflected on his experiences abroad.
While the 'grown-ups' running our nation still play catch up with the reality of a multicultural nation and global landscape, I am inspired by the next generation of American leaders -- where talented, smart and culturally intelligent young professionals will graduate from having myopic corporate-diversity conversations, arguments over multicultural market priorities, and Washington gridlock over issues of immigration, race, women, gender equality and more!
Lili Gil Valletta is an award-winning entrepreneur and Hispanic and multicultural market strategist. She is co-founder and managing partner of XL Alliance a multicultural strategy and marketing firm helping business executives and leaders turn cultural trends into opportunities and profits. Gil is also a World Economic Forum Young Global Leader, board member of the Harvard Kennedy School Women's Leadership Board, the Global Diversity and Inclusion Foundation and the Committee for Hispanic Children and Families in New York.
REAL LIFE. REAL NEWS. REAL VOICES.
Help us tell more of the stories that matter from voices that too often remain unheard.