"The future is already here — it's just not very evenly distributed" — William Gibson
Last week we asked the question, Have you ever used–for yourself or for others–technologies or products that you think would fall into the category of brain enhancement? a) If Yes, what did you use and what lessons learned can you share? b) If No, what issues would you like to see addressed before considering doing so?
Thank you everyone for your great answers and comments!
As a token of appreciation, we are issuing 4 complimentary Summit passes for Eva, A. Mark, Kitt and Gwyneth to join the Summit and add their perspectives and questions to the mix, based on these insightful answers (lightly edited for clarity).
Eva Ponder, Psychologist:
I use technology for myself and also with my clients. I regularly use Muse, the brain sensing headband for mindfulness meditation. The feedback and app help me stay on track in incorporating regular practice in my life. Mindfulness meditation has been demonstrated to be helpful in improved well-being and reduction of anxiety, depression and insomnia. I also use the Muse with clients in sessions and encourage them to obtain and use them as regular part of their self care. I also use the Alpha-Stim with many of my clients, especially those with pain, anxiety and insomnia and find that most of them get some immediate relief. I believe that it really helps people gain more hope for feeling better when they can experience some result immediately. Finally, I also recommend use of apps created by the US Department of Veteran Affairs: CBT-I coach and Virtual Hope Box. They have a portable tool box that people can access easily when they are having difficulty coping with stress.
A. Mark Pon, Senior EHS Engineer at 3M:
I've used many of the typical technologies, i.e., games (gaming platforms, apps, paper and pencil, etc.) and supplements, if not for any other reason, than keeping myself sharp for work, social interactions, and/or for self-actualization/self development purposes, or for sharpening the saw. As far as supplements, I should be more discerning as to what I put into my body, and looking for the best research, i.e., controlled experiments, with proper scoping to determine cause and effect, or at least to operationalize it more effectively to determine effects. I'm not sold on any product that is on the market. In terms of games go, I think of a few things: 1. You can learn to improve at playing a game or performing/ answering quizzes/tests/questions and get better outcomes. 2. Some games, however, especially digital games, are not necessarily conducive to "doing the work," and you are just guessing. 3. You can make yourself more accepting of doing new games/ things.
Kitt O'Malley, Mental Health Advocate:
I consider doing Jigsaw puzzles on my iPad brain enhancement. I've also used Lumosity in the past. Most recently, I've used the Calm app for meditation to quiet my mind to allow sleep. Living with mental illness and fearing memory loss (both parents have dementia), I must calm my mind and keep it sharp. 
Gwyneth Wesley Rolph, Cognitive scientist at University of Westminster:
The "technologies" I use most often are good old exercise, sleep, diet, dietary supplements, and study. I didn't keep going with things like dual n-back, brain training etc. because they were boring. A few examples that I have tried and liked: audio-visual entrainment (David Delight Pro), HRV biofeedback (HeartMath), neurofeedback, GSR meter-assisted self-exploratory/ self-development therapy. I also tried cranial electrostimulation but it made me feel slightly nauseous. Anki is a great little app for memory training.
Looking forward to a great conference, full of insights and connections to help advance Brain Health & Enhancement in the digital age we live in,
Alvaro Fernandez on behalf of the Summit Steering Group
Learn more & Reserve your Spot HERE
(10%-off promo code for SharpBrains readers: sharp2017)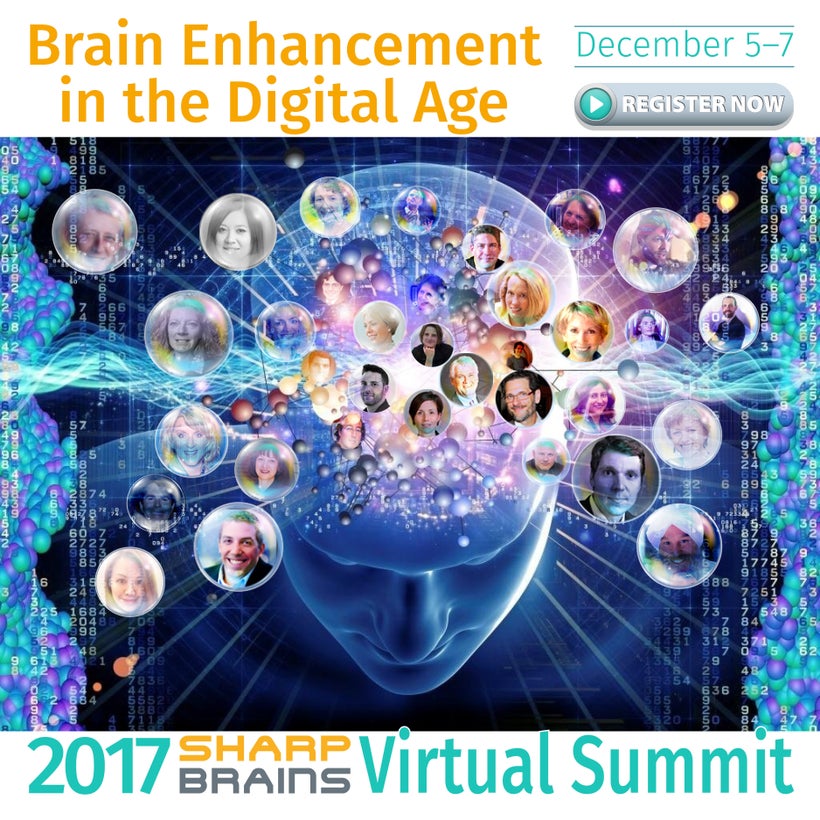 REAL LIFE. REAL NEWS. REAL VOICES.
Help us tell more of the stories that matter from voices that too often remain unheard.
This post was published on the now-closed HuffPost Contributor platform. Contributors control their own work and posted freely to our site. If you need to flag this entry as abusive,
send us an email
.