By Christine Fruechte, CEO, Colle+McVoy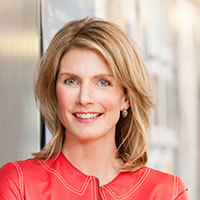 Recently, Chinese tech giant Tencent made the news (figuratively and literally) for a near-perfect piece of business journalism. The article Tencent produced was written autonomously by an algorithm that ingested information and "wrote" a column that, to all eyes, appeared as if it was written by a seasoned human journalist. This is a feat in itself, but the fact that the article--and the complex series of tasks behind its creation--was completed in just 60 seconds made it all the more seismic.
Sidestepping for a moment the huge questions related to the impact of this innovation on journalism, and perhaps humanity as a whole, this example offers marketers early indications of future opportunities and valuable lessons we can use today, especially in brand publishing, community management and content efforts.
Before we can dissect those lessons, it helps to understand the magic behind Tencent's robot reporter or Artificial Intelligence ("AI"). AI describes machines and software capable of intelligent behavior. AI is what fuels amazingly personal and predictive services like Apple's Siri, Microsoft's Cortana or even Mattel's new Hello Barbie, which is capable of conducting sophisticated discussions or even learning names of family members and pets.
At heart, AI is about making the best decisions with the information on hand. It's about understanding context, culture and user experience to anticipate needs and inform a relevant response. Because AI allows machines and software to do this autonomously, there are undiscovered opportunities for brands wishing to innovate and automate efforts like community management, newsrooms, real-time marketing and brand publishing. In fact, early examples of algorithmic marketing already exist. But, even before the robots allow us to create intelligent brand operating systems, the mindset behind AI is valuable to marketers, as it can provide a new angle of thinking to help brands connect with a consumer and media landscape that favors fluid, responsive and predictive brand behaviors.
Before you begin your next publishing effort, here are questions to consider first:
How does my brand make decisions?
What are relevant sources of information for my brand to ingest and leverage?
What is the context and information available to my brand and my audience?
What chance encounters can we imagine and how will my brand react?
To help make these questions more tangible, consider drafting a
to help with content and brand response planning.
While the large-scale applications for AI in marketing may still lie in the future, borrowing from the principles behind AI can help us plan for more intelligent brand experiences today.
Related
Popular in the Community