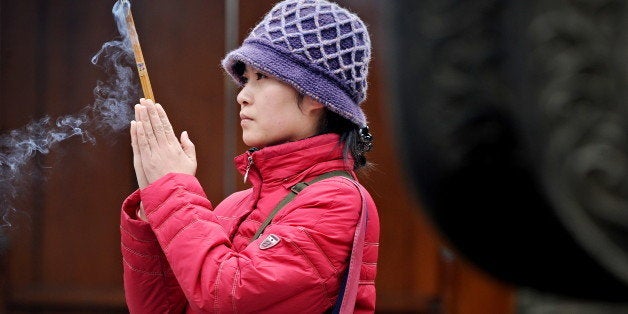 The following are the top four headlines I hope to see about Buddhism in the near future:
1. Buddhists Lead the Way in Honest, Fearless National Conversations About Race, Inclusivity and Liberation
In the aftermath of Ferguson, Staten Island and Baltimore, America is having a long overdue conversation about race and justice. Buddhist communities in America - even those filled with many well-meaning people - are subject to the same forces of unconscious bias and the same historical and institutional legacies of privilege and racism as the rest of the country. How Buddhist communities choose to respond to these painful legacies will matter greatly.
Angel Kyodo Williams, a Zen Buddhist teacher, talks about the difference between communities inviting people of color to practice with them and centers that are welcoming to people of color. To be truly welcoming, she says, practitioners and leadership must "truly examine their own hearts" and become "willing to address the barriers and the hindrances" that stand in their way. How should Buddhist practitioners do this? Through the practice of meditation, yes, but Williams also recommends ongoing anti-racism training, and a deep commitment to honest discussions on the topic.
The Brooklyn Zen Center, the New York Insight Meditation Center and many other communities are already doing this work, hosting "Undoing Racism" trainings, practice discussions, affinity groups (including groups focused on undoing whiteness) and social justice actions that insist that dismantling racism become a central part of the practice of waking up.
The beauty of Buddhism is that it has tools within it to do this work. While we each experience power and privilege according to our unique social identities, Buddhism teaches that our lives are completely interpenetrated, and none of us can be free until all of us are free. We are taught to see the suffering born of delusion, greed, and hatred in our own hearts and - by extension - our communities. And of course, right in the heart of the teachings, we see that liberation from suffering is also possible, if we are brave enough to keep our eyes open and our hearts dedicated to the work of doing so.
2. New Culture of Financial Giving and Fundraising in American Buddhist Communities
A quick search of the Foundation Center database for Christian-focused foundations in the United States yields 3,371 entries. A search for Jewish-focused foundations (and keep in mind, Jews are less than 2% of the population in the United States) yields 3,852 entries. A Buddhist-focused foundation search yields only 39 entries. Many Buddhist communities feel the lack of resources acutely, struggling month-to-month to remain financially viable.
Buddhism in the West is only a few decades old, and it is still finding its way to fundraising strategies that are sustainable within the American charitable landscape. Models of giving that worked well for hundreds of years in Thailand or Japan are not as natural fits in the United States. Additionally, the practice of Buddhism, with its focus on non-attachment and freedom from greed sometimes yields practitioners and leaders who are very uncomfortable talking about, and asking for, money.
In 2011, I attended a conference for Buddhists led by the Soul of Money Institute. Lynn Twist, its founder, introduced a paradigm shift for fundraising. Rather than thinking about fundraising as shameful, or burdensome for the person being asked, Twist argued that the act of fundraising is actually a redistribution of resources. By asking for money, she said, you give individuals and organizations the opportunity to move energy (in the form of money) from the forces of greed, overconsumption and waste to the forces of peace, interconnection, and healing.
Generosity, Dana, is one of the "perfections of the heart" or paramitas in Buddhism. If Buddhist communities are going to thrive in the coming decades, we practitioners have to look closely at our attitudes towards giving and make sure they are in line with our deepest values. Those of us that run centers also have to expand our view of fundraising models that have been proven to work in American contexts, and examine our core beliefs about money in order to become better and more effective long-term fundraisers.
3. Buddhists and Secular "Mindfulness" Practitioners Feed and Support Each Other
It is impossible to go a week without seeing an article on mindfulness and its popularity in major newspapers and media sites. Without a doubt, mindfulness is having its moment, and in the vast majority of cases, it is presented as entirely secular, with no mention of the religion and tradition of Buddhism.
Many my Buddhist friends of have been grumbling about this, viewing the popularization and secularization of mindfulness as, at best, a surface-level "Buddhism-lite" to fit American consumerist whims and tastes. At worst, they argue, it is a perversion and deep misunderstanding of what mindfulness actually is and its role in the larger Buddhist framework.
Although I am biased on this front (I run a mindfulness program for NYU Students), I understand and share many of these concerns. Nevertheless, I think it is critical that Buddhist communities do not isolate or reject these secular mindfulness programs. We need the Buddhist communities to offer the broader context to the more secular "mindfulness 101" programs in schools, workplaces, and community centers. We need seasoned Buddhist practitioners and teachers to catch and hold the more casual meditators who stumble on the practice in a non-Buddhist setting and have more questions.
Dan Harris, bestselling author, news anchor, and meditator, calls mindfulness "the next public health revolution." If this is true, Buddhists would do well to make friends with "mindfulness" teachers and practitioners and leverage this "revolution" to bring a deeper, fuller understanding of Buddhism into the public eye.
4. Buddhists Connect Across the Globe
The world is shrinking. Every year, borders become more porous as technology bridges distances with ever faster speed and better connectivity.
Just as wars, uprisings, and social movements have spread via social media and the web, Buddhists have the potential to harness these mediums to connect with other Buddhists all over the world. Retreats and talks with leaders in remote areas can be live-streamed with participants from all over the globe. American Buddhists can join with others around the world who are struggling for justice or ask their international brothers and sisters to join them in their struggles here at home. Buddhists can respond wholeheartedly and quickly to natural disasters (like the recent earthquake in Nepal) through global prayers, meditations and fundraisers.
Through engaging with technology and its global reach, Buddhists have the opportunity to uplift and maximize one of the central principles that underlies the religion itself: we are all deeply, completely, inextricably interconnected.
---
These are my four central hopes for the future Buddhism: dismantling racism and becoming truly inclusive, getting comfortable asking and giving money, solidifying our place within the popularization of mindfulness, and utilizing technology to connect on a global level. I'm planning on beginning with myself. I hope to meet you on the journey.
Popular in the Community