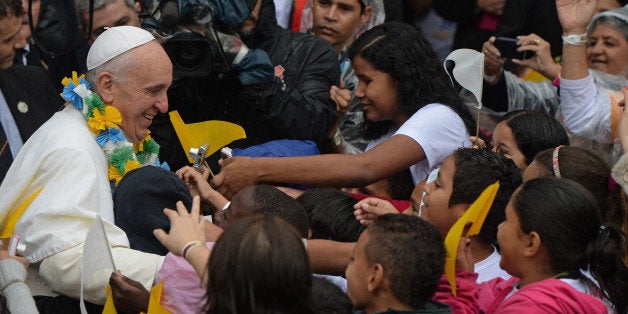 I'm sticking with a loving, global, imperfect church
Whether he is wearing a poncho, addressing congress, or admitting he is a bit of a Luddite, it seems Pope Francis rarely goes a day without making the news. And it's not just Catholics who seem to be hanging on the Holy Father's every word. People of all backgrounds respect this pope's concern for the poor, his candor, his joy. We never know what Pope Francis is going to do next. And that's exactly what is so exciting.
Francis reminds us to be open to the God of surprises. And he continually uses the attention directed toward him to direct his followers back to Christ. I've heard stories of many young Catholics who once felt alienated, now reconsidering a relationship with the church, thanks to Francis' example. But while Francis may make the church more inviting, he is not reason enough to stay. Thankfully, there are many good reasons to feel hopeful about the future of the Catholic Church, and many reasons for young Catholics to stick around, long after the Francis frenzy fades. Here are just a few:
Growing emphasis on the global nature of the Church. Thanks to the wonders of the Internet, it's easier than ever for young people to connect with people around the world, and we want our church to reflect that diversity. The 20 newest cardinals appointed by Pope Francis represent 18 different countries. The group is diverse both geographically and ideologically, which will hopefully help to raise awareness of the wide variety of challenges faced by Catholics in different regions of the globe. Already, global voices are gaining prominence: African bishops have expressed concern over struggles ranging from poverty to polygamy to Boko Haram. And Cardinal Luis Tagle of the Philippines recently noted the struggles faced by many workers in the Philippines.
Stronger partnerships between lay Catholics and religious orders. Many religious orders are formally collaborating with lay men and women in an effort to increase awareness of their charisms. The Jesuit Collaborative, in part, runs leadership programs and retreat programs for young adults who want to be steeped in Ignatian spirituality. The Sisters of Mercy have established the Mercy Associates, of which I am a member. This means I have pledged to try to live out the values of ministry, prayer, and spirituality in my own life as a lay, soon-to-be-married woman. The Sisters of Mercy work closely with the Associates, and see us as partners in their mission and ministry.
As many young people continue to seek meaningful experiences of community, these partnerships can offer a steady connection to a faith community even as we move from place to place, helping us to incorporate this spirituality into our everyday lives. In addition, I know individuals interested in building new communities of religious around the idea of temporary vows, where members commit to some of the traditional vows (poverty, chastity, and obedience/service) within the context of a community, for a limited time, instead of a lifetime.
Increasing support for women in church leadership roles. Since the Second Vatican Council, women have served in an unprecedented number of leadership roles in the church. They have led Catholic parishes, schools, hospitals, and social service agencies. A large number of women are professional lay ministers and theologians, and some teach in Catholic seminaries. Pope Francis is among those calling for a greater role for women, especially in places of authority in the church. However, in this regard, little progress has been made, and Francis himself often uses disheartening terminology when talking about women. And while some Catholics hope for further discussion about the ordination of women to the priesthood, Francis has said that the ordination of women "is not a question open to discussion." However, many Catholics--men and women--have suggested a number of creative ways for Catholic women to hold positions of power in the church, like heading a congregation or council in the Roman Curia, serving on the diplomatic corps of the Holy See, or serving as a cardinal, deacon, or lay preacher. Young Catholics accustomed to seeing women succeed in the workplace hopefully will have a chance to see become leaders in a faith setting, as well.
Increasing efforts to listen. Young Catholics want to be heard; and they have ideas worth hearing. Several dioceses made deliberate efforts to collect the opinions of Catholics at the parish level prior to the Synod on the Family. I hope that church leaders will hear the pain of those who feel alienated, and that they will listen to the ways in which it has sometimes caused that pain. I feel hopeful that our church is moving toward greater accountability for the tragedy of sexual abuse by clergy. I hope that church leaders will be deliberate about encouraging people to be their most authentic selves. The future of our faith depends on our ability to be truly present to one another right now.
A continued call to love. Many young people find hope in Pope Francis, because he constantly reminds us of what Christ reminded us: Love one another. When people worry about the future of the church, so often those worries are related to the tangible things, the buildings, the schools, the smells and bells of the liturgy. And the church does, in fact, include those things. But it's all too easy to forget that the church also exists in each of us. It exists in the parents bundling up their children to go to Mass. It exists in the young person doubting God. It exists in the man kneeling before the Eucharist. It exists in the Catholic Workers who know the guests at their soup kitchen by name. It exists in the anti-death penalty advocates, in the people in orange jumpsuits outside the White House protesting the prison at Guantánamo Bay. It exists in the grandmothers praying rosaries for their grandchildren, and in the grandchildren running circles around their grandparents. The church exists in those who have left it, in those who are angry or sorrowful because of the church's own sins. It exists in the forgiveness in the genocide survivors I have met in Rwanda, and in the men I know serving time at San Quentin State Prison. It exists in people of all classes, races, and sexual identities. It does not know political or pastoral boundaries. The church goes out to the margins. It is at the margins. And it is at the center of all we do.
The church is imperfect. I am in love with the church, so it will always have the ability to break my heart. And it has done so with some frequency. But my vulnerability, that brokenness, often allows an entry point for the Holy Spirit. Although survey after survey tells me that many young people are opting out of the whole religion thing, I've found that the best way for me to deal with my frustrations with the church is to delve more deeply into my faith. And then, more often than not, I find a sign of hope, of the Spirit at work, out of sight, even when the church or the world seem stagnant and immutable. For many young people, in fact, the lessons we have learned through the Catholic Church have informed our desire to work against the injustices within it. I care about this beautiful, controversial, hierarchical, historic, flawed, inspired, blessed, excruciatingly slow-moving institution. I don't know what lies in store for the church. But persevering through uncertainty with hope, is exactly what it means to have faith.
The church is spirit led. So wherever the church goes, I am staying with it. And I am here by choice. I am here because I believe, and because every day I must confront my unbelief. I don't always agree with everything my church leaders say. But I trust that God will either transform their hearts or mine. Likely both. Hopefully soon. In the mean time, all we can do is keep working with others to try to build up the kingdom of God, even if we can't quite tell what it will look like. Because we believe that the Holy Spirit will continue to guide the church toward what is true and good and beautiful. We never know what the Holy Spirit will do next. And that's exactly what is so exciting.
Related
Popular in the Community