The era of collecting movies may finally be on the wane. Eminent film critic Jonathan Rosenbaum has the centerpiece article in this summer's Cineaste Magazine, which is dedicated to the video formats of DVD and Blu-ray. It's not the old debate of whether home video will replace the cinema--it's an auxiliary point. In what ways have these technologies brought cinephilia new life?
Well, not half the ways that streaming video will, if sites like Netflix and MUBI have their way. The cinematheque of the future is online.
While Blu-ray is more costly than DVD, which cost more than VHS, web video portals are breaking that pattern. With a monthly subscription, you can get unlimited monthly movies in your web browser for less than a single ticket at the multiplex. With subscriptions, the financial incentive is finally flipped in favor of fans: there is value in watching more movies.
But not everything is online... yet. This gave me an opportunity to ask a question web cinephiles have been wondering for years. Who decides what to stream?
"The streaming catalog is pretty much what we can afford to buy," said Steve Swasey, VP of Corporate Communications at Netflix. "But the less we spend on the US Postal Service, the more we can spend on acquisitions. Right now the streaming catalog is short on new releases because those tend to be very expensive. But we've got just about everything you could want in documentaries, great foreign, tons of TV, and independents. I think the key point here is: put up something that's interesting, people want to watch, and you get a big uptick."
Netflix and MUBI (formerly 'The Auteurs', so you can tell they're catering to the Sarris-savvy crowd) both include impressive selections of important and unusual films, ranging from silents and old Hollywood to contemporary independent and foreign. Both sites have deals with Rosenbaum-exalted Criterion (whose "Online Cinemateque" site streams rentals too, though not by subscription). Netflix has upwards of 20,000 films available to Watch Instantly, including 8 by Fritz Lang and 6 by Don Siegel. MUBI just announced 19 Agnès Varda films, including shorts.
"There is no canon," Efe Cakarel told me, founder and CEO of MUBI. "We want to show the best films from around the world. This means films that were distributed locally, award winners, silent masterpieces, and festival gems that were forgotten or dubbed undistributable."
As online libraries grow, cinephiles become important. At a video store or even a repertory theater, the only way to measure demand is to put out a movie and count how many times it's seen. In the new model, Netflix members have the ability to 'queue' a movie from the time it goes into production, and those numbers are seen by an 80-person team in Beverly Hills, who spend their time negotiating with studios. It's not limited to what's already available on DVD or even VHS; many unavailable films appear on the site too. MUBI members simply click the words 'I want to watch this'.
"The 'I want to watch this' button is a powerful tool," wrote Cakarel, "one that not only tells rights holders how much their new or old films are desired by audiences around the world, but also a virally powerful one that let's interest in supposedly niche titles ripple out through audiences' social graphs. Suddenly a small film becomes known to all your friends and followers on Facebook and Twitter--it's a great way of spreading awareness and interest in these films."
In some cases, this user activity has made movies available for streaming that aren't on video at all. Films are instantly available in regions where they have never seen DVD release. This doesn't just help rare films. Rosenbaum cites the massive sales of Robert Greenwald's controversial Outfoxed on Amazon. "It's the long tail Chris Anderson talks about," Netflix's Swasey said, namedropping a theory whose original articulation namedropped his company. Accessibility is poised to breed new audiences for more and more different films.
As a means of discovery, streaming video's unique features encourage even casual viewers to be more experimental. There's instant gratification, including the elimination of endless previews and scare tactics from the FBI. Subscription-based services make renter's remorse obsolete. Navigation is based on ratings and recommendations--so prominent criticism, and criticism 2.0 (from users and friends) both have their place. On MUBI you 'become a fan' of directors and films the same way you might make a Facebook friend. When one of those directors' films becomes available for streaming, it appears in your news feed.
On the other hand, more movies will inevitably be watched on computers, which has a thousand pitfalls. Even a TV 6' away is very different than 18" or on their lap. A smaller screen makes for a more solitary experience. Pausing a movie is more expected. Often this means viewers are multitasking in other windows. I get particularly frustrated with the progress bar announcing how soon a film is going to end.
There are alternatives. Netflix supports dozens of internet-connected peripherals, including every current-generation video game console, Blu-ray players, and a proprietary 'Roku' box... even the iPad. At Cannes this year, MUBI announced a Playstation 3 application. On many newfangled notebooks, your TV can easily mirror your desktop.
Of course the web can't approach the quality of Blu-ray, and smooth gradients and fast motion show digital artifacts you wouldn't see on DVD. But the sites encode their content from an original master--"oftentimes the film," said Swasey--so with enough bandwidth and a big enough screen, content can display in HD resolutions.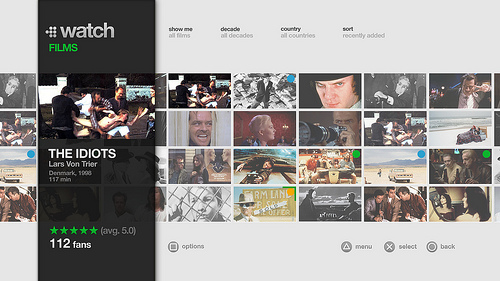 "Streaming video won't eliminate DVD--I don't know if the available titles will ever be commensurate with our DVD library," said Swasey. Nobody's forgotten that DVD was the successor to Laserdisc as a fan's format. It justified its high original price-point with behind-the-scenes extras, commentaries and collectible packaging. But while Special Editions reward fans, they put a premium on seeing a movie for the first time, and channel their audience's enthusiasm into collecting, not watching, movies.
At Cannes in 1995 (transcribed by Film Scouts), Jean-Luc Godard worried that "technology--CD-ROMs, the Internet--will determine 'the classics', the 'necessary' films, unless Cinemathèques and Film archives manage to protect them." He may have been right about technology's role, but so far it looks like there are enough cinephiles on the web to ensure his work is seen more, not less.
While collectors clutch their discs, and celluloid die-hards don't read articles on the internet, those seeking the hard-to-find have never been overly precious. The great local video stores still stock VHS (support your local video stores). In truth, these websites have been slow to catch up. The great treasure trove of old and unusual films is already the internet: private forums, torrent trackers, and peer-to-peer networks. There are legions of film fans sharing rare movies freely, sometimes illegally, online. Rosenbaum calls it "noncommercial and utopian effort of international collaboration." That's what streaming video has to compete with, in quality and convenience.
What's obvious is that successful distribution in the future will not be based on what's subjectively 'best', but where there's an audience. The theatrical experience, watching a film in a crowd of strangers, will never be replaced. Netflix and MUBI want to make the internet the best way to discover new films. And your collection of video discs? Hang onto the classics in case of a nuclear winter, since they don't require an internet connection. Although you might have to power the TV with a stationary bike.
Popular in the Community