This article originally published in the inaugural edition of the Business of Furniture on January 6, 2016 and can be found at this link. If you enjoy this story, you will love the first issue of Workplaces Magazine, a sister publication of the Bellow Press that will launch February 1, 2016. The first issue will explore the world of coworking.

"The word coworking won't be a word in the future, it will probably just be the way we work." -Rahul Prakash, partner at Hatch Today.
Twenty years ago, the goal was to get the job, then work your way up "Madmen" style to the office on the 30th floor. Now people on average -- not just millennials -- stay at their jobs only 4.4years. As workers redefine the goal line from the corner office to autonomy and work-life balance, you can bet the landscape of the office will drastically change. We are already seeing it with the rapid emergence of coworking offices everywhere. However, it's not just coworking, it's the motivation behind coworking -autonomy, independence, choice and meaning- that is changing the face of the workplace overall.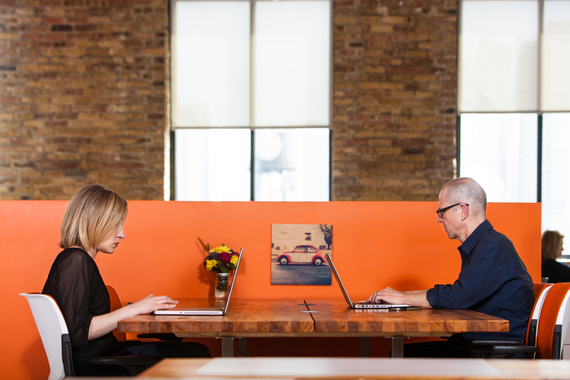 That said, coworking can't completely take over the workplace just yet. One of the challenges of coworking is the vulnerability of the revenue model. Since most operators typically stumble into coworking space ownership from other, unrelated industries, it can be a steep learning curve. Rebecca Brian Pan of Covo Coworking says, "Coworking is a vulnerable business model in and of itself. It is not a high margin endeavor. Having all of your revenue come from membership dues, especially when you don't own the property - and most don't - there is a lot of risk." She goes on to explain that lease negotiations are very dependent on market swings. When the lease expires, some landlords push rent up as much as 300%. Suddenly, what was a perfectly viable, profitable business is now working really hard just to exist.
A lot of coworking spaces, upon recognizing the vulnerability of the model, try to buy property or add additional revenue streams. In other countries, like Canada, it is possible to crowd source funding for buildings (i.e. each coworking member pays a portion and becomes an "owner"). Pan explains, "In Canada there is something like an equity bond where any individual can invest in anything they want. A friend owns The Foundry in Toronto. Members can purchase a minimum $1K bond certificate (or more if desired). By this, they were able to crowd source funding to buy the building that they originally had a lease on. We can't do that in the US." She went on to explain that in the US, due to laws, in order to invest every one of those people would have to be an "accredited investor." This means they would have to have at least one million dollars in assets to qualify to invest. Laws have changed, but are not yet executable because regulations aren't yet in place through the SEC. When this movement fully realizes, it will be a huge coup for coworking spaces.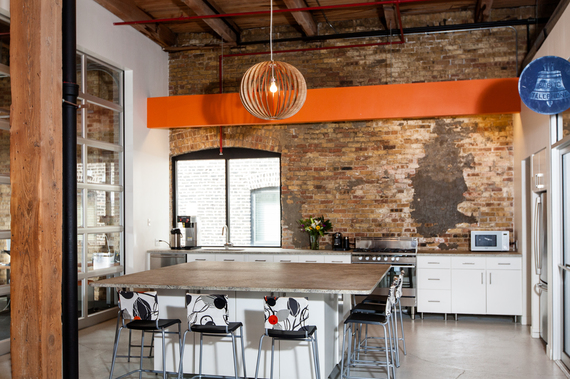 Many of the smaller independent coworking spaces are creating a "workplace as a service" model. By focusing efforts on other value added services and revenue streams that enhance member experiences, they give workers an edge over a home office, the coffee shop, or even a corporate office. It's not just the profitability piece that's driving these evolved types of coworking spaces. Services and conveniences are truly what drive people to cowork. As such, these future independent coworking spaces will be like coworking on steroids. Pan's newest endeavor, Covo Coworking, will be a new, very forward-thinking model with many all-in-one-location-services. Pan says, "Around the coworking nucleus, we will have a retail coffee shop, tap room, and café. Future spaces will include a health club, spa, residences, dry cleaning, and even more retail options so members get an immersive experience and we are not totally dependent on membership dues to pay expenses." Pan's vision for Covo is designed around optimal use of the space which benefits both users and owners. Pan says, "When you think about coffee shop, tap room, or workspace, the hours that each is at peak occupancy are opposite. Coworking is peak from 10am-4pm. Before that is coffee. After that is tap room. We will be able to use the same real estate and have three sales cycles per day. Members could potentially live, work, and socialize without commute times, weather hassles, or expensive taxis."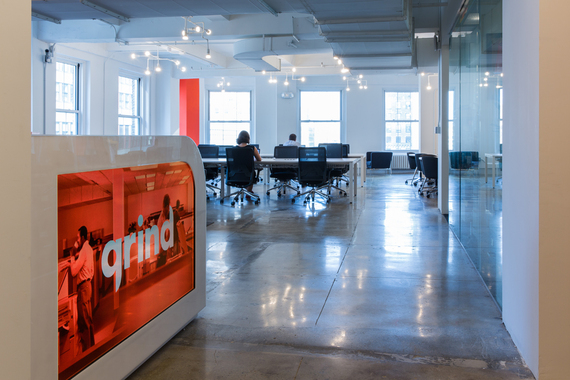 As time goes on, Benjamin Dyett, with Grind in NY and Chicago believes that the digital platform will become an increasingly critical membership benefit to coworking. Informed by input and feedback from exisiting members, Grind is developing a new proprietary technology platform for their rapidly expanding coworking community that will allow "Grindists" to better communicate and collaborate with one other providing a more rewarding and productive coworking experience. The new app will offer Grind community entrepreneurs the opportunity to easily connect with the experts they need to help support, nurture and grow their small businesses while in turn, connecting Grind's independent consultants, creatives and solopreneurs with the kind of projects that will be key to their success. For example, if you type in "lawyer," it will return all the members who are lawyers and let you know if they are currently in the space. If they are not, it will give you an easy platform to reach out. Right now, coworking still means a lot of things to a lot of people: there are so many options depending on the space, the hours, the amenities, etc. As the market gets better defined, there will likely be a consolidation of best practices and service offerings.
An organization called LExC is one avenue some of the smaller operators are banding together to support one another and the industry as a whole as it takes form. LExC is a network of passionate, like minded coworking space owners with aligned business approaches. Led by Jamie Russo, founder of Enerspace Coworking in Chicago, the organization was formed to define acceptable standards for coworking spaces and elevate the industry as a whole. LEXC gives members the ability to work from any member spaces if they are traveling, and defines appropriate operating levels so visitors can expect similar experiences no matter where they need to work. As more corporations are taking note of coworking and treating it as an employee benefit, the market is calling for stricter definitions of what will qualify as "acceptable." Liz Elam, founder of Link coworking in Austin, says, "Our biggest challenge and opportunity is remaining collaborators instead of competitors as the market expands."
When asked about the future of coworking, Russo replied, "I see a huge trend of joint venture operating models vs. independent coworking spaces. Real estate investment trusts, landlords and corporations are starting to bring the coworking experience to their buildings as an amenity and hiring coworking space operators to professionally manage them. There are big benefits to both sides and a big risk reduction in the financial model." She also shared this article on how coworking will evolve in 2016, which outlines some of the tangible changes we can expect to see in this industry.
So what's next for coworking? Alex Hillman, founder of Independents ("Indy") Hall, a coworking space in Philadelphia says this about the future of coworking: "I like to think of the last 10 years of coworking as a big laboratory experiment. At Indy Hall, we took a look at the "workplace," which was already in flux of definition, and stripped away all of the expectations of how work needed to look and feel, then rebuilt it from the ground up. What bad habits can we unlearn? What old skills have we forgotten? How does that all fit together in a modern context? We have learned a lot that's useful outside of coworking spaces - techniques around recruiting participation, building commitment beyond "binding" contracts, sources and patterns for innovative problem solving, and of course the key elements needed for effective collaboration. The next 10 years of coworking, for me, is about remembering that most of the world will never work in a coworking space as we know it. Our future lies in making these same kinds of tools and patterns available to more kinds of organizations, companies, teams, and individuals. When I look at it this way, it is easy to see that we have a lifetime of exciting, fulfilling work ahead!"
Related
Popular in the Community