To any retail executive, manager or employee feeling a little frazzled, frustrated or forlorn because of the perpetual change and intense competition in the industry today, I have this message of hope:
I've seen it, having been lucky enough to sit in on a University of North Texas digital retail class called "Virtual Merchandising." The class was stocked with college students who are ready to tackle the retail field with bright ideas, new technology and a determination to see that their chosen field flourishes.
"They need to have an understanding of their customers," Associate Professor Kiseol Yang says of her digital merchandising students at UNT in Denton, Texas. "But they continue to think of new ideas and innovative ideas."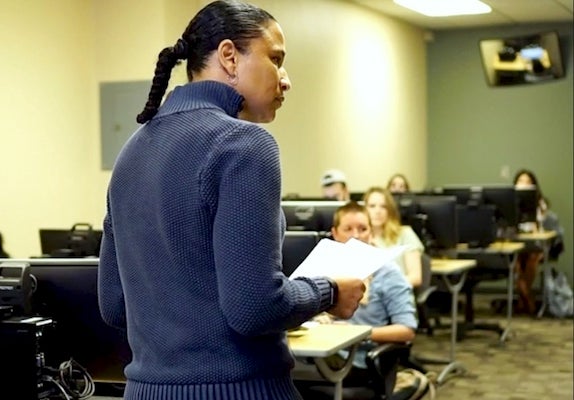 I was on campus with my colleague Tammy Sanders, BloomReach's head of learning for Compass, a merchandising analytics tool. Sanders was there as a guest lecturer leading a discussion on using data-generated insights to better think like a digital retailer. I was there to try to get a handle on where the next wave of retailers see the business headed.
Retail has almost always operated in a state of flux — technology, trends, the economy, all have all shaped and reshaped the business of buying and selling stuff. But like so much that technology touches, the shifts and reshaping seem to be accelerating at a geometric rate, which has lead to great opportunity and great uncertainty for retailers. The students at UNT get that.
It was evident from the classroom conversation that these students are bold believers in data-driven merchandising, while also being ready to embrace their own creative intuition and intelligence. And they are excited about finding new tools and leveraging them to bring about new ways of thinking.
UNT students understand the power of the consumer
They understand the power the consumer holds in the digital age. They know that in order to serve those empowered consumers, retailers need to focus on providing a five-star customer experience — a shopping experience that is personal and relevant every time, no matter the device or channel a customer uses.
Students at UNT learn digital retail principles and pitfalls using real-world e-commerce, marketing and analytics platforms. They face authentic retail challenges using an array of e-commerce tools that marketers and merchandisers at some of the country's largest retailers turn to every day.
"Even though the technology is constantly moving forward; and we may not have access to the latest and greatest iteration of the platforms, just having the opportunity to get our feet wet a little bit, and getting the lay of the land for how they're generally set up, that's definitely going to put us at an advantage to the students who haven't had that," senior Lindsay Norwick, a digital retailing major, said after the class.
For Sanders' two-class-period course, Norwick and her classmates used a sophisticated analytics platform to gather insights about consumer behavior and product performance while deciding on moves they would make to optimize customers' experiences and the retailer's likelihood of making a sale. The discussion was lively with twists, turns, give and take.
A sampling of the back-and-forth:
When devil's advocate Sanders put forth the argument, "All promotions are attractive to consumers," the students knocked it down. "All relevant promotions are attractive to consumers," they countered.
Next came, "You should boost your best-selling products." "Where's the data?" one student countered. Good point, Sanders acknowledged. "Are they best sellers because they sell themselves?"
"What if I told you that Compass proved this to be incorrect," Sanders continued, referring to the notion that boosting best sellers boosts a product category's performance. "Boosting your best sellers does not necessarily improve category performance."
In fact, she said, it can hurt category performance.  All of which led to a discussion of the shortcomings of using purchase data to determine the best way to improve product, category or site performance. Purchase data, Sanders pointed out, means that you are basing decisions on the behavior of roughly 2 percent of your site visitors. What about the other 98 percent?
Hearing the complete voice of the customer is key
Understanding the other 98 percent requires analyzing behavior beyond buying. How did customers come to your site? What various products did they engage with during the same shopping session? What products did they search for from your category pages? What products did they ultimately add to cart or buy after using specific search terms?
Judging from the students at UNT, the next wave of retailers appears hungry for just those kinds of insights. They understand that consumers are empowered like never before. Consumers can search for the perfect product, the best price, the most convenient pick-up or delivery, the best customer service before and after a purchase. And they constantly carry with them the means to do it  — in the form of a smartphone.
"It's about creating that sort of seamless, multichannel experience, because customers are so demanding," said Shannon Williams, a senior majoring in both merchandising and digital retailing. "They want what they want, and they want it now."
The class discussion bubbled with talk about data: Why add-to-cart data is an important measure of success for merchandisers, for instance. After all, in their role, merchandisers can only influence so much — particularly the look and arrangement of product grids.
They can't control conversion. They don't influence the checkout process, for instance. They don't control pricing.
But data is power. It is how merchandisers develop a voice in larger decisions within a retail organization.
"This is how merchandisers change the conversations they're in," Sanders told the class. "By saying, 'The data shows . . . '"
Having access to data-fueled insights changes the game for merchandisers. It allows them to quickly and clearly see the value they are adding to their organizations.
"You have the power to know the value you are bringing to the sites you work on," Sanders told the class. "The more you can tell that story, the better it is for the business and the better it is for you as a professional."
Something tells me, that as these students move out into the workforce, they will have an important story to tell. As Sanders pointed out, the students at UNT are among retail's first generation of digital natives, having never known a world without the internet and e-commerce.
"You could be the evolution of the organizations that you go into," she told the students. "You could be the evolution that is needed."
Like I said: Help is on the way.
A version of this post originally appeared on the BloomReach Blog.
REAL LIFE. REAL NEWS. REAL VOICES.
Help us tell more of the stories that matter from voices that too often remain unheard.
This post was published on the now-closed HuffPost Contributor platform. Contributors control their own work and posted freely to our site. If you need to flag this entry as abusive,
send us an email
.