While the Future of Education Technology Conference in held in Orlando earlier this month brought together many of the most significant innovators and practitioners driving digital learning in 2016, it was the sessions and conversations around virtual personal learning networks that took center stage.
The talk of FETC revolved around how educators talk to each other the remaining 51 weeks out of the year online - and mostly within 140-character increments. The use of Twitter to develop and cultivate personal learning networks, said many attendees we spoke to, is revolutionary.
Sprinkled throughout the conference were onsite and unofficial Tweetups that introduced attendees to one another by their Twitter handles. Many Tweetup participants that we met knew a lot about each other and perhaps corresponded a time or two previously. In most cases, however, Tweetups were their first in-person meetings.
Smaller sessions focused on topics like "Using Twitter for Professional Development" (hosted by Tammy Neil of Branford High School and #Fledchat) were held multiple times per day. A presentation from #Edtechchat moderator Susan Bearden and Cybraryman Jerry Blumengarten titled "Twitter 101: Build Your Personal Learning Network" essentially led off the conference.
While there were multiple sessions and conversations focused on Twitter's impact within K-12 education, many teachers also spoke of the social network's inherent limitations for deep collaborations.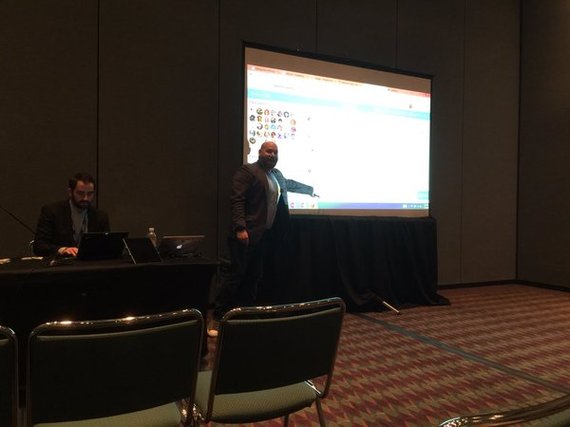 Before going any further here, let's take a step back to explain the history of Twitter chats for education, how they work, and how much they have impacted teacher communication and collaboration over the past half decade.
Origin Story
The unofficial beginning of the Twitter chat for educator phenomenon was the debut of #Edchat on July 30, 2009. It was then that educators Steven W. Anderson, Tom Whitby and Shelley Sanchez took to what was at the time still a fledgling platform to publicly ask and answer questions around learning and technology.
"I wanted to have a greater impact with schools across the country," Anderson told me during a previous interview. "Early in my career I began to understand the power that technology could have over learning. My desire was to make sure teachers were fully prepared to navigate the world of technology."
It worked. Anderson and his colleagues discovered in short order that there were thousands of educators around the world who had similar desires - but no avenue until then to communicate with one another.

From there, more Twitter chats like #Edtechchat and #satchat began to emerge. There are now hundreds of chats around general topics as well as those specific to subjects, grade levels and geographies connecting tens of thousands of educators across the globe.
Twitter chats for educators typically last about one hour (although some are 30 minutes) and occur during a set time each week (some are bi-weekly or monthly). Most revolve around a Q&A format, where one or a handful of moderators posts 5-to-10 questions throughout the hour, with anywhere between dozens and thousands of participants chiming in and acknowledging the ideas of others via retweets, favorites and replies.
"A New Way to Twitter Chat"
The educators we surveyed at FETC who participate in one or multiple scheduled chats each week said that they are drawn to Twitter because in many ways they feel isolated in their own buildings. Not surprisingly, there is a strong correlation between teachers who are first-movers in the use of technology within their instruction and those who are professionally active on social networking channels. The common characteristics include a zeal for reinvention and collaboration. Twitter (and to a lesser extent Facebook, Pinterest and other social networks) introduces pedagogical pioneers to those with similar interests across the globe.
While Twitter offers unprecedented reach and exposure to personal learning communities, longtime users and newbies to the social network alike complain about many constraints. Those new to Twitter often find it difficult to keep up with the pace of a chat, where literally thousands of Tweets might be exchanged within one hashtag in the period of an hour. More seasoned users may start a conversation via a Twitter chat and then continue in another channel (whether that be Google Hangout, Voxer, Blab or Direct Messaging within Twitter itself). Virtually everyone has issues with spam and third-parties who incorporate political or nefarious messages (and images) within chats.
"After being involved with the creation, participation and evolution of one of the largest hashtags and Twitter chats around (#edchat), Anderson wrote in a recent post, "I always hear the same feedback wherever I go. Things like 'I like the chat, but it's too hard to follow. Is there a pause button so I can slow it down and read what everyone is saying? There's a lot of great information but the archives are difficult to search to find what I am looking for.'"
What Anderson and others are seeking is a way to tap into all the benefits of Twitter (reach, visibility, promotion), but in a way that is more optimized for collaboration and resource discovery (which brought many teachers to Twitter in the first place.). His preferred solution is Participate Chats, which debuted last November from Participate Learning (formerly appoLearning).
"(It's) a new platform to help anyone participate, follow or catch up on their favorite Twitter chats," Anderson wrote. "As well, Chats is integrated with everything else you can do with Participate Learning, including finding vetted resources, creating collections around topics or lesson plans, and collaborating with others on resource suggestions and how to incorporate in instruction."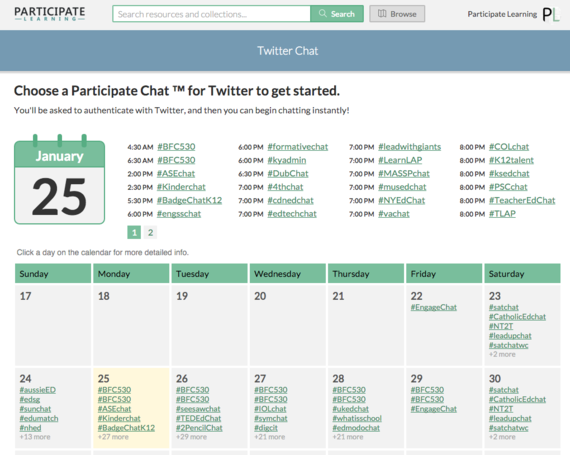 Participate Learning CEO Alan Warms recently explained the rationale behind Chats, and how it reinforces all of the other discovery, curation and collaboration tools the company (where I also work) has developed. Everything was developed based on thousands of conversations with educators. It makes sense that educators who love to share their thoughts on the use of digital resources in education also have a lot of feedback for educational developers building tools to make this process easier.
As we learned at FETC, it's not just about sharing feedback, but more significantly how you harness relevant feedback into something new and powerful.
Calling all HuffPost superfans!
Sign up for membership to become a founding member and help shape HuffPost's next chapter