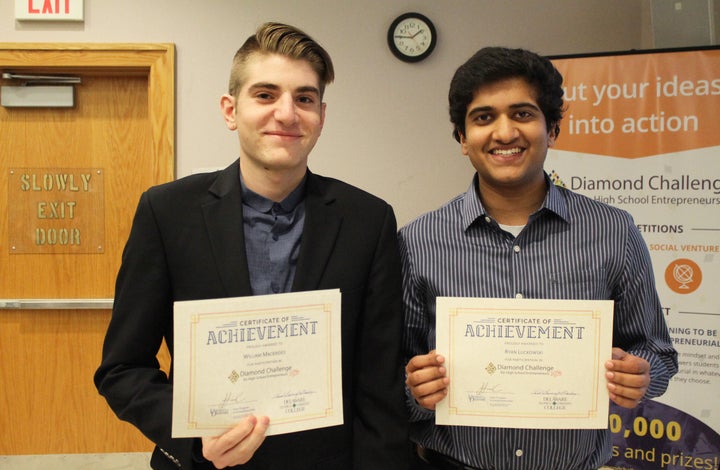 Being a millennial entrepreneur and graduating high school in 2007 at 17, starting a business wasn't something that had, entered my mind and if someone had told me it was possible I would've laughed at the idea, assuming I needed years of experience. The standard approach of attending university and becoming qualified in my area of interest was what I firmly believed to be the best method of success when building my own business, which at the time seemed at least a decade away.
Now that I've launched my own business only 6 years later and wishing I had access to the knowledge I have now in high school, I've had the privilege to start sharing this with others as a consultant and contributor. Having begun consulting for businesses, both millennials and generation Z-clients, I've worked with clients who are still in high school and are now running businesses that are making upwards of 6 figures.
I wondered where are these students of entrepreneurship gaining their education? We all now know there is an abundance of free information to sift through when starting your own business but I wanted to ask my younger clients where they were receiving their expert advice from to make it this far. Many pointed me towards certain programs, and one stuck out, it was called the Diamond Challenge.
Wanting to share something that I missed in high school I investigated for myself how I could look into this structured entrepreneurial education with my younger peers. I firmly believe that is our obligation to help educate those who are helping create the future of our world and as a contributor to many major publications I thought I would share this with those who are taking up the mantle.
I reached out to the organisers of the Diamond Challenge to find out how they've changed the educational pathways for both millennials and generation Z. This is what I want to share with our younger generation.
The Diamond Challenge
This unique program fosters the belief that the entrepreneurial mindset and teachings are something we all need at any stage of our life regardless of the professional path we take.
The World Economic Forum produced a report regarding the future of jobs and skills that stated, "By one popular estimate, 65% of children entering primary school today will ultimately end up working in completely new job types that don't yet exist." The Diamond Challenge tackles this issue as educators by introducing entrepreneurial skills such as creative problem-solving and adaptability to our high-schoolers in a supported way.
The competition allows high schoolers to form teams and choose to compete in one of two different formats. The first a social venture, that is able to solve a societal or environmental problem. The second is creating a new for-profit business venture, that solves a problem for a customer.
The students are then given access to innovative video-based lessons, experienced mentors, and the opportunity to interact with other businesses and students from all around the world. The unique thing is that these resources are free, I know there have been so many times on my own journey that I wished I had even one of the resources mentioned above to help me without paying for it in some way or form.
The other upside? They are eligible to win a part of $100,000 in prizes for competing and presenting these ideas.
Our Future Leaders
I reached out to some of the past competitors of the Diamond Challenge to see how the experiences have changed their lives.
16 year-old Shreyas Parab who has been described as "Perhaps the best young entrepreneur in America" by the US Chamber Foundation was a previous contestant of the Diamond Challenge's business venture competition. He is now the owner of two companies which have a combined valuation over $75,000 after participating in the Diamond Challenge.
He describes the Diamond Challenge as a facilitation of conquering his fear of failure but he is continuing to use the same skills he was exposed to through the competition in his own businesses. I know I'm harping when I say this but these type of resources can be found for free but to be delivered and structured for success is something we all needed on our own entrepreneurial journey.
A social venture competition Diamond Challenge participant, 17 year-old Nicole Birkner, learned extremely valuable lessons from venture capitalists, CEO's and connected with over a 1000 different students from all over the world.
Being from Costa Rica her concept was a social venture that created healthy sodas from natural fruit flavours. The proceeds are returned to underprivileged communities in Costa Rica providing not only income for the producers of the fruit but employment for those manufacturing the product.
When speaking with Nicole, the concept she spoke about was that once you find something you're truly passionate about, it becomes seamless. The Diamond Challenge was the host for her to find this purpose and drive to give back to her own community. This type of education is something that is missing from the everyday curriculum in schools and is something that has taken me personally, much longer to learn.
Creating Change For The Future
If you're reading this as a student, you should feel inspired. Rarely has there ever been a time in history for your voice to be amplified in such a meaningful and constructive way. The Diamond Challenge is an opportunity for those of you who have a vision for your life but also to help those who are less fortunate.
If you're reading this as anyone else then you should know it is your duty to help our future leaders find their entrepreneurial path as soon as possible. The examples listed above are only two of the amazing stories that have sprouted from this competition but and too can ensure that others know about this and can emulate this change in their own lives.
The Diamond Challenge is taking registrations for this year's competition now. Do yourself the favour of looking into this unique competition and if you're a student who has an incredible idea, now is the time to act.