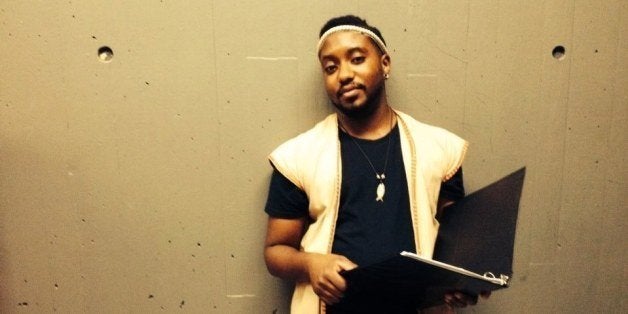 It's 9:30 on Sunday morning. I show up to work with my shirt buttoned to the collar and my boots shined to a glossy black. I choose not to wear a tie most Sundays. The chain on my wallet swings freely from my back right pocket as I swagger in, copy of the liturgy in hand. I'm an intern at First Church Congregational in Cambridge, a church in the United Church of Christ. I take our "come as you are" philosophy very seriously, showing up every Sunday as I am. A little bit rock and roll, and every bit as transgender as I was the day before.
On this particular Sunday, I go to this week's adult formation hour called "Learning About Gender" led by my friend and fellow intern, Katie. In the three weekly sessions, she breaks down the differences between gender identity, gender expression and sexual orientation. Someone asks how to talk about trans people in the third person. Another asks how to support a friend with a transgender child. A bold voice asks where God is in all of it. Katie turns the question back to the participants. There is no place God isn't. God is wrapped up in it. They are trying to understand. Throughout the session, I have to remind myself that people are at different levels of understanding when it comes to gender. I also have to remind myself that, though this is a progressive church, these discussions aren't had unless a trans person is there to lead them. I'm grateful to not have to lead.
I medically transitioned in 2009 wrapped in the love and support of my UCC church in Santa Cruz, CA. When I asked them to call me by a new name and different pronouns, they obliged. Some asked questions. Most were ready to take me as I was. As I furthered my journey with hormones and eventually accessed chest surgery, their desire to understand grew deeper. They understood that they were on this journey right alongside me and that they needed to be able to be confident allies. The more I "passed," the more I needed to remind them that we had come a long way to reach that place of understanding and that there is still more work to be done.
The national UCC has a reputation for extending a radical welcome to lesbians and gay men. It is beginning to pay more attention to the needs of transgender people as more of us come out in church. Workshops like the one Katie led are becoming more common, but are far from the norm. Individual congregations decide how far to extend that radical welcome, so it's hard to gauge whether a church that welcomes lesbians and gay men will be welcoming to trans people. Even with my passing privilege, I am more comfortable in a church that acknowledges that "God is still speaking," as the UCC tagline goes, by its incorporation of gender-inclusive language into the worship service.
And God is still speaking. I hold on to my faith because I think it has transformative power. In church, I see people coming to the aid of others because they genuinely care, realizing that the life of the church depends on each member. We are invested in each other's lives such that we care for each other from the depths of love. In church, love is both a noun and a verb. It is something we work on constantly while doing our best to embody it.
Likewise, I see other transgender people working to make their world -- including their faith traditions -- a place where we can live without the fear of violence. Organizations like TransFaith are working hard to open hearts and minds to gender variation across faith traditions. The Center for Gay and Lesbian Studies at Pacific School of Religion has published a guide for welcoming transgender youth and their families into church. In other instances, I see trans people with incredible faith, in God or some other higher power, working towards change through local action. The Transwomen of Color Collective has been on the forefront of change by telling the stories and promoting leadership of transwomen of color. This organization is not faith-based in the way we think of "faith-based," but I'd be hard-pressed to say that the women involved didn't believe in something. That "something" may be the power of change, the hope of liberation or some God somewhere. Whatever it is drives these women to continue.
The future of faith lies in how open we are to broadening its definition. Many of my trans friends have faith, though it's not necessarily in a celestial power or an earthly force. Their faith is in the love and support of the communities they have created for each other, knowing that their chosen families encircle them. Faith is not beholden to any particular religion. It is the thing that we cling to when life becomes unbearable. Some of us have been so wounded by religion that turning to it is unthinkable. But we can turn to our friends and the love they provide us day after day. This love is undeniable, often unbreakable, and most certainly worth clinging to.
I am a transman surrounded by a community that loves me so hard that I feel it each time I breathe. I am also a seminarian, so deeply devoted to my practice and faith in Christ that I am devoting my life to it. I hope that these two distinct pieces of my life can become more integrated as more churches open their doors and their pulpits to trans folks. Many already have. I am on an ordination track within the United Church of Christ, and I have several trans friends serving in churches across the country within the UCC, the MCC and Episcopal Church. We are only a few, but we few are the reason I am able to follow Jesus and serve the church.
Support HuffPost
The Stakes Have Never Been Higher
Related
Popular in the Community