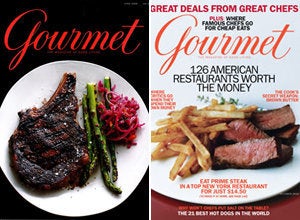 What is the future of food journalism? Unfortunately for the attendees of Monday's panel discussion hosted by Culintro, no one expert can give a definitive answer. After selected nibbles (dried fruit, hunks of parmesan cheese, olives, and nuts) and sponsored vodka cocktails, the lubricated would-be food journalists, restauranteurs and restaurant industry pr reps sat down to hear Salon.com's Francis Lam, Time Out's Gabriella Gershenson, Edible's Brian Halweil, and Tasting Table's Nick Fauchald predict the future profitability and viability of food journalism. Andy Smith, a professor of food studies at the New School, moderated the discussion, asking such questions as "Is print dead?", "What are the negative aspects of going from print to web?" and "Can you make it, financially, online?"
From Lam, who worked at the pinnacle of food writing at Gourmet -- admittedly a bit early in his career -- to Gershenson, who watched her job change over the course of four years from zero web responsibilities to professional success quantified in traffic reports, the panelists represented different sides of today's food journalism. Gershenson astutely compared the number of people who love Katz's Deli, yet infrequently visit the institution, with how many people were devastated by the closing of Gourmet. Was everyone who lamented the death of Gourmet a subscriber? Halweil, executive editor of Edible Manhattan, Edible Brooklyn, and Edible East End (three of the 59 Edible magazines nationwide), sees the change in food journalism as reflective of the current revolution in today's food institutions. In 1940, when Gourmet was founded, ethnic and exotic food, such as couscous, was considered as foreign and aspirational as the pig roasts and 14th-Century Tuscan villas that graced the pages of National Geographic. Today, people want to know how to make their own Texas beef jerkey and Iberian chorizo, and also how to slaughter and quarter their humanely-raised and organically-fed cow. With decentralized food comes decentralized magazines. Halweil stressed that specialty establishments--be they hyperlocal or niche-based--would prosper and Fauchald, as the founder of Tasting Table, is one of the beneficiaries of this hyperlocavore trend. Edible focuses on a smaller, but more interested and more influential audience.
Sex analogies were offered to answer the print to web question. With only 200 words per email, Fauchald recognizes the need to put sex up front at Tasting Table. Lam no longer has the luxury to warm up readers with 500 words of foreplay before reaching the climax. For Gershenson, learning how to selectively ignore second by second competition from online upstarts GrubStreet and Eater was the largest adjustment of moving from print to web, and she stressed that critical reading by consumers was vital. "So much is not fact-checked," she warned.
The elephant in the room was, of course, the question of profitability for food journalists. While Tasting Table pays its own writers, Fauchald noted that the Atlantic.com, one of--if not--the most renowned food websites, doesn't pay its writers because they each have their own agenda or brand to sell. Smith mentioned that Heidi Swanson, the 101 Cookbooks' blog author, earns $10,000 a month from her website, but rhetorically asked the crowd, "Is that a viable model for everyone?"
Where do Facebook and Twitter fit in? For Time Out, they play an elemental part of the loop of self-promotion and free publicity. Twitter and Facebook drive traffic to the website which in turn drives subscriptions to the magazine, a symbiotic relationship for all involved. For Fauchald, the two new social media programs simply lengthen the work day and produce more noise. "Isn't it more than bad manners when an entire table of foodies are live-tweeting about their dinner?" he asked, citing a recent food event.
A nervous potential food blogger asked if the panel, as food writers at established networks, resented food bloggers who write for free? (She clearly didn't remember that a few minutes earlier they had spoken with a sympathetic tone about today's food bloggers who all too eagerly give away their valuable content, ie. milk, for free and then wonder why no one buys the cow. Yes, yet another sexual innuendo.) The experts reiterated that it wasn't resentment they felt toward today's young, eager food journalists who passionately blog about Koreatown's best bi bim bap. What they did worry about was how much this reflects the greater trend that today's culture doesn't value anything that's free because nearly everything on the web is free. Halweil tried to spin this in a positive light by pointing out that issues like food security and sustainability make today the most exciting era for food journalism, but ultimately, the joy of transforming the current food system won't pay the bills.
At the very end, a couple of restauranteurs lamented the old days when a New York Times three-star review meant something and tried to determine what value to give to the abundant online food critics. For them, the panel had even fewer answers. Don't stress about the Yelper who doesn't know how to spell kidney. Just serve good food.
Perhaps the same can be said to future food journalists. Write well.
REAL LIFE. REAL NEWS. REAL VOICES.
Help us tell more of the stories that matter from voices that too often remain unheard.