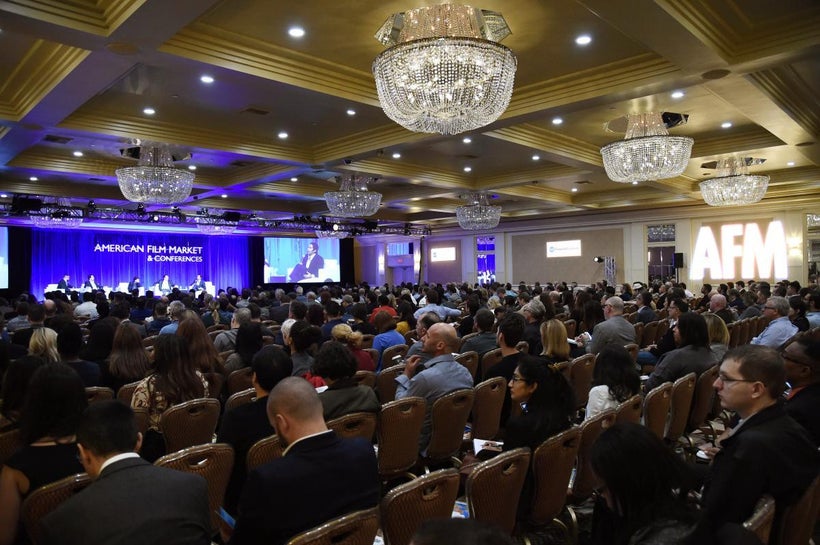 Every year the American Film Market (AFM) hosts a series of conferences in conjunction with the main focus of participants, buying and selling films and television shows in a global marketplace.
The Santa Monica, California based event attracts hordes of seasoned producers and buyers from every major corner of the planet. It also brings in a fresh batch of neophytes who are trying to understand how to break into the business.
These conferences provide a valuable introduction to how things are done for those starting out and it's a terrific way for seasoned veterans to hear about the latest trends.
The conferences kicked off this year with a panel of producers, studio executives, an agent, financiers and a host who provides an array of vital services for productions all over the world.
Their brief was to provide the audience with a long view projection of where financing for independent films was going.
The deep pockets and momentum of the streaming services like Amazon, Netflix, Hulu and others has shaken up the traditional formulas and standard operating procedures of financing and distributing. While it's been a boon to some it's also made it difficult, in some cases, to juggle their needs and the needs of traditional theater chains, as well as the desires of the filmmakers to see the greatest return possible for any given film. The magnitude of these tech giants couldn't be ignored.
"Netflix will release 80 films next year," said Tom Ara, partner at the global law firm Greenberg Traurig that does a lot of work with filmmakers. "It's good for every one," he said.
It may not be good for different forms of filmmaking like the traditional 90 and 120-minute dramas. Netflix and others increasingly are underwriting multiple episodic series that are attracting the actors, writers and directors, not to mention the audiences, who once shunned television and swore their allegiance to motion pictures.
Actors are discovering they can make more money doing a series than doing a movie. For some, it means being able to avoid going on location and the audiences are discovering that they can get great entertainment without having to get a babysitter, deal with parking, buy a ticket and leave the comfort of their homes.
This means filmmakers who want to lure people out of their video caves have to create something that's really compelling.
The theater experience isn't under siege in other parts of the world. In fact, it's booming.
"In Korea people are going to the theater a lot," said John Penotti, President, Sidney Kimmel Entertainment. " This is true in "China, India, Vietnam and Japan," he said.
This shift in consumer habits makes the job harder for producers in the United States and Europe who want to capture the attention of their potential audience.
Producers have to think about whether their films are right for a streaming platform like Netflix, have a shot of going global theatrically or would appeal to a particular niche such as drama, comedy or horror domestically.
"You have to think about how you build a film," said Penitti, and "think about the risks and opportunities."
Convincing the financiers to come on board once you have your plan requires you to have a really good script and a good package consisting of actors, a director and a budget that makes sense.
When they say a "good script" they mean something that will make a producer, actor and financier say "I have to be a part of this," said producer Cassian Elwes.
Once you've done that, "money will find it's way to you," said Ara.
Calling all HuffPost superfans!
Sign up for membership to become a founding member and help shape HuffPost's next chapter
This post was published on the now-closed HuffPost Contributor platform. Contributors control their own work and posted freely to our site. If you need to flag this entry as abusive,
send us an email
.