Want to take public transportation to LAX? Good luck. The nearest Metro rail station is infamously far away -- it's perhaps the most common example cited when people make fun of Los Angeles' inadequate rail transportation system. Whereas many other major world airports have subway stations a quick elevator ride down immediately below the terminal, at LAX if you were foolish enough to similarly attempt the connection on foot, the walk would take a tidy 57 minutes. (Of course, this is merely to make a point; a sane person would forgo the walk and take the provided shuttle bus, but that itself adds mightily to the connection time -- and once at the station, the rail destinations are limited, and the station itself not likely to make the tourist feel safe or secure.) LAX does benefit from a FlyAway bus system, but buses are far less frequent than public transit trains would be, and get stuck in gridlock along with cars.
Thankfully, Los Angeles World Airports and Metro are both studying potential future rail connections and a potential airport people mover. A number of options are being explored, and Metro will be hosting outreach meetings later this month.
But it's useful to step back for a moment and look at examples of how transit connections are done in other cities. Los Angeles has a history of getting things wrong; let's take a moment to learn from others, both good and bad.
London Heathrow
The distance between London Heathrow Airport and central London is about the same as the distance from LAX to downtown Los Angeles. Fly in to London Heathrow, and you can board Underground ("Tube" subway) trains directly from the basement of the airport terminals (perhaps after your international flight home, before you ride the adjacent elevator down to the trains, you'll restock on milk and other vitals at the upscale grocery market in Terminal 5). But why take the Tube when you can also choose an express train system to downtown called Heathrow Express that's run by the airport authority!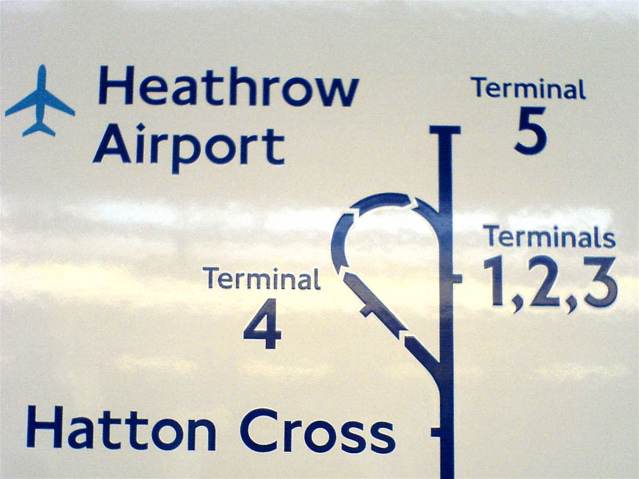 Opened by Tony Blair in 1998, Heathrow Express runs every fifteen minutes between London Paddington station and the airport. The express journey even beats driving: it takes just fifteen minutes to Central London, about three times faster than the Tube (and proportionally more in cost, $29 vs. $8 on the Tube). I dare you: try making it to LAX in fifteen minutes by car from anywhere in Los Angeles farther away than an airport hotel. But in London, you can depend on public transportation options to get you there reliably, quickly. It's worth noting that it was the airport authority that built Heathrow Express. A five-mile tunnel and new underground track was constructed connecting the airport with preexisting track farther away. The capital cost was raised by the private company, BAA, that owns the airport, from the company's own cash flow and from loans from the European Investment Bank and the Export-Import Bank of Japan. A manager with BAA noted, "The surplus of revenue over operating costs is confidential, but it is expected to give shareholders an appropriate return on capital investment. There is no cross subsidy from other parts of the business and there is no public subsidy."
Zurich
A 2007 presentation by the International Air Rail Organization at a conference in Los Angeles showed that an incredible 42% of Zurich Airport travelers arrived by rail. Swiss railway trains run between the airport and the Zurich central station every ten minutes, and the journey takes just ten minutes; tram service is also an option. Train and tram access is on site at the airport. No need for a lengthy connector ride. The train station is located underneath the terminal, with connections not only to Zurich but to other parts of Switzerland and even Germany.
Chicago O'Hare
O'Hare International Airport is served by a 24-hour a day 'L' metro line. Starting underneath the airport parking garage, the line runs a full 34.6 miles in length. The line is connected directly to Terminals 1, 2 and 3, and by free, frequent airport shuttle trains from Terminal 5. (There is no terminal 4 at O'Hare.) Chicago Midway also has a station near the terminal building, connected by an enclosed walkway.
New York JFK
JFK has an AirTrain system that connects the airport with the subway and commuter rail. Built by the same authority that runs the airport, the system was financed in part by federal Passenger Facility Charge revenue (a $4.50 fee on most outbound flights). Used by five million passengers a year, the system is still not perfect; it can take an hour (or two) to get to Manhattan, between the AirTrain ride and the subway ride. (Meanwhile, a similar distance on the Heathrow Express in London is 15 minutes.) If you fly in late at night to JFK and transfer to the subway via the Airtrain, as your humble author has, you'll realize the long and somewhat "exciting" journey leaves something to be desired compared with other options elsewhere. Meanwhile, Newark also has an AirTrain system that connects to Amtrak and New Jersey Transit options; LaGuardia is limited to bus options.
Washington, DC
Ronald Reagan Washington National Airport already has a Metro subway station on site, which stops adjacent to the car driveway in front of the terminal. Direct covered walkways to the airport terminal protect riders from Washington's snowy winters.
Washington Dulles International Airport, despite being 25 miles outside downtown, will soon have a Metro stop within walking distance of the terminal, as well. The Metropolitan Washington Airports has started construction on the first of two Phases to extend the subway; eventually, it will reach all the way to Dulles in 2016. The airport station will be approximately 1000 feet from the terminal, with moving underground walkways making the walk even easier.
...The List Goes On
Just like the Heathrow Express, a purpose-built airport rail link fine-tuned to accommodate travelers with all their baggage, a sampling of other similar options include the Hong Kong Airport Express (a 24 minute ride, with departures every 12 minutes that yours truly certainly appreciated after a long trip from the USA), the "Flytoget" serving Oslo Airport in Norway, the Arlanda Express in Stockholm, Sweden, and the two competing private airport express trains in Tokyo.
Connections to traditional subway and regional rail systems abound. The list of other airports with such options is too long to reproduce here -- as a start, one might look at Paris Charles de Gaulle, Frankfurt, Barcelona, Chicago O'Hare, and Boston Logan, etc. etc. A BAA rail manager notes, "The advantage of these links is that they have excellent through connectivity with the rest of the network, but the disadvantage is that they are not designed for air passengers who must share trains with other users."
High speed rail connections are a natural for airports. The French TGV station at Charles de Gaulle Airport in Paris and the German Intercity-Express (ICE) station at Frankfurt Airport are two examples. Yours truly took the German ICE train from Frankfurt to Hannover for the World Expo 2000 -- it was an absolutely ideal and completely seamless connection, direct from the airport.
There's a lot out there in the world to ponder. Food for thought the next time you sit in gridlocked traffic inching towards LAX, stressing about missing your flight.

Popular in the Community