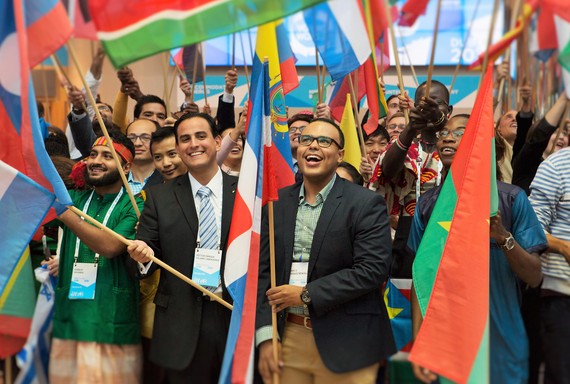 One Young World is the preeminent global forum for young leaders aged 18-30 and gathers the brightest young leaders from around the world, empowering them to make lasting connections and develop solutions to some of the world's most pressing issues. On 18 November, young people from 196 countries will descend on Bangkok for the One Young World Summit 2015.
If these brilliant young minds are to succeed in driving real positive change and creating a better future, it will be necessary to build their critical skills to develop into values-led high performance leaders.
Being a global leader in today's world requires much more than operating skills, technical understanding, and financial knowledge. No longer is it sufficient to meet the demands of shareholders and the laws and ethics of their home markets without regard for the negative consequences their businesses may have for the countries in which they operate. Future leaders need to be keenly aware of the impact of current and potential geopolitical events on business and possess a high level of self-awareness, cultural sensitivity and humility. In the words of former IBM CEO Sam Palmisano:
In this world of intense scrutiny, where everyone is looking at what you do...one reaction is to create management systems, more process, more controls, and more bureaucracy. Relying on traditional supervision, process and controls would inhibit serving clients responsively, and stifle employees' creative energies. We cannot apply Industrial age management systems to address post Industrial age needs. There is a better alternative, which is to trust employees. Values are the glue, the bond that binds us together in the absence of controls. These must be genuinely shared values; they can't be imposed top-down. Values provide employees a framework to make decisions when management systems and procedures are unclear. It comes down to judgment, based on shared values.
Developing the new global leaders will take a different type of leadership experience combined with leadership development programs, unlike most of today's corporate learning programs. Traditionally, the latter have focused on managerial skills and building one's knowledge base functional, as well as indoctrinating rising executives in the company's culture and its modus operandi. Yet the shortcomings of their leaders -- and subsequent failures -- usually result from the lack of emotional intelligence (EQ). As Novartis' Jimenez reflects on what is required to develop its cadre of global leaders, he notes, "When we assess Novartis leaders on leading self, leading teams, and leading their business, self is the weakest."
To develop global leaders who can succeed with the 21st century challenges, a building block approach is needed. Harvard Business School teaches that at the base is IQ, which is strengthened through the acquisition of knowledge, information, and critical analytical skills. Emotional intelligence, or EQ, is built on top of a strong IQ. As important as IQ and EQ are in defining leaders, for global leaders a much broader set of qualities is required called 'global intelligence', or GQ. GQ consists of seven elements, all of which are essential for future global leaders:
Adaptability to Changing World
Self‐awareness
Cultural curiosity
Empathy
Alignment
Collaboration
Integration
Adaptability to Changing World: Being a global leader today necessitates having the ability to the world as it is and to anticipate changes coming in the years ahead. Global leaders must be able to adapt quickly to the rapidly changing global context by shifting resources to opportunity areas and developing contingency plans to cope with adverse geopolitical situations.
Self-awareness: In the global context, leaders need to understand themselves at a deep level -- their strengths, vulnerabilities, and biases -- in order to perceive how they will react to the strong cultural differences they will encounter. The key to their self-awareness requires a high level of humility in order to recognise that other cultures often have better ways of doing things and are guided by different cultural norms.
Cultural curiosity: Global leaders must have a deep curiosity about myriad cultures and an understanding of how they operate. This includes a personal passion for diverse experiences and an insatiable desire to learn about other cultures.
Empathy: Empathy means an appreciation of the impact of cultural differences and the ability to walk in someone else's shoes. This requires humility and the ability to engage people from different cultures on a personal basis, rather than standing back and judging them. This kind of empathy builds rapport, bonding on a human level, and the building of lasting relationships.
Alignment: The challenge for global leaders is aligning employees around the company's purpose, mission and values, a commitment that transcends national and cultural differences.
Collaboration: In a global context, collaboration is the ability to create horizontal networks that cut across geographic lines, bring people together around a common set of goals, and create a modus operandi that transcends geographic goals.
Integration: The greatest challenge global leaders' face is to incorporate local and global issues into an integrated corporate strategy. As Unilever's Manwani says, "We have a globally distributed organisational model that balances local relevance with global leverage. We already have great presence in developing markets. We don't believe in 'Think local, act global'; instead, we believe in 'act local, think global'."
Marmalade Fish is sponsoring a delegate to attend this year's Summit in Bangkok. We are excited to be in the company of like-minded people who are ready to step up and help achieve our vision of making work better, by enabling employees to be at their best, more of the time.
REAL LIFE. REAL NEWS. REAL VOICES.
Help us tell more of the stories that matter from voices that too often remain unheard.