In 1966, James Brown topped the Billboard charts howling "this is a man's world." The world has changed.
In 1970, women earned roughly 4 percent of family income in the United States; today, women earn more than 40 percent of average family income. Since 1980, women's average weekly pay has jumped 26 percent, while during the same period men's pay has increased just 1 percent. Women comprise 60 percent of graduating college students and an even higher percentage of graduate students. In the past two recessions, the typical job loser was a high school-educated male in a blue-collar job, such as manufacturing or construction. In the past two recoveries, the typical job gainer was a female with a post-secondary education who works in a service occupation, such as health care, education, and business services. To borrow from a great film: "These are the facts of the case, and they are undisputed."
Most of our waking hours, whether male or female, take place at work. A creature of the business world, the workplace is where my mind first ran in the research for my forthcoming book, The Future of Men: Masculinity in the Twenty-First Century. And, indeed, business school is an interesting microcosm of these macro-trends. Harvard Business School was founded in 1908. It didn't admit women until 1962. The class of 1975 was 89 percent men. That is, it took 13 years for women to become 11 percent of the entering class. By 1995, women comprised 28 percent of HBS' entering class. Women comprise 41 percent of HBS' 2015 class. We like graphs in business. Here's what this looks like: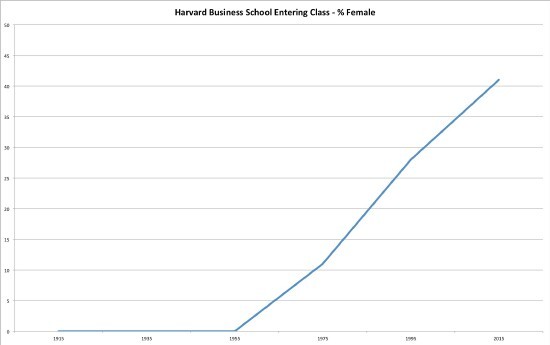 If this graph represented the increasing market share of a company, you'd be buying shares and shorting the competition -- men. The question is, what do we do with this? I, for one, think parity is great and look forward to the day the incoming HBS class hits a 50-50 split. Facebook COO Sheryl Sandberg's Lean In did a revolutionary job in road-mapping female success in today's new professional world. The imminent question, for men, is how do we adapt to and optimize our professional selves for today's world?
Here's what (I think) we, as men, should be asking ourselves: How can we do better at working with women, or just working in general? How do we old guys discard years of misogynistic and sexist behavior? How can I do better at working with women at 67? How can us old guys mentor younger male colleagues in (1) not repeating our mistakes or (2) not making new mistakes all their own? How can I learn from younger guys and actually let them mentor me? Fundamentally, what does the ideal modern male worker look like? But equally importantly, the inverse: How do we support the growing numbers of stay-at-home dads and develop resources for husbands whose wives are the primary wage-earners?
Speaking directly to the professional world from which I come -- media and advertising, and especially television -- I can now see how much of "the problem" we've been. It was nearly 50 years ago when James Brown first sang "It's a man's, man's world." Since then, we've heard the phrase repeated thousands of times and believed it to be true. We can no longer confidently or convincingly make that claim, nor should we even want to! When Homer Simpson is the most iconic TV dad of the past 20 years, and when men are portrayed as misogynists or bumbling idiots in advertising, we have a cultural standard that needs to change -- and change now. Achieving a new standard and definition of masculinity in business, politics, sports, education, relationships and parenting requires that we first address how men are portrayed in these roles in media. This is the first pillar for building a new supporting foundation to help us adapt to society's new rules, maintain our own psychological well-being, manage our egos and psyches, and strengthen our self-esteem and sexual self-confidence. Join me in advancing the belief that it's not the end of men; it's the beginning of a new era. I, for one, am excited.
______________
Jack Myers is Chairman and Media Ecologist at MyersBizNet, a business-to-business media company focused on the future. He is the author of five books including Hooked Up: A New Generation's Surprising Take on Sex, Politics and Saving the World, which won the International Book Award for Youth Issues and was Runner-Up for Women's Issues. He is the founder of WomenAdvancing.org, a dual mentoring organization of 6,000 women in media, advertising and marketing. He is forming FutureOfMen.com as a support organization for men and women.
Related
Popular in the Community