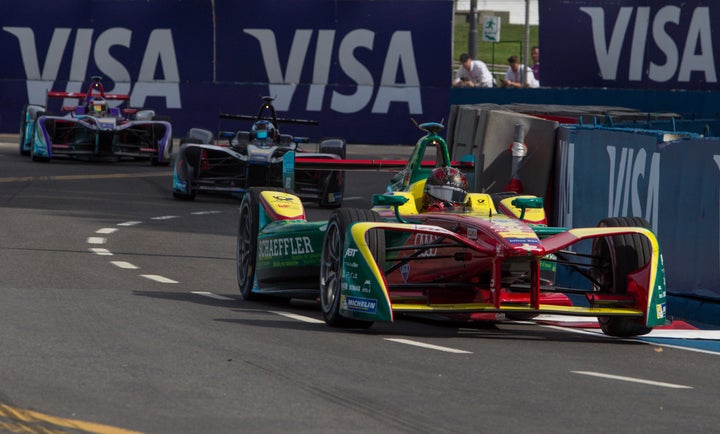 A few weeks ago, after a classic "summer in the South" torrential downpour, I headed out on a neighborhood walk with one of my best friends and her five-year-old daughter; where we hoped to catch a rainbow and the smell of fresh grass that only a storm can bring. About thirty minutes into our stroll, it began to drizzle so we made our way back to her house: Now a victim of a citywide power outage.
We attempted to open the front door, which typically remains unlocked for short jaunts around the block; but today was not typical. The next endeavor was the electric-powered garage door; but of course the power outage had affected that too. With all keys of any sort resting peacefully inside the house, no wallets or purses, and one phone charged at 13%, we did what any logical, tech-savvy damsels in distress would do: We grabbed a Lyft, headed to Whole Foods, and crossed our fingers that her Apple Pay was equipped with an updated Visa card.
For all the "99 problems" technology and innovation have seemingly created, in that moment I was grateful that payments weren't one.
After a series of successful, cashless transactions (which included three giant slices of pizza, cookies, and water) the three of us sat down to enjoy our nosh – and equally to marvel at living in an age where this was even possible.
So what does the future look like, as our cashless culture experience becomes the norm? What will it take to get there, and what can we – as consumers and businesses – expect in a cashless world?
This weekend, Visa will partner with one of the first-ever Formula E races in the United States to give fans a seamless, convenient and enhanced payment experience. Leading up to the event, I sat down with Jack Forestell, Visa, Inc.'s Head of Global Merchant Sales and Solutions, to gain insight and get the scoop straight from the leader in payment technology innovation.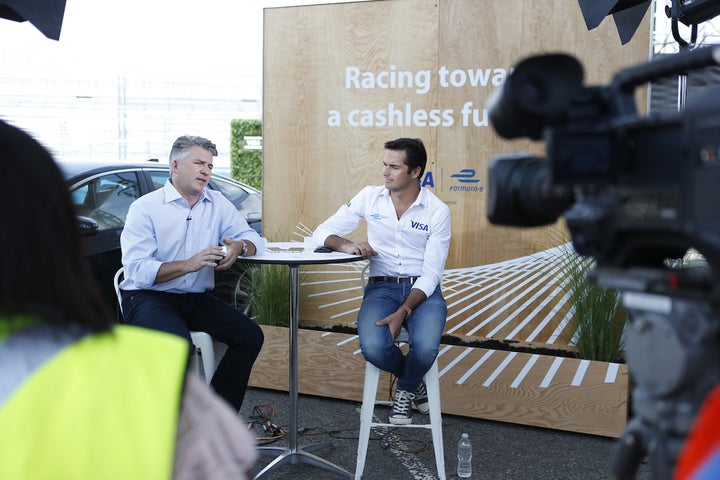 Rebekah Iliff: What factors are driving Visa's "Cashless Movement"?
Jack Forestell: First of all, this shift is an exciting one. The cashless movement is already happening in other parts of the world. In Australia we see 88% of all card transactions are contactless (with Visa having the largest market share); in Singapore 87% of consumers prefer e-payments and Sweden is on course to become the first completely cashless society.
We are leading the effort for the U.S. to catch up to the rest of the world with cashless payment technology. This is better for both consumers and merchants. People want a convenient, secure and easier way to pay – and, we need to do our part, as the payment network, to bring all other markets along to realize this vision.
RI: What is Visa doing specifically to advance this cashless culture?
JF: We are focused not just on putting cash out of business, but on making it easier for consumers to pay and for merchants to accept payments in more ways than ever. The desire from consumers is there, adoption is already happening. Going cashless is going to mean freedom for not just consumers and merchants but also for banks, and cities too.
We are launching a challenge to merchants called the Visa Cashless Challenge where fifty businesses can win $10,000 each by going cashless. Visa is putting a call to businesses across the U.S. to tell us why they want to go completely cashless.
The Formula E race this week is the ideal backdrop for us because just as Formula E is bringing the future to racing, Visa is bringing the future to payments.
RI: There are so many new entrants into the payments ecosystem. How does Visa view these players, and how do they play a role in furthering Visa's vision?
JF: Globally, there are 3 billion+ Visa cards. Last year those cards were used 162 billion times at 44 million merchant locations. So clearly our clients and partners are hugely important.
We're going to see payment capabilities become embedded in virtually anything that is a connected device. This year alone we're expecting to see global digital payments reach $3.6 Trillion dollars.1 So we're working with governments and central banks around the world to accelerate electronic payments and we always want to work alongside other players who help bring the Visa vision to life.
RI: How does the U.S. cashless economy compare to others around the world?
JF: There are other markets more advanced in the move toward cashless. Sweden is on course to become the first completely cashless economy in the world, with 98% of payments there made with non-cash methods.2 In Canada, where I'm from, there's one of the highest penetrations of card-based payments in the world – more than 70 per cent of personal purchases in Canada are card-based. Contactless payments (both mobile and card-based) are widely accepted in Canada.
We have decided to put a larger stake in the ground in the U.S. Think about situations where you can't use cash at all: on airplanes, or certain bridges. The bridge I cross every day – the Golden Gate – is 100% cashless. That's what Visa is striving for everywhere.
The consumer lifestyle is evolving to where customers are constantly on the go. By the year 2020, the Internet of Things (IoT) will consist of more than 20.4 billion devices, including mobile phones, wearable technology, home appliances and cars. Each device is a potential way to pay, and Visa is leading the pack in payment opportunities.3
RI: What are the economic implications of cashless culture? Meaning, who wins? Who makes money? Who loses?
JF: The cost of doing business in or with cash is expensive. So, it's not only businesses, but also consumers who stand to gain from going cashless. Consumers will also have access to easier, more convenient, and safer transactions. And if we speak in general terms, the less cash-based a society is, the less corrupt: The move to cashless can also provide interesting and more diverse opportunities when it comes to investment opportunities.
We recently conducted a study that details the benefits for merchants, consumers and economies; a complete view of the benefits of going cashless for businesses will be included in the "Cashless Cities: Realizing the Benefits of Digital Payments" report that will be released by Visa later this year.
RI: What are the benefits of merchants who accept cashless technology?
JF: We see nothing but gains for merchants who switch to cashless. Cashless gives merchants the ability to offer customers convenient, secure and easier ways to pay… along with the increased ability to accept all forms of digital payments globally. Growing acceptance amongst merchants has always been one of our top priorities for our business and for our customers.
We want to see merchants use innovation to their advantage in order to stay competitively connected to their consumers.
RI: How can cashless be used to do good and how can it serve those in developing countries?
JF: There are roughly twenty governments across the world that are actively putting incentives in place to help reduce the dependency on cash. Over the past two decades, India has pushed hard to become a less-cash society versus a cash-dependent society, and Visa has stepped in to provide digital payment solutions.
mVisa allows consumers to use their mobile phones to make cashless purchases, pay bills and send money to friends and family members by securely linking their Visa debit, credit or prepaid account to the mVisa application. The mVisa solution is live in India and several countries within Africa. This type of digital solution has helped open doors for people who were previously off-the-grid or unbanked, which in turn has created entrepreneurial opportunities and reduce friction in how people pay and get paid.
RI: What is innovative about Visa's approach to cashless?
JF: We have a global position as a leader in innovation and technology, and it's our responsibility to use that position to recognize consumer demand and enact positive changes in the global payments industry. We are creating incentives for merchants to remain competitively connected to their consumers and grow with their consumers. As the world's largest payments technology company, no one embraces the benefits of digital currency more than we do.
RI: What excites you about being part of this movement to cashless? Most people think payments is a boring space, but you clearly find it full of opportunity to do new and cool things...so talk about that for a minute.
JF: This is such an exciting time in this industry. More people are connected via mobile device every day. That means each and every one of those mobile users can accept an electronic payment. That's incredible! Visa sees this as an opportunity to educate merchants and consumers alike on the effectiveness of going cashless. And they're open to it.
We've been meeting with several businesses ahead of Formula E in Brooklyn. We talked to one restaurant owner who really hit the nail on the head: "No one uses cash anymore. More than 90% of my customers are cashless. And it's a pain for me to have cash on hand."
He's a perfect example of why we are doing the work we're doing at Visa. We believe in the benefits and the freedom of a cashless culture and we want to make it possible for everyone to join the movement.
1. Juniper research report: Strategies for payment providers: Opportunities, Risks & Competition 2017-2021
3. Euromonitor – Merchant Segment Study and Gartner
Related
Popular in the Community