If the technological revolution has taught us anything, it's to expect more, more, more.
I'm here to tell you, that as demanding as we have all become, we are not going to be disappointed. My optimism springs from spending a day last week at the Structure Data 2016 conference in San Francisco. There, some of the companies that have most intimately intertwined themselves with our everyday lives talked about what they're cooking up to make money, while making our lives easier.
It's not so much what I heard in individual presentations that has stoked my optimism. A lot of what I heard were visions that have been floating around for awhile -- and the 20-minutes-per-session format made it difficult to take a deep dive into most of the ideas.
Instead, it was the fact that I was immersed in a day full of conversations featuring Facebook, Yahoo, Uber, Netflix, Pandora, Pinterest, Slack, Microsoft and the Orlando Magic all talking about what they are doing and where we are headed.
Yes, the Orlando Magic -- and I can explain.
But first, think about how much the world has changed in the last two decades. The companies I listed include enterprises that make our everyday tools, provide our diversions; our everyday pleasures and, occasionally, frustrations. They've become for us what CBS, Sears Roebuck, Life magazine, Bell Telephone, Smith-Corona, Metro-Goldwyn Mayer, Checker Cab and a host of other brand names were for previous generations.
And think about how much the world will change in the decades to come. If my day at Structure Data is any indication, we haven't seen anything yet. These companies, primarily tech companies, are pushing forward at a mad pace, exploring the myriad ways that harnessing data can change our lives -- presumably for the better.
If I were to grab onto a theme of the day, I'd pick personalization, because in some form or another, many of the coming breakthroughs discussed at Structure Data have to do with making information, services and products more relevant to us as individuals.
Some examples from among many:
Pandora and Gracenote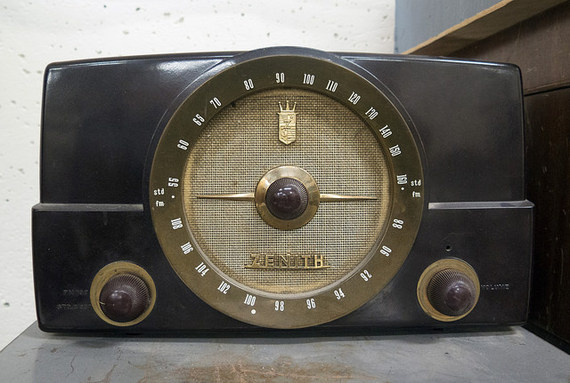 Few would argue with the notion that Pandora has a firm grip on personalization. Chris Martin, Pandora's chief technical officer, threatened to explode a few heads by opening his presentation with the fun facts that the digital radio station has a database of 65 billion pieces of feedback (think thumbs up/thumbs down) from listeners and 1.4 million human-curated music tracks that help train machines to curate even more tracks.
Oddly, one of Pandora's personalization projects is to come up with a way to personalize for a group of people, if, in fact, that is personalizing. Ty Roberts, of Gracenote, who shared the stage with Martin, explained the problem, which his company is also focused on.
"If I'm in the car, I'm listening to Black Sabbath," he said. "But if my wife gets in the car, there is no Black Sabbath. So what I listen to in the medium range is the Eagles."
But let's say the couple then picks up Roberts' 16-year-old son. He's more a Kendrick Lamar guy. The Eagles are a no-go.
"That's still a problem," Roberts says. "So, Gracenote is trying to figure that out. How to map all that together."
Gracenote maintains a huge database of information about the contents of compact discs, which allows digital devices to recognize and identify musical tracks. It also sells systems to automatically create playlists and recommend music.
"I think most consumer media companies are having this problem," Martin said of appealing to multiple users simultaneously. "At the moment, profile management is hard."
Think of Netflix, he said. All it takes to mess up his profile, Martin continued, is to have his kid watch one movie under his name.
And so, Pandora is looking at a way to combine personalization and context. The opportunity, Martin said, is for Pandora to gather more data about where and with whom listeners are listening to music and to come up with ways to understand and acknowledge that.
Gracenote is focused on a similar initiative, Roberts said.
"It's going to take into account the weather," he said. "You'll get a playlist that will relate to what you're doing in the car. What are you listening to on your way to work? What are you listening to on the way home?"
Yahoo
Yahoo news is in business to personalize your news feed. But recommending relevant news stories is a tricky business, Suju Rajan, Yahoo's director of research for personalization science, told moderator Signe Brewster. What's relevant in the morning before work, might not be relevant on the way home -- and not just because news by its nature is perishable.
The truth is that people on the way to work are in a hurry. The content they consume might be very specific to what they need to do or know that day. On the way home -- and once home -- they might have time to slow down a bit, to read deeper into a subject and explore new topics.
Someone reading on a laptop might be willing to click on a story to quickly check it out. A mobile user might want to read only headlines and keep scrolling without clicking at all.
Like the Pandora problem, it's all about context.
"We're trying to figure out when you want to engage in them," Rajan says of stories and videos, "as opposed to when you want to really be in the know. I think that would be a cool thing for us to tackle."
And how does Yahoo begin to tackle that? By training machines that then train themselves based on users' behavior. But even doing that requires thoughtfulness. What user behavior is important?
"While we were building the personalized news feed, one thing we understood early on is that click behavior is hardly an indication of user interest," Rajan said. "The amount of time that a user spends reading an article is what is indicative of their interest."
As a result, Yahoo pays a lot of attention to users who come back to the site frequently in, say, a three-month period -- long-term engagement, they call it. What do such site visitors have in common?
"If we optimize for dwell-time, the amount of time a user spends, and rank them that way, that is highly correlated with the fact that the user will keep coming back to the stream, over and over again," Rajan says.
Facebook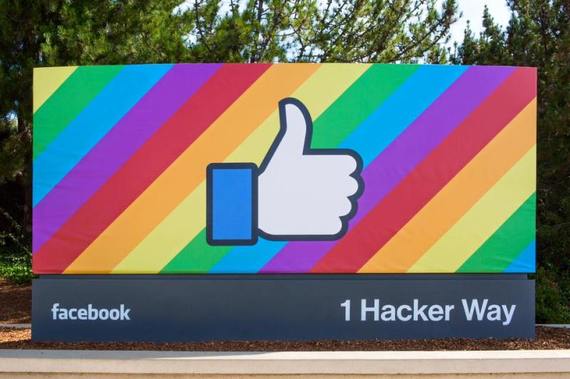 For its part, Facebook is working on better understanding the ways individuals talk. The idea is to make the social network more conversational. Alan Packer, who goes by director of engineering, language tech at Facebook, told interviewer Stacey Higginbotham that Facebook's machines are very good at understanding text. But spoken language is more difficult.
People have accents, speak different languages, use idioms, swear, use slang, shorthand and made-up words.
But those conversational styles are going to be more and more important to understand, because users are moving away from sitting down at a keyboard to compose posts or post pictures etc. They are moving to mobile devices and even devices with no keyboards at all, Packer said. (Apple co-founder Steve Wozniak talked about the trend, using the Amazon Echo as an example.)
And so, spoken language is becoming a key to communicating on the social network.
Think of the sort of written conversations going on on Facebook today.
"Dialogs are taking place all the time on Facebook," Packer said. "'Hey, I'm going to Las Vegas next week. What's the hot restaurant?' Where we're heading toward, is Facebook actually wants to participate in that conversation and share helpful information."
And more importantly, advertisers would like to share helpful information -- information that would help you choose their restaurant for dinner, for instance. But soon those conversations will be more likely to be spoken and Facebook needs to deeply understand them.
Maybe, like Higginbotham, the idea that Facebook wants to join your conversations doesn't sound like pure upside to you. Packer assured Higginbotham that users would remain in control of the conversation.
"You can totally unfriend us," he said.
Orlando Magic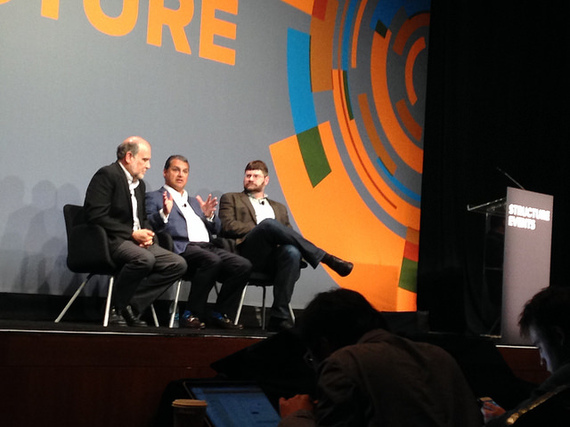 The NBA's Magic has moved big time into big data this season to set ticket prices, create a more memorable customer experience and build loyalty.
Magic CEO Alex Martins ran through the steps the team is taking with John Paul of VenueNext, which is overseeing the team's efforts to use data to build a better in-stadium experience.
I know what you're thinking: Isn't putting a winning team on the court the best way for an NBA franchise to create a memorable experience and build loyalty? But if putting together a winning team were easy, everybody would be the Golden State Warriors. And the Magic are not the Golden State Warriors. In fact, they are at the bottom of their division, having lost more games than they've won.
But besides playing basketball, the Magic also sells stuff -- food, drink, team gear, parking and game tickets. So, like others in the retail world, they've stepped up their game when it comes to customer experience.
"We're transforming what used to be a season-ticket purchase into a membership," the Magic's Martins told the Structure Data crowd.
For a set price ($499 for the rest of this season), a fan can become a Magic member and attend every home game. The catch: The fan doesn't know exactly where his or her seat is until he or she walks into the arena and is sent their seat assignment, which is determined by supply and demand. If the Magic are playing a popular opponent and the crowd is big, the member will end up in the cheap seats. If not?
"If it's a low-demand game," Martins told me after his presentation, "you're probably going to end up with a great seat."
At the core of the Magic's data transformation is a team app with features that the Magic started rolling out about a year ago. Season ticket holders can use the app to turn unused game tickets into credits that can be spent at concession stands and on tickets for future games. The app can also be used to buy tickets, upgrade tickets, order food and pay for parking.
"We are collecting an enormous amount of data now on all the people who are using the app," Martins said. "We can tailor a customer's experience to each individual, based on the data that we've gathered on the previous purchasing experience."
Paul, of VenueNext, said 80 percent of the Magic's season-ticket holders use the app and that 26 percent of Magic tickets are sold through the app. He said the app is six times more popular than a sports team app typically is.
Martins said downloads of the new app are up 300 percent over the old version and that 75 percent of fans have used the app to purchase something -- food, beverages or retail items -- while in the arena.
"Food and beverage sales are up 15 percent," Martins told me. "That's totally attributable to the people who are using the app to order."
The app and in-arena sales are part of a larger data strategy that dynamically sets game ticket prices.
"Our ticket prices, based on demand and based on our data, change by the minute," Martins added. "It's based upon the demand of the opponent, the day of the week, certainly how our team is playing, etc."
Team employees also keep an eye on the behavior of season ticket holders -- are they turning tickets in; are they buying food and drinks while at the games or do they appear to be losing interest?
"We created a road map for our service reps to figure out which of our clients they needed to spend the most time with to hopefully convert them to renewing for next season."
And about next season... Martins assured those gathered at Structure Data that the team was in fact also using data to try to take its players' game up a notch. Like other NBA teams, the Magic crunch data to track players' fitness, analyze defensive sets, help players identify the best spots on the floor from which to shoot and the best places to position themselves on the court to snag rebounds.
But that, frankly, is a data discussion for another day. As the sports saying goes, maybe next year.
Photo of radio by Robert Couse-Baker published under Creative Commons license. Photo of Facebook sign courtesy of Facebook. Photo of Alex Martins with John Paul and Tom Krazit by Mike Cassidy.
A version of this post originally appeared on the BloomReach blog.
Mike Cassidy is BloomReach's storyteller. Contact him at mike.cassidy@bloomreach.com; follow him on Twitter at @mikecassidy.
Calling all HuffPost superfans!
Sign up for membership to become a founding member and help shape HuffPost's next chapter