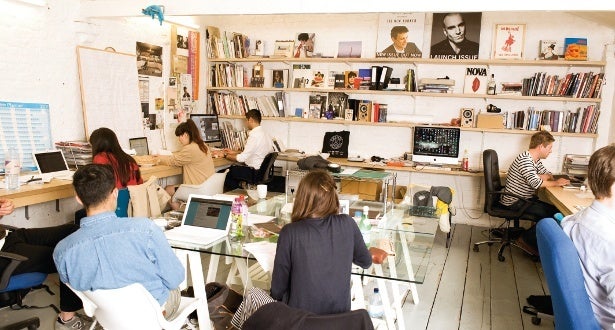 Quo Vadis is a restaurant and private club that has been around for 90 years. Karl Marx and his family lived in two rooms. This is where I meet Dan Crowe.
Crowe has had a busy week, which probably happens more often than not. He sits at the helm, serving as the founder and editor-in-chief, of two print magazines — one, a men's magazine entitled Port, that he founded a few years ago with New York Times Magazine art director Matt Willey, and award-winning creative director Kuchar Swara. They published the first issue in 2011 without any external investment. Hungry to explore further, Crowe started the second print publication, Avaunt, an adventure magazine with Willey and polar explorer Ben Saunders. They launched Issue 1 in April 2015.
"We came in at a very high level in terms of editorial. We were punching way above our weight," Crowe said. "We knew we wanted Daniel Day-Lewis on the cover because no one else could get him. I knew how to get him through a couple of friends.
"The only reason we could convince him to do it was by working with some friends at The New York Times to get the right photographer. There's a desire to work with some of the greatest writers alive. Robert Hughes, at the time, was alive," Crowe said.
"With Daniel Day-Lewis, he was horrified that I'd asked him if he would be the cover star, and I said, 'But what about if we do the piece where you're going to Palestine and talking about kids being shot by the U.S. Military? How about that?' And he said, 'Yeah, that's good. Let's do that,'" Crowe recalled. Day-Lewis would go on to guest edit the ninth issue of Port.
Crowe explained that his ambition for Port made potential collaborators a lot more enthusiastic. "We were going to try and give Esquire a run for its money and actually hit some of the high points that Esquire hit in the late '60s and early '70s, and really just try and do the best we could. When we talk about quality, we really have to go back to basics," Crowe explained. "We invented our own fonts for the magazine, we drew it ourselves, we sourced our own paper, we went and found out what photographers National Geographic couldn't work with and then we worked with them."
He summed it up, "It's really about being very, very, fierce with quality."
The most important part of building a magazine, according to Crowe, is to be clear on the vision; make it concrete. "Forget about all the bullshit. Forget about all the stuff that you're going to put in a PDF and email advertisers or an investor. Forget about all that," he said. "Where is it actually going to be on sale? When am I going to see it when I walk around town? Where is it going to be? What towns? How much would that cost?"
Because he didn't have funding, Crowe got creative. He gave equity to people to work free for a year. He also got the first year of paper and reproduction for free by exchanging a couple of percent in equity. "If you don't have money to start off with, you've got to produce it without spending any money. It just has to be as simple as that," he said. "And people are willing to work. At the time, people seemed to be willing to give things for free to the cause, because the cause was a good one. It was something they felt passionate about."
"I just said it was going to be a brave magazine full of proper opinions. No bullshit. If a story is really good, we'll give it the space it needs," Crowe said. "If it needs 30 pages, or 100 pages, we'll give it what it needs. We'll do everything it takes to do something that we're all proud of."
Prior to Port and Avaunt, Crowe had started a literary magazine named Zembla. It was published for eight issues between 2003 and 2005, before Crowe moved on to new projects. "What I learned from that is, whilst I had a lot of fun doing Zembla, and people really loved Zembla, it's a nice magazine, but you have to meet the commercial aspect of magazine publishing and the readers halfway sometimes."
"With Port, we wanted to make it a really pleasurable experience to be with. We researched a lot about how big it should be," Crowe said. "We thought a lot of people would be buying it on the train and plane journeys, so we needed to be able to read it in this kind of space. It needed to be able to bend around, but not crack. People were going to keep it because it was nice paper."
He continued, "My friends and I that launched it, we put together a list of heroes that we wanted to work with. And then I approached all of them. With only a few exceptions, we ended up working with all of them in the first five issues. Hence, Daniel Day-Lewis on Issue 1, and David Remnick from the New Yorker on Issue 2."
Crowe shared a simple tactic that he used to get high-profile, yet important people involved in his projects. "You don't ask them much. Ask them for a 50-word quote, ask them for a picture of their favorite book or something, but get them involved in your network," he said. "Very easy thing to start working with somebody, even if they're saying no, they're still saying something. You start from there. It doesn't matter whether it's a politician or a writer or a scientist or a technologist like Bill Gates. Just start from there."
"And then you can start — not making things up — but you can start saying, 'This is part of my clan, my group.' That's what a magazine is, in a very proud way, it's a club, it's a group of people. And then you visualize it. Just make sure you work with good photographers. That's the other thing, you don't put crappy ingredients into a cake," Crowe advised.
Baking a cake might sound straightforward, but it gets more complicated as the recipe evolves. Reflecting on the insights he gained from starting Port, Crowe said, "The idea of just launching a magazine, at the moment, is tough. But it's always tough. It was tough when we did it. I've been doing this since 1997, so it's possible… And it's possible to make money, too."
"I think you would need to launch a consultancy, that is spearheaded with the magazine, which would be your couture, it would be your value pillars: this is what we are, this is what we're capable of," he said. He reflected on his experience implementing this fundamental change in his more recent magazine, Avaunt. "That's what your magazine is. You've got to aim high, and the great thing about aiming really high is that it's just really healthy. It's really not worth doing something like this if you're not really going for it. Really going for it. Like, go nuts."
The consultancy would provide creative insight and support to advertisers. "What we've found is that advertisers don't know how to create content, so they need help," Crowe said. "One of the things we know how to do really well is create content. At the time of launching Avaunt, we realized that we could not just be a magazine, we had to be some kind of hub in which to talk to advertisers who were interested in luxury and innovation and advertising, and to help them tell their own stories, and to also have a space where people who were interested in adventure and style could go and relax."
Although the most visible parts of Port and Avaunt might appear similar in that they're both print magazines, Crowe thinks about them very differently. "Port is a magazine with a website and a creative consultancy," he said. "Whereas, Avaunt is a brand, and that brand has a creative consultancy and a magazine and an events arm to it. On a stick, it's a lot more wide reaching and it's a lot bigger. In a way, Port is quite old school. It's a magazine. Whereas, Avaunt is a brand that has content in various different directions."
Amidst the changing business models, Crowe focuses on a fundamental standard of quality and encourages others to do the same. He said, "We wanted to make content that made The New York Times Magazine jealous. That's one of my personal requirements when I'm putting together a feature for Port. You've gotta go for that. Otherwise, I just get bored."
Related
Popular in the Community