 In the online marketing industry, this may be remembered as the year many companies completely abandoned spending money acquiring users on Facebook. The industry is beginning to realize that spending millions of dollars for "Likes" is very much like buying random email customer lists on the internet -- unless there is an ingenious content strategy, those users become stale and useless. The world has realized that Likes should not be the measuring stick of a successful business, although Facebook clearly wants you to think otherwise. The future of brand engagement will be unlocking the power of fans on the strength of a good character. A character that makes them laugh, think and maybe, just maybe, cry.
What We Can Learn from the World's Cutest Dog
There is an interesting opportunity for companies that have been hoarding Facebook Likes for the past few years. This morning, Ford Motors was showing 27,186 people talking about them on Facebook, while 345,379 were talking about Boo, the self-proclaimed "World's Cutest Dog" (admittedly, that dog is darn cute). Now, what started as a single Facebook page is a marketing phenomenon: we are seeing Boo in co-branded Beats by Dre campaigns and other brands around the world are now willing to pay to be associated with this web pet celebrity.
How did Boo turn into a multimillion dollar branding magnet? Simply by being a literally attractive character. Boo was the kind of Internet lightning rod built to attract millions of Likes (and, not coincidentally, "awwwws"), and even large-scale brands gravitated to the power of that kind of engagement. If you build an interesting character, whether it's the world's cutest dog or The Most Interesting Man in the World, they will come.
Let's Look at the Real Conversation Ratio
It is no longer enough just to look at the absolute number of fans a brand has on Facebook. Anyone can purchase Facebook fans -- what matters is the amount of engagement around the brand.
By dividing the number of people talking about this on Facebook by the Total number of Facebook fans we get the Real Conversation Ratio and see some telling evidence: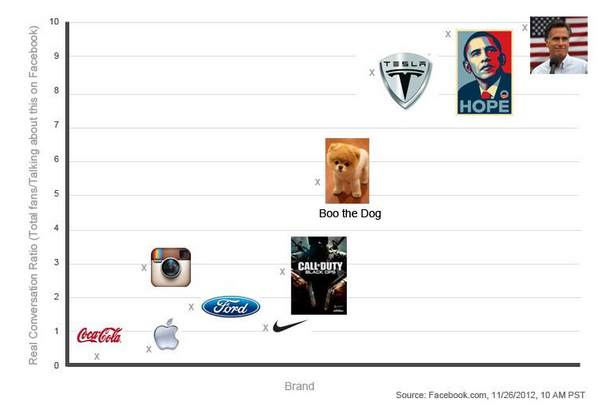 The above graph demonstrates that the Real Conversation Ratio definitely needs a weighted factor because the highly regarded brands Apple, Coca-Cola are near the bottom. The size of the users who like the larger companies, such as Apple or Coca-Cola make it very difficult for the brand to have a high number of people talking about them. Regardless, we can still see that Boo the Dog has a high Real Conversation ratio from a very spirited, loyal group of users.
Why didn't Boo the phenomenon come from a brilliant creative agency or campaign?
The answer is that most agencies are extremely cautious about how branded content is distributed. In 8 out of the last 10 meetings I've been in with advertising agencies, I've heard the words "protect the brand." When a brand is overprotected, those wild, new ideas that will actually grip a target consumer rarely see the light of day. Instead, companies are driven to use traditional and more conservative methods of customer acquisition such as Facebook ads, Google ads and display ads.
A brand is a living, breathing organism. Social should be used as a form of distributing content and characters. The marketing team behind the spoof reply of Bodyform ultimately took a risk in poking fun at the disgruntled user. If the brand you are trying to build is at risk based on one single piece of content, you're probably not creating enough content around your brand. Create often and entertain frequently.
At our viral advertising company VIRURL, the content that is edgier and funnier receives on average an 80 percent lift over dull content. It is something I tell all our clients: "dull content is much more expensive to promote."
Your Audience Is an Audience
The brands on Facebook that have the highest engagement are brands that go beyond just promoting their own product. Think about your users as people who want to be entertained, not just as customers. People are on Facebook for one of the following reasons:
They're bored.
They're at work.
They're trying to get in touch with a friend.
I went through an exercise of reading the last 20 timeline posts on Ford's Facebook timeline - it seemed completely unnatural and jarring. It did not feel like dialogue or content but more in the category of blatant promotion.
Rarely will a person sit down and say, "Oh, I wonder what Ford is up to, let me check the Ford timeline." So how does a brand fit into the user content consumption equation? The brand's mandate should be to entertain. Create an emotional impact that is memorable.
The Future of Marketing: Stories That Stand Out and Stick
There is a fundamental challenge with creating compelling content for an audience: not every marketer is a storyteller. Ten years ago, the "voices" of these brands were likely managing large purchases for display advertising or buying ads in print. Now they face the challenge of creating a compelling story that is risky enough to be noticed.
However, before you run out and hire your local comedian to manage your brand's voice, also make sure you understand who your customers are. Split test emails with different 'voices,' target Facebook ads with different words, etc. This will help turn what can at times be a vague art into more of a science.
This idea of major brands staking million dollar campaigns on characters that tell a story around a product, rather than directly advertising it, might seem ridiculous at first. However, the memory of laughing out loud at a brand's character is certainly going to be more memorable, and more effective, than a banner ad the next time I reach for my wallet.
Related
Popular in the Community