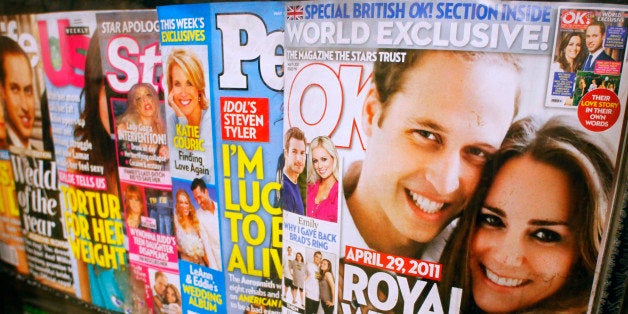 In 2007, Barneys New York heir and former co-CEO Gene Pressman wrote a book called Chasing Cool. It analyzed how certain consumer products catch on "in a cluttered marketplace" -- a sort of pre-Gladwellian analysis of cachet. He enthused about Us Weekly, the then-recently revitalized publication that I was editing at the time. Pressman called Us Weekly the "iPod of its industry," adding, "like crack on newsprint, it made an entirely dormant segment into a monster loyal audience."
But as anyone who follows celebrity knows, those "cool" days have faded. Sales of every newsstand publication reliant on the right face at the right time have plummeted, ratings of entertainment news shows are down, Hollywood rarely mints big new stars anymore, and the breathless market for "exclusives" and baby reveals (coined the "celebrity industrial complex") has gone the way of Dutch Tulips (save, for say, the occasional new British princess). Some reasons for the ennui are obvious: oversaturation, the Internet, smart phones and social media's supplanting of traditional media outlets as middleman.
More telling: The ruling class simply stopped caring the way it once did. In Us Weekly's heyday, young women in New York City who wouldn't have been caught dead reading mom-sy People magazine or downmarket Star in public rode the subway inhaling the novel, newsy entrant, making its "Just Like Us" ethos a catchphrase of the decade. Measured independently in 2008 by research organization MRI, Us Weekly's 11 million readers were two-thirds college-educated, with a household income of $72,000, ahead of Vogue and Vanity Fair. Those stats meant that in 2007 we could get candidate Barack Obama to invite a reporter on his campaign; his rival, Hillary Clinton, to Fashion Police her own outfits, and then be covered by The New Yorker because of that. Ivy League types debated at dinner the day's pressing topics: Jennifer Lopez and Ben Affleck; Britney Spears shaving her head; or whatever iteration of Brad (Pitt), Angelina (Jolie) and Jen (Aniston) was at play. George W. Bush was president, 9/11 had just happened, and an ill-conceived war was raging in Iraq. Celebrity was a weapon of mass distraction, a preferred medium of communication -- even for the future president.
During that era, copycat publications emerged, as did Perez Hilton, TMZ and many more websites amounting to millions of page views with the same commodity: celebrity news and photos. Some were great, some weren't, others were fawning. But all of them required you cared endlessly about Lindsay Lohan's car crashes (real and metaphysical), who wore something better, or the confessions and woes of every marginal "star." The "white noise" effect kicked in, and 24/7 celebrity news and scandal began to sound like the teacher in Charlie Brown. It also ceased to be "cool." After all, something viewed as too available simply couldn't be.
So where does this leave the future's celebrity-dependent magazine covers and media? That may seem an anachronistic question in a digital age. Yet in the web's infinite landscape, where anyone can be the star of his own Vine, covers actually matter more. Remember, commodities rise in value when they are in limited supply. Could Kim Kardashian have broken the Internet with an Instagram post of her bare derriere? Maybe. But it became a sensation thanks to its "cool" status on 6-times-a year Paper magazine (see, it was art, not pornography!). And Vogue may have had average sales on that Kim and Kanye West cover, but it gave the couple the only 12-times-a-year imprimatur of tastemaker Anna Wintour.
Comparatively few saw or touched the physical copies of those issues. No surprise. At The Hollywood Reporter and Billboard where I now work, our 35 million monthly visitors (comScore) dwarf our print circulation. Newsstand sales are irrelevant, as they will be for every single title in the next 10 years. And while that's potentially threatening as an editor, it also is liberating. Yes, my staff carefully curates gorgeous, luxurious print editions that I like to think are smarter than any out there, and we won a National Magazine Award this year. But the ultimate goal is to make these pieces catch fire online, which opens wide who can be on a cover.
At People magazine in the '90s, the editor said to never put a star on who wasn't ubiquitously known. Today, I'd argue for the opposite, as the Internet masses grow weary fast and the consumer base of female newsstand-buying grocery shoppers shrinks. Innovators and originality are rewarded online in a way that safety (say, the 1,000th magazine cover of Julia Roberts or Sandra Bullock) historically has been in print.
At The Hollywood Reporter and Billboard, we have a combined 90 covers a year to take a chance. Sometimes we are lucky and get Chris Rock, whose bylined Hollywood Reporter cover on racism in entertainment -- hardly supermarket fare -- was read online by nearly 900,000 people (and counting). Recently, we featured Roger Ailes, the rarely profiled chairman of Fox News. He is 74 and polarizing, and the photo was black and white. Yet, within 24 hours of the story posting, a 4,200-word piece from a magazine that prints 72,000 copies was read online by 400,000 people. Its cover image sat atop the Drudge Report for hours. Rupert Murdoch's chief of staff tweeted a photo of the Australian billionaire in his L.A. office reading the cover. The print edition. A 360-degree modern media win.
Oprah Winfrey said at one of our events that no matter how big her interview subject, the person always asked afterward, "Did I do all right?" Her point: validation matters. To everyone, reader and subject alike. The digital audience -- especially the digital audience -- craves these signposts amid a 24/7 culture of quizzes, lists and an endless social media loop of outrage. Maybe in the near future, as reality TV shows decline in ratings, and banality hits a bear market, a Vanity Fair or People could steer clear of the canned A-list interviews and take a chance on a Silicon Valley star, or the right TED talker-turned Internet icon. All editors, unburdened of the Sisyphean task of maintaining newsstand sales, could try more interesting, less available people -- a commodity as scarce as actual covers themselves.
After all, everything is deliciously upside down: a trade (as both my titles once were) can now be more mass than a mass title; and creative people once accessible only to thought leaders in quirky publications are now available to millions online. Talk about "cool." It could be a great future where sometimes, yes, even Roger Ailes can be the web's Kim Kardashian for the day.
This post is part of a series commemorating The Huffington Post's 10-year anniversary through expert opinions looking forward to the next decade in their respective fields. To see all of the posts in the series, read here.
REAL LIFE. REAL NEWS. REAL VOICES.
Help us tell more of the stories that matter from voices that too often remain unheard.