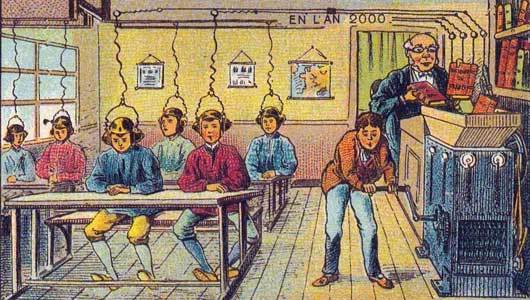 When you get to a certain age, you find increasing evidence that you've been yammering on the same topics for a very long time, usually to no great benefit. I just made one of those discoveries. Going through some old publications, I found a 1991 article I wrote on the future of Title I (back then it was called Chapter I). I was writing just after the 25th anniversary of Title I, painting a picture of how Title I should be on its 50th anniversary. That would be now.
When you're writing about how things will be in 25 years, you naturally start thinking about flying cars, robots and so on. However, what I was proposing turned out to be even more fantastical and unlikely. I proposed that Title I be used for whole-school, comprehensive approaches with strong evidence of effectiveness. This would mean investing in development and evaluation of whole-school programs, and then encouraging schools to adopt proven approaches. What a wacky thought! With students at risk, use what has been proven to work! Of course, this was not to come to pass. In fact, until recently, even School Improvement Grants (SIG), special funding for the lowest performing schools in the country, the concept that at least in these schools proven approaches would be a good idea has been slow to catch on.
Actually, during the 1990s, there was a movement to do the very thing I was proposing. It was called comprehensive school reform (CSR). CSR programs provided innovative, integrated approaches to curriculum, instruction, provisions for struggling students, professional development, leadership, parent involvement and more. Many were supported by New American Schools, a private foundation with funding mostly from large corporations. In the late 1990s, the federal government provided up to $50,000 per year for three years for schools to use CSR models. More than 2000 schools did so, more often than not using their own Title I funds, not the special CSR funds. Research evaluating these programs found that some of them were effective in accelerating achievement in Title I schools. Examples were James Comer's School Development Program, America's Choice, Modern Red Schoolhouse and our Success for All approach. However, a new administration in 2002 had different priorities, and the CSR movement largely disappeared. Success for All is the only survivor at any scale.
Spacing forward to the present, very few developers are creating or evaluating new whole-school models, but research funded by Investing in Innovation (i3) program, the Institute of Education Sciences (IES), and other funders are increasingly identifying effective approaches to particular subject areas and objectives, which could be assembled into new whole-school models. Developments in the capabilities and availability of technology add possibilities for making whole-school innovations more effective, less expensive and earlier to train and monitor.
So here is my hopeful prediction for Title I on its 75th birthday, in 2040 (!!!).
In 2040, Title I will serve primarily as special funding for high-poverty schools to help them adopt proven, whole-school approaches. There will be many such models, each of which has been proven in rigorous experiments to improve student learning in reading and math. School staffs will have opportunities to review existing models and select those they believe to be most appropriate to their needs, with confidence that whichever models they choose will be effective. Models will include elements personalized for the needs of struggling students and others who need unique accommodations, greatly reducing the need for traditional special education.
Title I funds will be used for materials, software, professional development, coaching, additional personnel and other requirements for implementation of a particular proven approach.
A substantial enterprise of development and evaluation will continuously produce new whole-school models and improvements in every aspect of existing models. Assuming that curriculum materials, assessments, lesson materials and other components will make extensive use of technology, it should be relatively easy for program developers to routinely collect trace data on student progress, which will enable teachers and program developers to constantly improve implementation in each participating school and to test innovations large and small.
Of course, all of this could be done in five years, not 25, if we decided to make the success of disadvantaged students a priority. However, given the pace of evidence-based reform in Title I so far, maybe 25 years is more realistic. I am enthusiastic and hopeful about changes in this direction over the past few years, but there is still a lot to be done to get Title I to be a fund for evidence-proven approaches.
Then again, maybe flying cars and robots are a better bet.
Calling all HuffPost superfans!
Sign up for membership to become a founding member and help shape HuffPost's next chapter