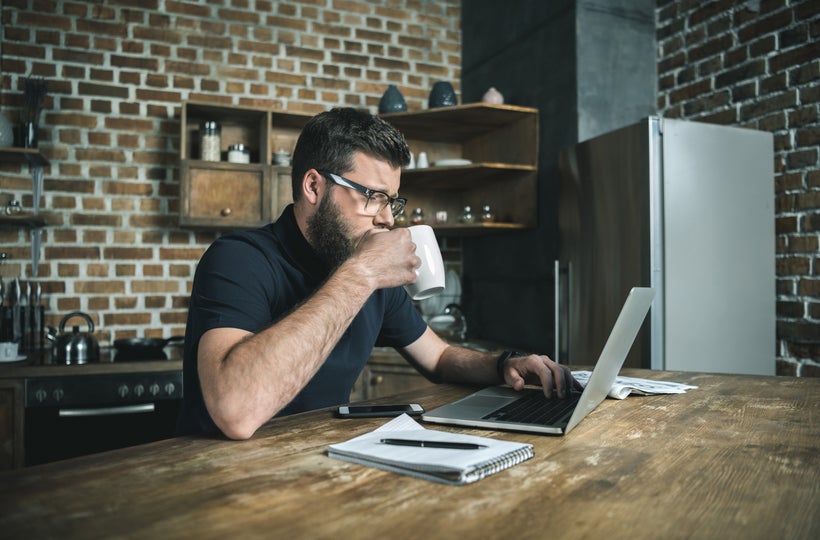 In the future, traditional jobs will be replaced in large numbers by the Gig Economy, where people fluidly move between projects and companies.
Here's what's happening in offices all over the country right now:
Hiring companies are shifting away from fixed headcount models of employment and, instead, creating project-based, temporary gigs to complete the work they need.
On the job seeker side, more and more people actively crave opportunities to work from home, move toward more control over their work, and/or create a better work life balance.
While this dual change unfolds daily, the majority of job seekers remain unaware and unprepared to enter and thrive in this new paradigm of work.
In order to find out more about this seismic shift, I interviewed Diane Mulcahy, researcher, speaker, adjunct professor and insightful author of The Gig Economy: The Complete Guide to Getting Better Work, Taking More Time Off, and Financing the Life You Want, to find out how professionals can embrace and succeed in this new economy. She's a sought-after consultant to Fortune 500 companies on this topic, and she widely shares her research and insight about what's coming next in the world of work.
I got to ask Diane all sorts of questions about the Gig Economy to uncover what job seekers need to know. Here's our interview:
Diane, what's the basic definition of the gig economy?
Diane: I define the gig economy broadly. Basically, if you're not a full-time employee in a full-time job, you're in the gig economy. If you're a consultant, an independent contractor, a freelancer, or an on-demand worker, you're in the gig economy.
I'd also like to bust the myth that the gig economy equals Uber drivers. The gig economy is incredibly broad and diverse and crosses all age, income and education levels, and impacts almost all sectors and industries.
Exact numbers on the gig economy are hard to come by, but academic and industry studies suggest that about 20-30% of people are working this way. That number is only growing.
So what does that mean on an individual level, for the particular person seeking work?
Diane: As we move towards an economy of more work and fewer jobs, individuals are going to have to plan for a career that isn't fully, or even mostly, made up of continuous employment in full-time jobs. All of us need to plan and prepare for a career that has periods of gig work, maybe predominantly, or maybe just in between various full-time jobs. In the MBA class on the Gig Economy I teach at Babson College, I encourage my students to stop looking for a job and embrace the gig economy. The future of work is work, not jobs.
What do you think the gig economy looks like in 20 years?
Diane: I believe that the gig economy is the future of work. Full time jobs aren't going away; they'll never entirely disappear. But as we're already seeing, there will be far fewer of them. Existing companies are creating fewer jobs because they have learned that they can separate work from a job. They don't need to organize their work into a full-time job for it to get done. They can organize it into projects, assignments, and tasks.
Look at Silicon Valley, where our most high growth and highly valued companies are. Our most successful companies are executing business models that require 2,000 to 10,000 full-time employees, not 300,000 employees like GE. The new business models we're seeing don't rely on or require huge numbers of full-time employees.
We're also seeing existing companies start to embrace the gig economy. For example, at PWC, they have developed a proprietary talent exchange that lets employees (and external workers) raise their hands to apply for certain projects, not jobs. Companies are starting to learn how to incorporate independent workers, consultants, and freelancers into their workforce.
Are you finding that there's any kind of generational gap in embracing this concept? Are millennials more likely to jump on board?
Diane: The whole idea that millennials are the body of the bell curve of the gig economy is a myth. When we look at data on independent workers, a lot of them are mid-career. That makes sense because they have the experience, expertise, skills and leverage to be able to go out and negotiate  independent work that pays well. We also see a lot of older workers who want to remain active and engaged in the workforce, but don't want to continue to work full-time. They want to semi-retire. For them, the gig economy is a great option.
So when it comes to someone actually thinking about joining the gig economy, what are the big roadblocks that stop people from jumping in?
Diane: The biggest are mindset and the perception of instability in the gig economy. Most people have not wrapped their head around the fact that there is no job security anymore. They haven't adopted what I call an Opportunity Mindset in which they understand that they have to take control of their careers and professional life. Many people still have an Employee Mindset in which they outsource their professional life, career development, and financial stability to one employer. This is incredibly risky in an economy as dynamic as ours.
There's also still a perception that when you're a full time employee, things are stable and you don't have to think about your next move. That complacency is highly risky. Our economy is constantly changing – companies — without any warning — merge, get acquired, fail, reorganize, downsize, and move jobs around the world. There is no longer any real job security, so it doesn't make sense to assume that if you have a full-time job, you have financial stability or professional security.
Before people actually join the gig economy, their most common concerns are financial. I spend a lot of time in my book – 3 chapters – covering the personal financial issues of working in the gig economy because it is a different way of working. It is much easier to work in the Gig Economy if you structure your financing life to be compatible with it.
For example, one way to structure your financial life is to think about the idea of access versus ownership. Is there a way you can access, rather than own, the lifestyle you're seeking? I use the example of transportation. I live in a city and haven't owned a car for 10 years. That means I haven't had to take on the debt and fixed payments of owning a vehicle. Instead, I access my transportation by using Lyft, Zipcar, the subway, bike-sharing, and walking. Transportation went from being a fixed cost for me to being a variable cost, which is much more flexible. There are more and more ways we can access parts of our lifestyle, and avoid the debt and fixed payments of ownership.
How can people who want a gig lifestyle, but who are worried about money, find a way to break through that resistance?
Diane: Our traditional American dream is built on debt and fixed payments: the car, the mortgage, having the newest stuff. But in order to be more satisfied professionally and personally, it might require re-thinking our financial lives. The more someone can move into a variable cost lifestyle, the easier it is to transition into a different work style. In my book, I spend about a third of the book talking about personal finance issues and showing how people can build financial flexibility into their lives.
People need to look very carefully at their values and priorities. I found through the interviews I conducted for my book that many people are buying a lifestyle they don't even want. If they're thoughtful and intentional about what they care about, what they spend money on, what's important to them, they can consciously create a financial life that allows them professional freedom.
Tell me more about your book. How does it help people feel more confident about entering and succeeding in the gig economy?
Diane: The book is structured around 10 rules for succeeding in the gig economy, with 10 chapters, each covering one of the rules. There is an additional chapter that provides a Gig Economy 101 overview and an ending chapter on the bigger picture and the future of work. So, 12 chapters in total with 10 chapters really focused on practical advice, exercises, and examples about how to succeed in this new world of work.
A common concern I hear is that people don't want to feel like they constantly have to sell themselves. Is it true that people have to be good at business development in order to succeed in the gig economy?
Diane: I think you have to constantly sell yourself no matter how you work. You have to be good at it if you're in the traditional jobs economy, too. The median tenure at a company now is 3-5 years, so even if you're an employee in the traditional economy, you're likely to be in the market every few years selling yourself for your next opportunity.  In the gig economy, the velocity is amped up a bit and you're looking for projects and new gigs more frequently, but it's all the same skills. You're still advocating for yourself and looking ahead to where the next opportunity might come from.
What do people need to know about the gig economy? How can they get fluent in the topic, and how can they know whether, when and how to join in?
Diane: People need to know the gig economy exists, that it's big and getting bigger, and that it's here to stay. They need to understand that, and start preparing to succeed in this new way of working. Not being aware of the gig economy and not considering it as an alternative way of working would be a real misstep, and here's why: the dissatisfaction that people have with their job often has less to do with the work and more with the structure of the work. Someone might be much happier doing the same exact work if it's just organized differently. Maybe they hate their commute, their office, and are far less productive in the office. If they took the same work they do and restructured it into independent work, when and where they want, their career concerns could be alleviated.
Even for people who are currently in jobs that they like, planning for the future of their career and working life should include a discussion and evaluation of working in the gig economy. Because there is no job security, people can end up in a situation where they are unemployed or underemployed without warning.
There are a few things that people who are considering the gig economy can do. Most fundamentally, they can get very clear about what matters to them (their priorities and values) and what success looks like to them. After that, there are a number of ways to find gigs:
First, they need to really look at their own networks (primarily through previous employers), because there's no replacing your own network when it comes to finding gigs. Second, career seekers need to keep up with the companies that are actively incorporating independents into their workforce- whether it's publicized or not. Third, they should look beyond their markets to find other opportunities with companies that embrace remote work.  
And finally, workers need to get familiar with the platforms that exist to match independent workers with gigs. I tell people that instead of figuring out the best job, figure out the best platform. There are many independent worker platforms. Some, like Upwork, are more general, while others, like Axiom for lawyers, Toptal for software coders, SpareHire for finance, and Catalant for MBA grads, are more focused.
Now that the gig economy has become a thing, there's a lot to read, and I encourage professionals to educate themselves on the trend. The Gig Economy is here to stay.
Any other helpful exercises or resources for job seekers around this topic?
Diane: For people who are in a full time job and are contemplating the gig economy, there are really helpful exercises in the book. As an example, if you're in a full-time job currently, I recommend Creating an Exit Strategy as a first exercise.
So for this exercise, imagine that you knew in 6 months you'd get laid off and consider.
What would you do professionally, personally, and financially to prepare? What colleagues would you contact, what certifications would you get, what conferences would you attend? What expenses would you cut? What would you do with your time off? Make a list of all the things you would do, and then start doing them so you are always prepared to leave your job.
Find people who've transitioned effectively. Learn what they've done and ask for insight and advice.
I also recommend that everyone get a side gig. The luxury of just doing one thing is behind us. A side gig doesn't have to generate income right away – so release yourself from that pressure. A side gig can have a lot of other benefits besides generating income: it's a way to develop skills, open up future opportunities, expand your network, and explore or enter another industry or sector.
Thanks, Diane! That was eye-opening. I love that you're ahead of this trend and letting us know how we can anticipate and prepare for it, too. I'm sure that job seekers will find your insights very helpful.
To learn more about Diane Mulcahy and Kathy Robinson, see below:
About Diane: Diane Mulcahy is currently a writer, speaker, and consultant, an Adjunct Lecturer at Babson College, and a Senior Fellow at the Kauffman Foundation. Besides The Gig Economy (which you can order here), she has previously written and published two books and a widely-read report on venture capital. Her research and writing has been featured in The Economist, The Financial Times, Forbes, Fortune, Harvard Business Review, the Huffington Post, The Irish Times, The New York Times, The New Yorker, The Wall Street Journal, and numerous industry publications here and abroad. Diane has been interviewed on NPR, PBS, and Reuters, and speaks at conferences, corporate events, and universities worldwide.
About Kathy: Kathy Robinson founded Career Advisors Network, a national network of independent career advisors and is a frequent contributor to career topics on various media outlets. She also started TurningPoint, a New England-based career-coach finder platform that has matched over 10,000 job seekers with the right career advisor for their unique situation. She blogs on career topics, works as an executive career coach with executives in transition, and loves thinking about the future of work and the future of marketing.
REAL LIFE. REAL NEWS. REAL VOICES.
Help us tell more of the stories that matter from voices that too often remain unheard.
This post was published on the now-closed HuffPost Contributor platform. Contributors control their own work and posted freely to our site. If you need to flag this entry as abusive,
send us an email
.