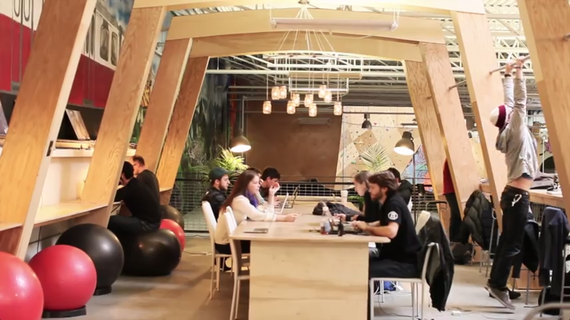 Over the past few year's the rise and ever growing interest in co-working has transformed the way solopreneurs, freelancers and small companies do business in Australia.
It has become a true microcosm of a new way of working and, perhaps more importantly, living in Australia.
Given the intense interest in start-ups these days, more and more entrepreneurs are looking to co-working facilities to grab cost effective and flexible office space and get amongst other budding entrepreneurs.
Step into a co-working space and you'll find yourself mixed in between freelancers, entrepreneurs, and remote workers, each one navigating the workforce in a unique way.
In addition to WiFi, conference rooms, trendy breakout spaces; these "rental" business studios also offer new companies the opportunity to rub elbows with others in their world.
Being able to connect with other budding entrepreneurs or established small businesses gives start-ups the opportunity to create new connections and build their network. We all know that in business it's not just what you know but who you know, your network is your net worth.
"Working in a co-working space with only four staff members allows our employees to feel as though they are part of a bigger organisation, a wider community and have a sense of belonging.
Being a professional services company, the use of facilities offered by co-working spaces such as reception area, meeting rooms and a board room provides our clients with the professional amenities they would expect from a mid or top tier firm.
All these facilities are provided at a cost of the price of obtaining a commercial lease and fit out." Demetrio Zema, Purpose Law.
To gain further insight into this topic I recently spoke with Kirsten Koci, co-founder of The Cluster, Australia's leading co-working space.
"The evolution and growth of coworking spaces over the past five years has been remarkable. We have seen new providers enter and some of the originals, like us, expand and continue grow.
Spaces of all sizes have popped up with different offerings, which fit a certain clientele. We have even seen the multinational serviced office providers begin to throw around the "coworking" term in their marketing as they obviously understand it's importance and the current trend and popularity of this "new way of working.
As the industry continues to evolve, we believe the secret to a successful co working community is providing professional and high quality spaces is key, and more co-working operators are heading down this path, which is great.
Flexible monthly terms, the ability to upsize or downsize as needed, and the ease of the relaxed environment are important to members.
Having social events, receptionists, outgoings, meeting rooms and much more, bundled together and shared amongst hundreds of companies, brings costs right down when compared to the traditional office." Kirsten Explains.
Coworking spaces like The Cluster are a part of the new sharing economy and workspace is going to continue to become a big part of that economy.
The coworking industry is here to stay, and is only going to get stronger as savvy entrepreneurs discover that they can "have it all." There are a growing number of spaces throughout Australia and all serve an important purpose for Australia's entrepreneurial ecosystem."
It's become quite clear that the nature of work has changed. It's no longer somewhere we go, but something we do.
There's no doubt that there's a definitive shift away from the traditional styles of work, such as the nine-to-five working day and the fixed desk.
This evolution in working styles has had a huge impact on the office dynamic, and in turn the physical environment, so it's crucial that businesses adapt accordingly to be able to offer more value to employees.
It's also from this mindset that the concept of 'co-working' has been born.
Whether you're working in an existing co-working space or deciding whether or not to make the shift from a traditional office environment, below Kirsten shares 5 key things you need to consider before deciding which option to choose.
Is the space accessible and convenient for staff and your clients? Accessibility and travel time are important to many employees and attracting the best for your business will be easier with a central location.
Consider parking and public transport and the general surrounds. Understand who your client is and be sure that your location is an attractive option when compared to your competitors.
What are the minimum contract periods, and will the space be able to support sudden growth of members businesses if needed.
Many companies need a lot of space at certain times of the year due to new projects and might then have to downsize at other times. Some businesses experience rapid growth and need more desks or offices ASAP.
Consider this if your business needs this flexibility. Also understand the difference between permanent desks and flexi desks as a mix of this model is perfect for seasonal and cyclical businesses or businesses that have travelling staff.
What really is on offer and included in the price?
Things to consider include internet speed, 24/7 access, quiet and/or private spaces, vibrant spaces, meeting rooms and boardrooms, reception services, storage space, bike storage and showers, breakout spaces, printing and IT support.
Each coworking space provides something different. Make sure you understand your businesses current and future needs to ensure that the space you end up calling home can be that for the longer term.
Having everything you require as your business grows allows you to focus on your business while the rest is taken care of by the coworking operator.

4) Price
What exactly is included in the price? Many serviced offices charge for things on top like Internet, electricity and meeting rooms. Make sure you fully understand what is included in the monthly price.
Price also differs from provider to provider and the quality of space and service can be miles apart. Ask each coworking space for a trial day so you can get a feel of what you will be paying for on a day-to-day basis.
5) Social & Networking Opportunities
What does the space do to encourage and foster social interactions and community engagement?
Getting to know others around you has a significant impact on feeling at home in a space, and being more motivated. But be careful, a few marriages have been the result of this social engagement!
Also a question to ask is who are the other members? The diversity and quality is important, as these are the people you will be working alongside.
Business collaboration can also be key to innovation so being able to talk to a diverse mix of business owners is essential and can add a lot of value to your business or create new opportunities.
The co-working space industry has seen strong growth in recent years and that swell is only going to continue. If your current workplace is not fun, friendly, inspiring and collaborative for you and your employees then perhaps its time to ditch your desk and take a seat at a co-working space near you.
Popular in the Community