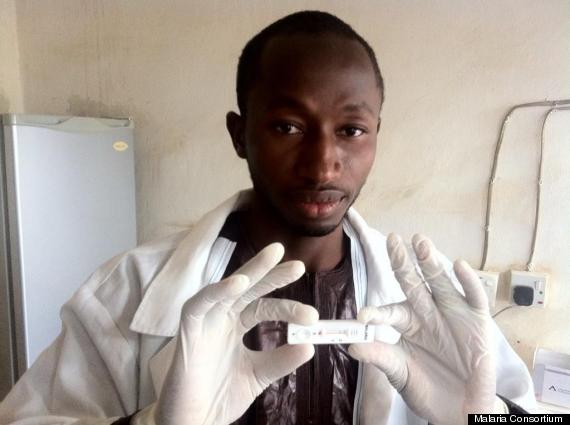 Sanni Garba, a laboratory technician, in the rural community of Gauraka, Nigeria holding a diagnostic test.
By now you may heard of the latest technology concept known as the "internet of things" (IOT) or the "internet of everything". The idea is that when physical objects such as sensors are connected to the internet, they can talk to each other and to us, providing useful information quickly and regularly. Home appliances are already undergoing the IOT transformation -- your refrigerator can text you when you're out of milk, the thermostat can adjust temperatures when you are out of the house and the smoke detector can alert a neighbor if it goes off. The IOT phenomenon is still in its early stages, but it is about to be a game changer for doing social good, particularly in the field of public health.
Imagine you've returned from a long family trip, and your son or daughter develops a nasty rash. You begin to fear that while traveling he or she may have been exposed to something serious. To find out what is wrong, you'll need to reach a health professional who can take a blood, urine or saliva sample, transfer the sample to a technician who can run necessary lab tests and get results back to you. If you're in an industrialized country this process can happen in a number of hours, but in poor, remote or low resource communities, the results can take days or weeks to obtain. Delays in the diagnosis can be deadly, not just for you or your child, but for all those with whom might come in contact after contracting the disease.
What if the entire testing and results process described above could converge into one single step, so that when you fear for your health, a diagnostic test arrives at your doorstep and a special handheld device will be used to collect your sample, turn your molecules into digital bits, and deliver results in a matter of minutes. The internet of things and a next generation of "connected diagnostics" are going to make it possible. The impact of the diagnostic platform that is connected to the internet is powerful for the individual wanting to know their health status in a timely manner, but that impact can be just the tip of the iceberg. When handheld connected diagnostics all over the world become interconnected and share information with databases, an entire ecosystem of opportunities to track, treat and prevent disease becomes possible, with implications for everyone, everywhere.
How did we reach an innovation point for connected diagnostics?
One driver for the rise of connected diagnostics is the increased demand from people and health professionals worldwide. Both are expecting to have information that is timely, easy to access, and trustworthy enough to base decisions on and that maintains the privacy of patients. The faster people get a diagnosis, the more likely they are to start treatment. At the same time, there is an explosion of smaller, cheaper and easier to use diagnostic tests. In high income settings, this may look like a Scanadu device or a diabetes test that you can use in your home attached to a smartphone. In poorer countries, scientists are trying to develop malaria tests that can be delivered door to door in villages that yield a result in minutes. In the future, the hope is that just as you expect a phone to browse the internet, a doctor would expect a diagnostic device to report data automatically into the right online systems.
To turn the potential into impact will now take work on many fronts. An ecosystem of organizations for connected diagnostics is beginning to form and partnerships and innovative strategies are pushing to ensure that the next generation of devices will have an impact worldwide.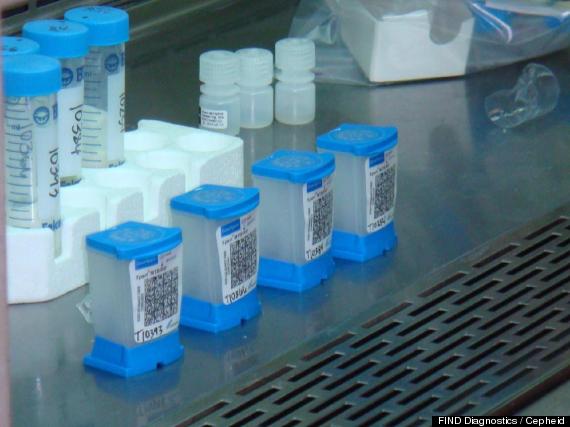 Diagnostic cartridges developed by Cepheid. The diagnostic system ensures that there is no risk of contamination of the test and no requirement for bio-safety facilities. Test results can be obtained in less than two hours. With the internet of everything results can be anonymized and sent to central disease control databases.
Organizations leading the way forward in this area are groups like FIND, a Geneva-based not-for-profit organization driving the development and early stage deployment of affordable diagnostic products for all levels of the health care system in developing countries. FIND is convening needed stakeholders and is ensuring that connected diagnostic technologies will be made available where they are most needed. Private actors such as Cepheid, a leading molecular diagnostics manufacturer dedicated to improving healthcare through breakthrough technologies, are focusing on products that will empower medical providers in low resource countries to identify diseases early so that patients can start treatment before they get worse or infect others. Both parties are working with InSTEDD, a technology non-profit based in Silicon Valley to design products that combine the scalability and privacy features needed as well as using their global experience to make sure the connectivity technology is well-designed for Asia and Africa.
Foundations and philanthropists also play a role in building the future for the impact of connected devices, and in nurturing the ecosystem to reach economies of scale, especially for diseases that affect the poorest regions in the world. For example, The Bill and Melinda Gates Foundation, as part of their Global Health Strategy, are seeking to discover and clinically test new tuberculosis vaccines, more effective and faster-acting treatments, and more accurate diagnostics.
What comes after the tipping point with the Internet of Things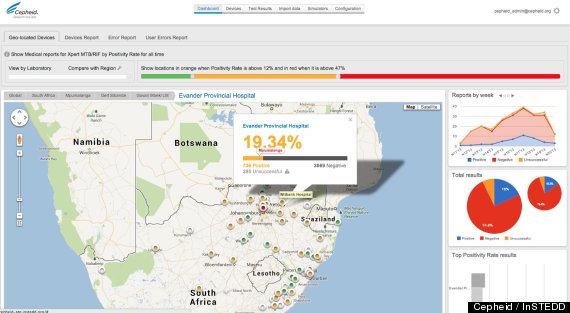 This example shows anonymized data about every single drug-resistant tuberculosis test performed in 2014 across thousands of devices owned by the South Africa National Health Lab Service.
The data from connected diagnostics can inform and strengthen a front line defense against disease in a remote center. The rise of mobile networks has created an infrastructure that makes it possible and economical to send information to the internet from just about anywhere. Soon, thanks to the connected diagnostic revolution, funders and governments will get real-time, comprehensive data of the disease burden, and will be able to see areas where support is needed. Technologies that standardize and anonymize all the data and make it open and free, will allow startups and tech companies to find new and innovative ways to make the data understandable and actionable.
Not only are things more connected than ever in the digital world, but so are people. As the recent Ebola outbreak shows us, a single disease case in a remote corner of Africa can have widespread global health implications. Faster and stronger reporting will help international organizations stay ahead and in control when these types of deadly outbreaks occur. We all have a stake in this new connected diagnostics field, and industry leadership will be required to ensure the benefits are inclusive. Ethical considerations around privacy and regulation must become a priority and international organizations such as the World Health Organization and the U.S. Centers for Disease Control must put forward bold and ambitious policy addressing these concerns. With the right players and policies in place, connected diagnostics can be a global health game changer, improving millions of lives by providing rapid and accurate data about ongoing health issues.