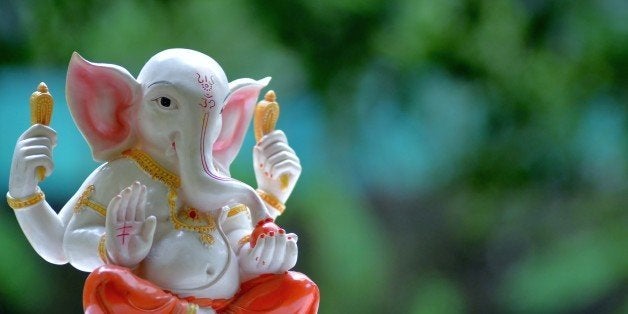 After everyone's favorite coffee chain raised a stir by changing their "holiday" cups, I looked to the Christmas tree sitting in the living room of my Hindu household. It was adorned with beautiful ornaments put up by my mother and father, both of whom spent the first thirty-plus years of their life in India, never having celebrated Christmas before they arrived in Texas in 1998. Above the angels and lights that comprised our tree sat a smiling Ganesh. To some, this creates a stark contrast -- but to my family, it is a beautiful display of unison and a picture that perfectly encapsulates our identity.
Christmas has been my favorite time of the year since I was a little kid, and being from a working-class family, I knew that this was when I would get that new toy I had been hankering for all year. For years I didn't understand the religious significance behind Christmas, but I knew what it meant culturally. It signaled that people would be reuniting with their families, that lots of presents would be bought, there would be seasonal specials of my favorite cartoons, people would be singing and be much happier than usual. Most importantly, we'd get time off school and instead of doing homework I could go sledding. I had gotten used to being greeted with "Merry Christmas" as we entered buildings and as we left the checkout counter. "Merry Christmas" was ingrained in my vernacular as a phrase to bestow warm wishes upon both loved ones and strangers.
As I grew older I also learned about Christmas beyond its commercialized aspect. I learned about the significance it held for my Christian friends. I was told about the details of the nativity scene, the meaning behind "Silent Night" and the importance of the three wise men. When they told me about how they celebrated Christmas, I didn't view it as an attempt at indoctrination, I viewed it as a chance to learn more about the historic roots of the country my family had inhabited. A nativity scene was nothing more than a decoration piece to my family, but we still appreciated the intricate detail and the Biblical significance it held. It was beautiful to see that despite our different religious beliefs and backgrounds, a commonly shared holiday spirit and love of school vacation could bring us together. A small phrase that meant something entirely different to the other person was still able to achieve a smile on both faces.
Recently, I had a Lyft driver say "Merry Christmas, if you're into that sort of thing." Thankfully, I'm very into that sort of thing and I'm thankful for that God who moved my family to America, but I am also thankful to the God who opened his arms as we arrived here and sent a jolly man down our chimney every December. Respecting one doesn't mean you have to disrespect the other, as 81 percent of non-Christian Americans who celebrate Christmas have realized. So, while I may not be directly celebrating the birth of Jesus, I'll be belting Buble's carols while sipping eggnog, and Ganesh will continue to look upon my Christmas tree with a smile.
Calling all HuffPost superfans!
Sign up for membership to become a founding member and help shape HuffPost's next chapter