Over the past week, I've been attending events surrounding the launch of Made in Midtown, the CFDA and New York Design Trust's sprawling multimedia study of the New York City Garment District, complete with interactive maps, data, photographs and videos from Manhattan's last bastion of manufacturing. Sarah Williams, the urban planner who turned statistics into info-graphics and maps like the one below, referred to the area as a "creative cluster"-- one of those concentrated areas of artistic and innovative types that makes cities like New York cultural hot-spots.
Map by Sarah Williams, Spatial Information Design Lab
What's great about the Made in Midtown project is that in addition to creating a virtual version of the Garment District for all the world to visit, it has the potential to make another "creative cluster" around the discussion of the area's future, which will be influenced by city planning and zoning regulations.
At the project launch party, I chatted with a few dynamic women from the fashion world, each of whom has a little personal piece of 38th Street's history.
Fern Mallis, photo by Jenni Avins
First, Fern Mallis told me she grew up with the Garment District, and reminisced about riding the subway from Brooklyn to visit her dad at work on 38th Street and Fifth Avenue, where he sold women's scarves. She said that watching female designers at work in the neighborhood opened her eyes to the possibilities of a profession outside the home -- unusual for women that time.
"It wasn't when every mother was working," she said.
Not bad for the woman who established New York Fashion Week during her tenure at IMG, and now counts the production firm among her clients as a newly independent consultant. Ms. Mallis, sporting a lovely tan, said this summer she'll be spending as much time as possible at the beach - albeit with her two Blackberries - before she hits the ground running at Fashion Week this fall.
After I bid Ms. Mallis goodbye, I found Tina Schenk, who founded Werkstatt, her small garment factory, in 2008 on 38th Street -- the very same street where Ms. Mallis learned women could work.
After a year, Tina's business was doing so well that she had to move to a bigger space on 36th Street. That sun-filled space is where the Made in Midtown folks shot this short video, which focuses on pattern-making, just one step of the garment production process. Tina showed me a jacket she made for Joel Diaz and Christina LaPens' Spring 2009 collection for Jolibe, one of the 12 fashion labels awarded a space in the CFDA's Fashion Incubator on, you guessed it, 38th Street.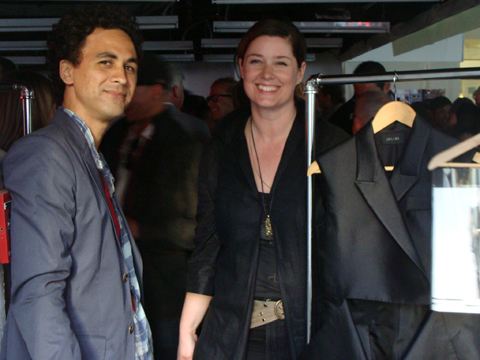 Joel Diaz of Jolibe and Christina LaPens of Jolibe
Meanwhile, Christina LaPens, Joel's partner in work and life - and one of those working moms Fern Mallis was referring to - was wondering whether she ought to get home to relieve the babysitter. Luckily, she was only a couple blocks away, since the couple moved their home to a new building earlier this year, incidentally, just a block away from the Incubator on, yup, 38th Street.
Christina was a little sheepish about her home in a new luxury LEED-certified high-rise.
"It's what they're trying to stop," Christina said, referring to the traditional tenants of the Garment District celebrating around her.
Fern Mallis commented on the irony.
"Everybody thinks they love change," she said. "But they don't -- especially in the fashion industry."
But it's because of that luxury high-rise a block away from Christina and Joel's
that they've been able to bring their business to the Garment District at all, enriching the creative cluster.