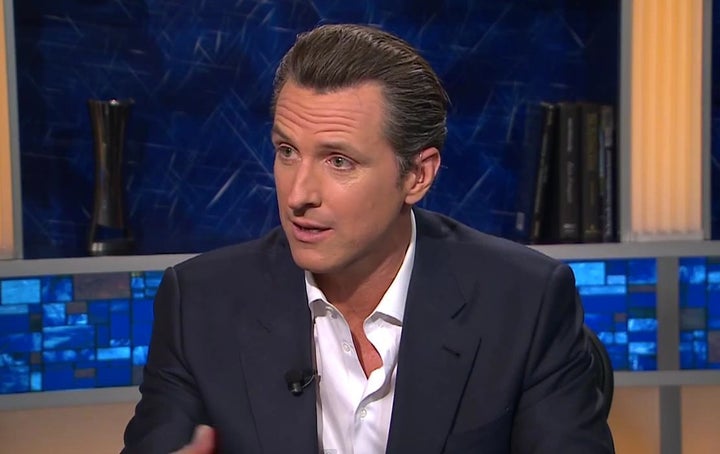 If only there was some way for the famously telegenic Newsom to get on the air without having to hop on an airplane and miss crashing his hometown's annual naked, drunken street party.
Oh wait, there already is!
Only two days earlier, "The Gavin Newsom Show" premiered on San Francisco-based Current TV and, more than anything else, it was reminiscent of MTV's "Jackass."
While as fas as we could tell no one got Tasered in the butt, the low-key, affable conversations of "The Gavin Newsom Show" seemed like the kind of thing everyone involved would probably be doing anyway (just over lamb lollipops and Pinot Noir at Balboa Cafe instead of what looked like a unused corner of the set for the "Colbert Report").
On Friday night's inaugural show, Newsom brought out seven-time Tour de France champion Lance Armstrong, Google VP Marissa Mayer and New York Times blogger Nick Bilton.
His conversations with Armstrong largely focused on the doping allegations that have plagued Armstrong for years. The world's most famous cyclist has officially decided, now that he's retried from the world of competitive biking, he's not going to answer any more questions about doping.
He celebrated the lifting of this metaphorical weight by answering a bunch of questions about doping.
"I'm done with all of these doping allegations," he said, noting that he had successfully passed hundreds of drug tests over the course of his career. "These things take a ton of time and attention and energy and suck the life out of you, literally."
The witch-hunt aspect of Armstrong's ordeal resonated with Newsom, who's never met scandal (or non-scandal) he wasn't plagued by, and once told San Francisco Magazine he was obsessed with reading his own press--especially the negative stuff.
"Do we have a culture of cynicism?" asked Newsom. "Where when we witness greatness, immediately we question it because sometimes it's too good to be true?"
"In 2012, the times are different," answered Armstrong. "The state of the media, the way the news turns so quickly and is so competitive...everybody is out there to trump the other person and it leads to a frenzy, a feeding frenzy, where if they smell blood, certain times in my life they've smelled some blood in the water, they go nuts."
"At a certain point, people make their minds up about you; it happens about politicians too," replied Newsom. "No matter what you do, at a certain point, their minds are made up."
Even though it wasn't in any of the clips provided, I'm going guess after the show they totes hugged it out.
After Armstrong, Newsom brought on top Googler Marissa Mayer. Mayer was the first female engineer hired by the Silicon Valley behemoth and, at age 35, was the youngest woman to ever make it onto Fortune's list of the "50 Most Powerful Women in the World."
Newsom asked Mayer about one of her signature issues, the low percentage of women in the male-dominated tech industry. "I think the women question, at least for technology, is in some ways the wrong question," she said. "Yes, we should create a lot of support for women, but I do worry that if you put too much focus on it you actually ostracize it more. If someone had told me 'You're really good at math and science for a girl,' it would have popped the bubble that I lived in."
"What Facebook has to do is figure out how to take this thing they built for a computer and stuff it into this tiny little device called a smartphone and that's where they're having a really difficult time," said Bilton. "It's the same reason a Democrat can't become a Republican and Google can't do social, it's not in these people's DNA to understand mobile."
Current hired the famously restless Lt. Governor earlier this year after its deal with notoriously difficult progressive pundit Keith Olbermann exploded into acrimony. Since Newsom is doing this TV gig while retaining his position as the state's number two executive, he plans on donating his salary from the fledgling cable network to charity.
It should be noted, as Newsom's gubernatorial ambitions are well-documented, a political chat show has historically been a stepping-stone to the state's highest office. Jerry Brown hosted a call-in show on Berkeley-based KPFA radio in the years between losing the 1992 Democratic presidential primary to Bill Clinton and becoming the mayor of Oakland.
Check out clips from the premiere episode below:
REAL LIFE. REAL NEWS. REAL VOICES.
Help us tell more of the stories that matter from voices that too often remain unheard.
BEFORE YOU GO
PHOTO GALLERY
The Gavin Newsom Show