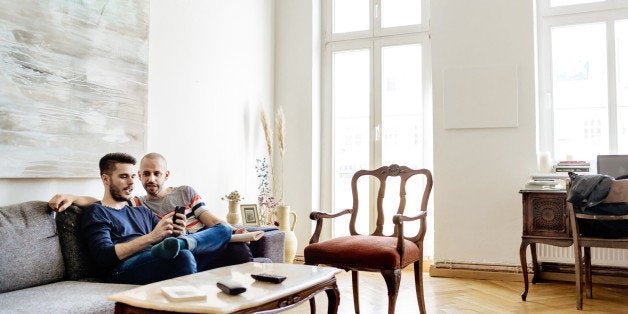 Chelsea. The West Village. The Castro. South Beach. These are some of the priciest neighborhoods in the country.
They were also once the nation's most prominent gayborhoods. These trendy, high priced neighborhoods were built in large part by gays and lesbians (with a heavy emphasis on gay men) who were unmarried, mostly single and without children; more adventurous than their straight counterparts; in need of their own territory; and thus willing to go into an architecturally promising area that might be considered sketchy or simply desolate and make it their own.
The unintended result is family-friendly flipped neighborhoods with skyrocketing real estate values.
Based on what I hear through the real estate grapevine I would say the reports of the death of the gayborhood are greatly exaggerated. Potential next big gayborhoods are appearing on the horizon.
From working in various aspects of real estate development in the last thirty years I can also tell you that gays just have that vision thing -- whereas straight people tend to want a house and a neighborhood right off the showroom floor, the gay community tends to have the ability to look at a rundown or unwanted area and see the potential beauty.
And at the end of the day living in a gayborhood is just more fun, not to mention -- as a lot of gays and lesbians who bought in the Village, South Beach, the Castro and Chelsea decades ago can attest to -- a good real estate investment. So if you're looking for a potential gayborhood to move to or invest in, here are the 'hoods that should be on your gaydar:
It's the perfect gayborhood storm: a big city in decay; failing public schools; beautiful architecture; cheap properties in need of renovation; and the rumblings of residents of former gayborhoods looking for anywhere that is affordable, urban and not mainstream to move to. Add to that the president of the Detroit Economic Growth Corp. stating publicly that he wants to "bring on more gentrification," and the founder of the Detroit LGBTQ organization KICK working to build a gayborhood from scratch (possibilities include Palmer Park, Midtown or downtown Detroit) and you have all the makings of a potential gayborhood.
Are there signs yet? 20 year Chelsea veteran Beryl Satter -- who recently moved to Detroit's historic Boston Edison neighborhood while on sabbatical from Rutgers to be with her girlfriend -- shares a large house with 8 roommates. "People are buying these gorgeous mansions and group-living like we are," she says. "And in our house, four are gay." Does she see a future there? "Now that I'm here, I think it's great," she says. "...especially now that I'm being priced out of Chelsea. Here I'm paying $250 dollars a month in rent."
With beautiful historic homes for sale in the tens of thousands -- not to mention dirt-cheap rents -- you can still get in from the ground up...and years from now have bragging rights that you were one of the first!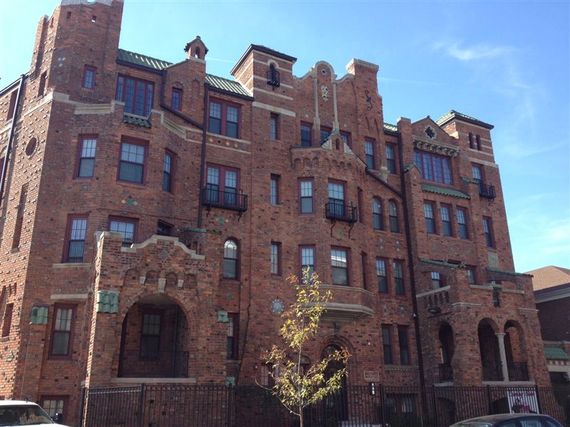 Calling all adventurous gays looking to start again: one bedrooms in the recently renovated Tudor / Art Deco La Vogue apartments in Palmer Park, Detroit start at $305 a month.
Astoria, Queens New York:
Although Hell's Kitchen has popped up as New York City's answer to the gentrification of Chelsea and the Village, if precedent holds, gays are just sprucing it up for the inevitable straightification. And when you look at a map of Manhattan, there's nowhere for gays to go after Hell's Kitchen.
The once predominantly middle-class and heavily Greek neighborhood has -- due to substantially cheaper residential and commercial rents and proximity to Manhattan (a quick hop on the N or the Q has you to or fro in minutes) -- become a destination neighborhood for Manhattan's gay diaspora. Manhattan-style gay bars and clubs have been popping up in the 'hood, including the very popular Icon. And Lady Gaga's personal chef opened his new restaurant The Pomeroy not in Chelsea or the Village or even Hell's Kitchen, but in Astoria. How gay can you possibly get?
Astoria native and old-school gay Constantine Iosifidis has witnessed it all. "Growing up in the '70s and '80s you never saw clearly out gay people in Astoria," he says. "Whatever gay life there was was undercover. Now I go out and see gays everywhere, including lots of Village and Chelsea gays I recognize from back in the day. Astoria's gay nucleus is on Broadway in the thirties and also on 30th Avenue where there are a lot of new restaurants and bars. You see hot guys hanging around Astoria Park, and you even see drag queens and transgender people in the neighborhood. In fact three of my transgender friends have moved from Manhattan to Astoria recently. Chelsea and the Village feel like a ghost town, so we hang out here."
While rents in Manhattan for one bedrooms average around $4,200, the average rent in Astoria for one bedrooms hovers around $2,100.00. Iosifidis points out that even better deals can be found in renting an apartment in a multiple-family house where you can easily find a one bedroom for as little as $1,500 a month, or a basement apartment for less than a grand.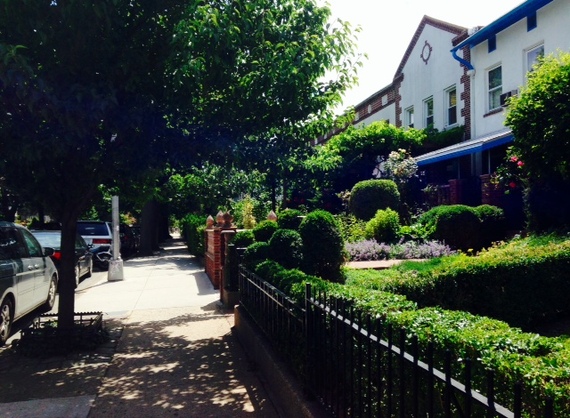 You can rent a one bedroom apartment in a multiple family home in Astoria for as little as $1,500 a month. You couldn't sublet a walk-in closet in a Russian billionaire's luxury condo in Chelsea for that. ...and you get to be in the thick of New York City's budding new gayborhood! (Photo courtesy Wikipedia.)
Montevideo, Uruguay:

Think all the good gay glamorous beach real estate with fabulous old world architecture is gone since South Beach has been gobbled up? Not so -- Montevideo, Uruguay is looming as the next gay-centric global cosmopolitan beach town. For starters, Uruguay was rated by Spartacus gay travel guide as the most gay-friendly nation in South America. Same sex marriage became legal in Uruguay in 2013, and Montevideo recently launched an advertising campaign to attract gays and lesbians to vacation and get married there. How friendly can you get???
Next up is Montevideo's architecture. Just like South Beach's decaying art deco landscape drew the eyes of visionary gays in the '80s who renovated the properties and flipped them into the pricey territory it is today, Montevideo's Art Deco, Art Nouveau and Neoclassical gems make it a dreamy gay-centric beach town.
Gay real estate pioneer David Leddick -- who bought up properties in South Beach, the West Village and Paris' Pigalle from the '60s to the '80s and sold his property at enormous profits -- spotted Montevideo as the next potential gayborhood to flip and has been buying up real estate there since 2002.
"Montevideo has exactly the same qualifications that I saw decades ago in the West Village, the Pigalle and South Beach," he says. "It's formerly wealthy and it has great real estate that is inexpensive and needs renovation but is excellent to live in. The first property I bought - a large house built in 1895 with high ceilinged rooms and a central courtyard with a roll-off glass roof and garden -- has increased in value 5 times since I bought it in 2002. Like South Beach in the '80s, it's turning into a very chic and desirable place to own a second home. There are a good many gay bars ...and Uruguayan men are, on the whole, very good looking."
Leddick says that Barrio Palermo is the hot new 'hood in Montevideo with big Victorian houses that have inner courtyards, back yards and beautiful architecture that can be bought and renovated at very low prices.
He adds that anyone interested in investing in property should move fast. "Once the first pioneers start coming in, the wave moves very rapidly."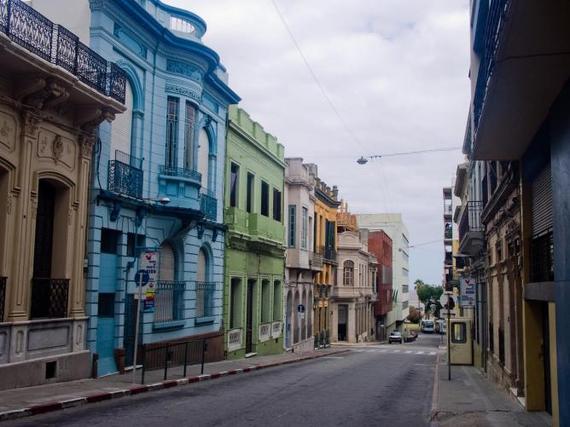 When you think Montevideo, think South Beach in the '80s: gorgeous architecture, beautiful beaches, cheap properties...and don't forget men.
Smith Lake, Alabama:

A man made reservoir in northern Alabama might call up bibles, confederate flags and trailers. Not so with the pristine lake encompassing 500 miles of shoreline constructed by Alabama Power in 1957, where cabins and houses run on average from $500,000 to the millions. This is due in large part to upscale gays and lesbians from prosperous Birmingham an hour's drive south who began buying up and renovating Smith Lake property in the 90s (although Smith Lake lore is that lesbians first set foot on the reservoir in the late '70s, and gay men didn't show up until much later). Today Smith Lake is the rare gayborhood on the upswing with a thriving Fire Island-esque community -- including a gay directory, a gay couple's house profiled in Southern Living and a major league annual AIDS fundraiser.
"The annual Poker Run AIDS fundraiser is over two days with three big events and over 500 people who participate," says Karen Musgrove, executive director of Birmingham AIDS Outreach. "There's a giant pre party at a lesbian couple's farm the night before with disco music and a big bonfire, 500 gays on the lake the next day playing poker on their boats and in the marinas and a big after party at a gay couple's house. Let's just say gays own Smith Lake that day."
And the gay real estate Midas touch is working overtime -- one gay physician says he bought his first cabin on the lake in the 90s for $60,000 and reports that it recently sold for $200,000. Smith Lake is, in a word, fabulous, and according to several residents there are still many fixer upper cabins that can be had for the low hundreds.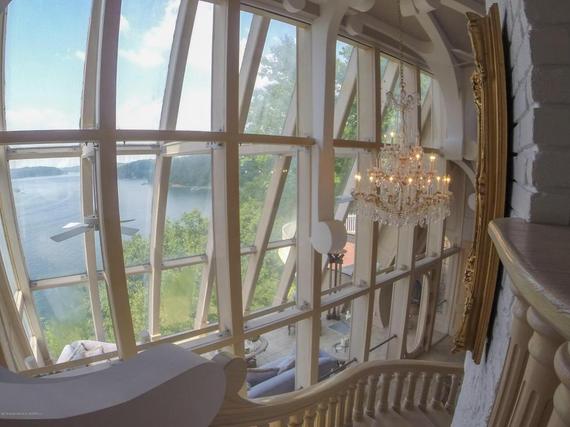 Smith Lake, Alabama, is fabulous, and -- unlike so many other straightified gayborhoods around the country -- is actually on the upswing. (Photo courtesy Lake Homes Realty.)
Also on the gayborhood horizon are Portland, Oregon, which is shaping up to be the Pacific Northwest's answer to the straightification of The Castro, and Medellin, Colombia, which is flipping its reputation for cartels and kidnappings into a reputation for pride parades and progress, showing that the gayborhood isn't dead...it's just transitioning.
Calling all HuffPost superfans!
Sign up for membership to become a founding member and help shape HuffPost's next chapter