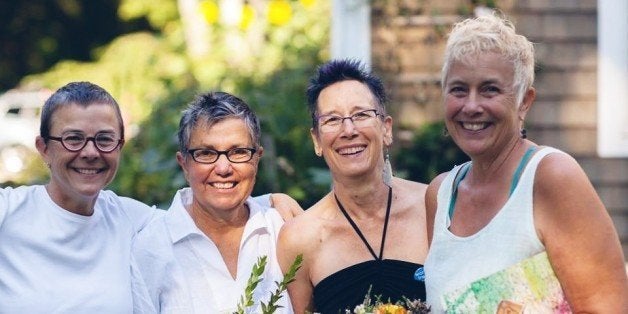 1997 was important for three reasons: 1) I started my senior year of high school; 2) Radiohead released OK Computer; and 3) it was the year my mom and stepmom held an impromptu commitment ceremony in the back of a Walmart in Dodgeville, Wis. Their ceremony took place on Halloween night, which makes sense considering that my stepmother Allison was into The Witches' Almanac, and considering that they were in the crafts aisle.
I was introduced to The Witches' Almanac when my mother officially entered the Newport lesbian art scene after her 1994 dabble in the Providence east-side dyke scene. The Newport art scene was a miracle compared to the east-side scene, since her girlfriend from the east-side scene decided that the natural reaction to their breakup was to rob our condo. It turns out that coming home from basketball practice at 13 years old to find police tape around your house is not as horrifying as realizing that your mother's ex-girlfriend stole your brand-new television/VCR combo, with a recording of the American Music Awards from a few nights before trapped inside. This was devastating because Whitney Houston was winning everything in 1994, which meant a lot of screen time. The only woman I crushed on more than Whitney was Michelle Pfeiffer, and I remember feeling a great wave of panic over the thought that the ex might have taken my Grease 2 video, then relief when I realized that it was still there. However, she did steal my stereo, which was infuriating, but I had two, and she'd nabbed the one with a broken speaker, so vindication was mine. Learning about lesbian drama at a young age teaches you a lot as you carry the torch into the next generation, mostly that choosing the Witches' Almanac scene over east-side drama is cheaper than homeowners' insurance.
This incident came the end of my mother's affiliation with the Providence lesbians and the beginning of her official entry into the Newport art scene, where she'd originally met Allison at a party on Thames Street a few years earlier. Allison was then married to man who had a beard and a chain wallet and owned a dish shop. My mother was dating a woman whom she had been with since my parents' divorce in 1986. She was smart, from New York, and kept an Aquidneck Island home close to Second Beach. For years I thought that this was a summer home that we happened to share with my mom's best friend, but then they broke up, my mom came out to me, and I realized that the house was the Rhode Island residence of the woman she'd been sleeping with.
When that relationship ended, my mother was ready to be out officially. Tracy, her new best friend and personal gay guru, was the leader of the art scene and Allison's older sister. Everybody wanted to date Tracy. She was charismatic; had spiked purple hair, a nose ring, and miniature silver earrings lining her right ear; and cursed a lot. She also created very weird art with Allison. My first time viewing their art was terrifying. I was used to afternoons at the Met and the MoMA and sitting with the RISD art museum Buddha. Suddenly we were going to openings that featured baby-doll heads, clay mouthpieces, destroyed fabrics, and recycled litter juxtaposed with handmade quilts that read, "Bitch," "Don't Panic," and "Sell Art, Not Pot." It was 1995, my mother had learned, "We're here; we're queer; get used to it," and Allison had just left her husband for a woman who wore feathers.
In July 1996 Allison, freshly single, showed up at our door with a friendly, "Hey, I was in the neighborhood," and never left. Later that year my mother was offered a professional promotion dependent on spending two weeks per month in Wisconsin. Anticipating splitting Emerson College tuition bills with my father, she and Al packed up and headed to the Midwest. This is how they found themselves in the crafts aisle of a big-box retailer, committing life and love to each other. They celebrated with a cone dip from Dairy Queen.
Cut to 16 years later. I'm on a plane flying from Los Angeles to Boston to witness their legally recognized ceremony. DOMA is dead, and my moms' wedding takes place the day after Tracy's wedding ceremony. Tracy has been with her partner Sue for 21 years. They have been my aunts since they day Al moved in, and the moment we all received our rights this spring, we began planning what we call in our family "the gayest weekend ever."
Living in the digital, social age is the perfect time to brand your occasion, and it's especially thrilling since my mother joined Twitter and learned hashtags. She signed up so that she could be part of a contest to have her personal dream tweeted in Times Square on the 50th anniversary of Martin Luther King Jr.'s "I Have a Dream" speech. She texted me that morning:
"MY FIRST TWEET IS UP IN TIMES SQUARE!!!!"
This was the day after my blog post on her wedding engagement went live, and she was on an outrageous high. She tweeted all the day's news to Obama, Ellen, Portia, the Human Rights Campaign, Oprah, Rachel Maddow and Anderson Cooper. On the first day that my mother joined Twitter, she was kicked off for not following the rules. On the bright side, she still had Instagram to hashtag #thegayestweekendever, and Facebook as a platform to post that she didn't care much for Twitter.
I landed in Boston at 5 p.m. on Friday, Sept. 6, to find her text bubble of pink emoji hearts above the line "Serenity prayer during Boston rush hour." After a two-hour, windows-down drive south on I-95, I arrived to an open-floor-plan conversation that confirmed that I was home:
"Don't forget the balsamic," my mother said from her kitchen station. "I'll pick up the heirloom tomatoes tomorrow morning. What else am I in charge of?"
"Honey, can you even believe it?" Sue asked Tracy from the porch. "We're getting married tomorrow."
"I know!" Tracy responded from the dining-room napkin-folding station. "It's my last night as a single lady!"
My mother channeled Beyoncé: "All the singles ladies! All the singles ladies! Wha-wha-whoa!"
"Can't we just watch Project Runway?" Allison pleaded from her living-room duties.
A lot of work goes into planning the gayest weekend ever. Back-to-back lesbian weddings require designated teams and lots of Jonatha Brooke on Spotify. In the kitchen there were master lists, sublists, Post-it notes, breads, cakes, and casseroles. The porch held dishware, flatware, the good china and stacks of tablecloths. The living room sectioned off the early gift pile, ceremony signs, and silver trays of metallic buttons that read, "Wedding 2.0," "Midge & Allison 09.08.13," and the safe words of the weekend: "Worry-Free Zone."
The first wedding took place on a gorgeous farm in South Kingstown on Saturday, Sept. 7, 2013. The grounds were adorned with dahlias, zinnias, mannequins as the welcome committee, strings of newspaper hearts, 100 potluck dishes, and a lesbian wedding piñata made from two conjoined dolls in white tulle. At 2 p.m. Tracy and Sue came down the wedding partition like marathon race winners to our cheers and raised glasses. When their union was official, they kissed, grabbed hands, held up their arms and victoriously cried, "We did it!"
The second wedding was at exactly 9 a.m. the next morning in Tracy and Sue's garden next to the koi pond in front of a granite Buddha. The sun beaming through the lush green was a far cry from my moms' first ceremony under fluorescent lights with strangers in Aisle 9. This time my mom and Allison committed life and love to each other surrounded by friends, family, and New England fall. When the ceremony was complete, I gave Allison a big hug.
"Congrats, Stepmom, for real," I said.
"Thanks, Stepdaughter, for real," she replied.
At 9:15 a.m. we ate cake and scones, and my mother danced to Rihanna.
There's so much to be said about the road leading up to your aunts and your moms getting married in the same weekend, from your car getting keyed in 1992 because you had an equality bumper sticker, to pretending that your mom was straight so that you could get through the lunch table in seventh grade, to coming out yourself and having a tribe of first-generation lesbians to give their opinions on whom you're dating. All the years leading up to this weekend brought my mother to a mid-morning epiphany: "In my 65 years I always thought I was happy, but through this whole experience I have felt levels of happiness I never even knew existed. I never knew I could feel this happy."
On Monday morning she was back on Twitter. It was 45 degrees, and the five of us were enjoying coffee under blankets while Tracy and Sue shared a quick memory about their first weekend getaway together as a couple. They'd been headed north in Sue's red Volkswagen Fox to a gay resort in New Hampshire. Lost in conversation and in complete la-la love-land, they hadn't noticed running out of gas. I asked my aunt Tracy what else she remembered from that weekend, to which she responded, "Hmm, not much. There was a hot tub." Laughter ensued. My mother, on a new plane of happiness, picked up her phone and Tweeted, "#thegayestweekendever." Get used to it.
PHOTO GALLERY
The Gayest Weekend Ever
Calling all HuffPost superfans!
Sign up for membership to become a founding member and help shape HuffPost's next chapter