On Friday, January 16, 2015 at 7 p.m., a portal opened on Hollywood Boulevard. If you were lucky enough to step through this portal, then you discovered the sacred celebration of the Gem and Jam Festival L.A. Pre-Party. A seemingly altered dimension compared to the garish nightlife of Hollywood Boulevard, the classic Fonda theater was populated with a Technicolor array of shining individuals. The smell of bacon-wrapped hot dogs was replaced with the comforting aroma of Palo Santo and the sound of honking cars was replaced with thumping bass and a tooting trumpet. Warm lights and warm faces blanketed you upon entrance.
Curated and hosted by Euphonic Conceptions, the lineup for this psychedelic symphony was euphoric. Soulular, Desert Dwellers, Thriftworks, Russ Liquid and Random Rab decorated our atmospheres with their sound waves. Sailors of the mind and soul, Alex and Allyson Grey, filled our optic nerves with transmissions of love and color as they painted live on stage. In addition to the legendary Greys, visionary artists Sam Flores, Jesse Noemind, Nate Siggard, Vajra, Radhika Hersey and many more live painters, put their souls on display. The magic was tangible.
Soulular began the evening with his unique manipulation of sound, luring early attendees to the dancefloor. He unfortunately played too early for me to catch him. Following Soulular, Alex and Allyson Grey shared their stories and mystical journeys with a completely captivated audience. From this sea of creation has sprouted islands of admirers who are not just fans but a community. Alex and Allyson's love for psychonautics and each other has inspired an entire genre of art. They not only decorate canvases but the walls of the human psyche. The art of the Greys is best seen with your third eye. After a calming speech by the Greys, a wave of bass wafted through the Fonda. Backed by luminous visual artist, Johnathan Singer, Desert Dwellers injected the air with a dose of beats and bass. Tribal dancers dipped and swayed to their worldly, melodious sounds. Desert Dwellers evoke an ancient spirit that is manifested on the dancefloor. I felt as if I was observing an archaic dance ritual. The feeling is contagious.
After falling in love with Thriftworks' newest three part album, Fade, Fader, and Fadest, I was most anticipating his set. Following Desert Dwellers, Thriftworks' bass gulped and gurgled through my ear drums. Sounds of ethereal whispers, sighs and voices traversed the sonic landscape. Paired with 8-bit bleeps, deep distortions and flesh-rippling bass, his tracks sound like music transmitted from another galaxy. I became possessed with the demon of dance, moving and gyrating to his every sound. Hard and gut-throbbing, gossamer and haunting, Thriftworks has achieved a harmonious balance of senses. He ended his set playing a joint track with Russ Liquid who was up next on the decks. With golden trumpet in hand, Russ Liquid combines his love for brass with his love for bass. Amidst this EDM Renaissance which is redefining electronically produced music as an art form, it is always pleasurable to incorporate live instrumentation into the mix. The organic sound of his trumpet mixed with inorganic manipulation of sound stands out in this evolving electronic soundscape. Russ Liquid kept the dance floor shaking with his buttery bass and horny stage performance.
Sunrise set specialist, Random Rab, closed the evening with his soothing and hypnotic sounds. Sampling his own vocals and instruments, he slowly weaned the dancefloor off of their intravenous beats and bass. Haunting melodies drifted through our minds. Random Rab's calming demeanor had the crowd swaying together like a bed of kelp with a bobbing jellyfish entangled in between. A beautiful gathering of minds, art, and music, it is hard to believe that this portal was only a pre-party. There is much to be excited for at the Gem and Jam Festival in Tuscon on February 6th-8th.
As spiritual beings, we have the power of connection. Drowning in a world of cords that transmit energy to and from multiple objects, it is important to unplug our minds and trust in our ability to connect. As the festival community grows, so does our reach. The mind can reach further than the hand or any man made cord. This evening at the Gem and Jam Pre-Party reminded me to unplug, reach out and connect with my fellow humans. In this technological, screen-ridden era, cord free human connection is slowly disappearing, but with the help of love, music and art, we keep that connection alive.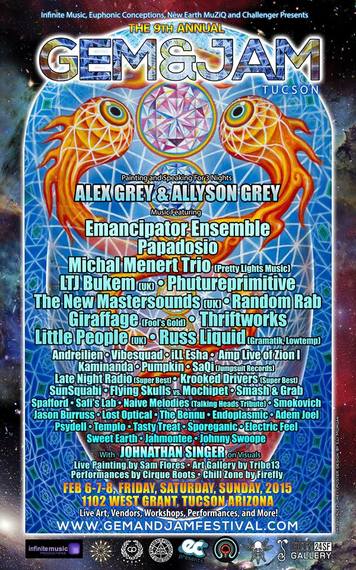 REAL LIFE. REAL NEWS. REAL VOICES.
Help us tell more of the stories that matter from voices that too often remain unheard.