With a new year brings a new festival season. The Gem and Jam Festival in Tucson, Arizona will be once again offering a Los Angeles pre-party on Friday, January 15th. The main event will be going down on the weekend of February 12th-14th but for those who can't make it (or just want a double dose of Gem and Jam), the pre-parties promise to be a delectable taste of this festival.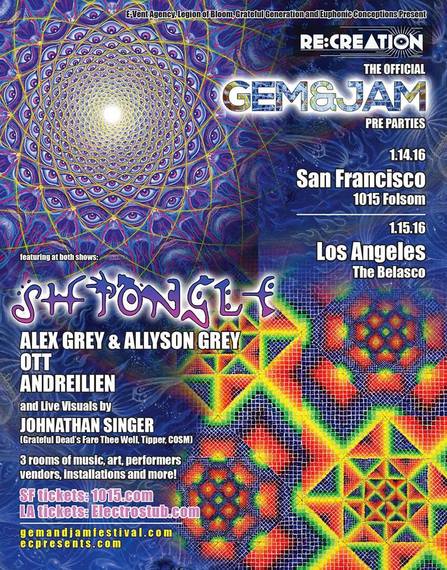 The Gem and Jam pre-party will be a microcosmic music festival, offering a concentrated helping of visionary art, bass music, and vendors. After the success of last year, there is no doubt that this year's event will grow as the festival community continues to expand exponential rate. The Gem and Jam Pre-Party 2016 will be hosted at The Belasco in Downtown Los Angeles, a beautiful theater that oozes with the glamour of old Hollywood. With three rooms of music and art, attendees will have until 4am to experience it all.
Little promotion is necessary for this event as the lineup is so stellar that it promotes itself. The musical guests include Simon Posford of Shpongle, Ott, Russ Liquid, Andreilien, Soulular, An-ten-nae, Mimosa, Huglife Music, Stylust Beats, Dreamers Delight, Worthy, Sacha Robotti, IAMNOBODI, divaDanielle, DJ Loomer and RYOB. There will be 3D mapping by Johnathan Singer and live painting by Alex and Allyson Grey, Sam Flores, Amanda Sage, Dela, Vajra, Gabriel Welch, Peter Goode, Benedigital, Jef Logan, Brad Rhadwood, David Lawell, Anthony Asirios West, Ava Youssefi, Kevin Vigil, and Agapito Doronio.
Though this pre-party is just a fraction of what the Gem and Jam Festival in Tucson has to offer, there will be no shortage of psychonauts, colors, aromas, gems, jams and good vibes. The many facets of Los Angeles will be shining just a little bit brighter on Friday, January 16th.
REAL LIFE. REAL NEWS. REAL VOICES.
Help us tell more of the stories that matter from voices that too often remain unheard.