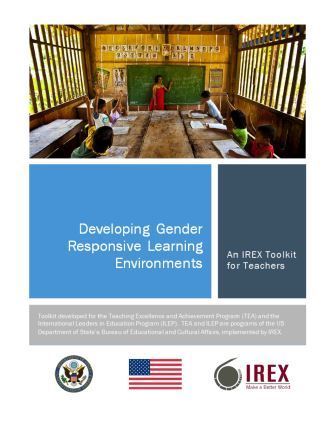 As UN Secretary General Ban Ki-Moon noted recently, "Today, there are 57 million children out of school -- and most of them are girls." Teachers and administrators around the globe are struggling to create school environments that are friendly and supportive to both girls and boys. Yet complex gender-based barriers to education remain, hindering girls', and in some cases boys', access to school and participation in the classroom. For example, girls are less likely to begin school in many places, but boys are more likely to repeat grades or drop out altogether.
In response IREX has compiled a free resource on gender and education - Developing Gender-Responsive Learning Environments Toolkit. It functions as a primer on gender in education with fast facts, a glossary of key terms, and links to important international commitments to gender equality in education. But even more importantly, it offers practical tools that individual teachers can immediately put to use in their classrooms, from developing gender-responsive lesson plans to a girl-friendly teaching checklist.
We have tested this toolkit with over 200 teachers from nearly 50 countries. No single document can fully address the deep and multilayered complexities surrounding gender and education, of course. But, we hope it offers educators insights and concrete resources that they can put into practice to help their students.
IREX is proud to be part of the global movement in support of girls' education and has used this toolkit in conjunction with its own interactive teacher trainings and screenings of Girl Rising, a groundbreaking film about educational equality for underprivileged girls created by 10x10, Intel, Girl Up, and others.
Quality education improves the health of families, increases an individual's earning potential, provides the building blocks for both research and entrepreneurship, and enriches lives. As The Economist notes, "The failure to educate girls limits economic growth in the developing world by wasting human capital."
Simply put, we believe that education is not only a right, but it's the right thing to do for girls, for boys, and for the world.
We would love to hear how you use the toolkit in your schools and classrooms. Please email us at irex@irex.org to share your stories with us!