'It's the most Wonderful busy time of the year'.
'There is work still to finish'
'Presents are looking quite thinnish, but never fear!!'
'Cos parties and pantos and parties all bring us cheer'
''It's the most Wonderful busy time of the year'
(Pola & Wyle (kind of))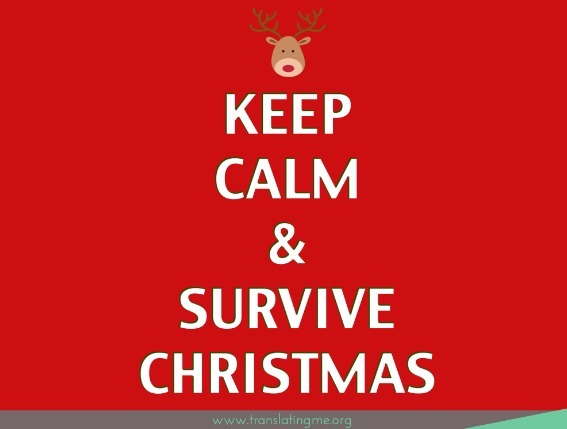 My childhood memories of Christmas are warm, colourful and happy.

I can indulge myself with memories of sitting by the fire being excited to welcome my grandparents home, waking early and hurriedly opening my stocking or running downstairs to see the gifts under the tree. However, my most special memories are the evenns around Christmas, usually before. Going to London to see the lights in a warm train carriage on a cold winters day is beyond exciting for a little girl, and the Ballets and Pantomimes and Christmas carols and festive dinners and friends and family and and and and....I love Christmas.
I am sure there was stress for my parents and I am sure they were tired. I am equally sure there were family fights and other East-enders moments but I don't remember them. My family were together, we ate, sang, played games, and as we got older drank in the pub together. We were present, and engaged in life, long before there were phones, Facebook or email to distract us.
Now as a mother I am trying to create special memories and lasting traditions for my children (For our full list of our traditions pop over to my blog 30 Ideas to Create a Magical Christmas)
I want to bake and Panto and fill the stockings and send letters to Santa both for the children but also for me. However this year I am also going to try to be present during all these events and not constantly thinking ahead to the next event or task.
This year I will try and give my family the present of presence.

My husband is rather annoyingly brilliant at this, when he is in the room we are all he cares about (unless rugby is on). Conversely he couldn't/ would organise a nativity in a barn (new saying, hope it will catch on). We are learning from one another.
This year I am going to play. This means playing with my children and their toys at Christmas but also celebrating properly with friends and family. At the same time my husband is going to organise a PROPER Christmas dinner and the important snacks and drinks. He is a good cook, I am not worried.
We have already sat down as a family and asked what we love about Christmas. Communication is important all year round. The answers were sometimes varied and sometimes predictable:
Ham sandwiches and pancakes in the morning,
Stockings and presents,
Big dinner,
Lots of booze,
Radio 2,
Muppets Christmas Carol
Swim in the sea are but a few.
We have drawn up a manageable list of things to do beforehand, so no gets too burdened down and we haven't set times or events, everything but family can wait. We have removed time from the Christmas table.
We have also promised to act generously this Christmas, not just in gifts but also in affirmation and time and intimacy and service- following the now well-known love languages. We will try and teach our children that this is a time of year about generosity foremost and not just consumption. We can only do this by modelling it out, by being the spirit of Christmas and rewarding the role we all play.
Hopefully if we are successful we can carry Christmas into the rest of year, but also I hope and pray that we can create those same warm, colourful and happy Christmas memories for our family.
Merry Xmas everyone
P.s. miss you mum and dad
Hannah is a British Expat currently living in Johannesburg, South Africa, she works with expats to reinvent their careers. Creating Women Wine and Wisdom and Time for Tea online programmes and founder writer, & speaker at www.translatingme.org and Translating Sport. For updates and inspiration on how to live out your best self sign up now.
REAL LIFE. REAL NEWS. REAL VOICES.
Help us tell more of the stories that matter from voices that too often remain unheard.