On July 20, 2007, when Damien Hirst's infamous shark in formaldehyde was put on display at New York's Metropolitan Museum, the editors of the New York Times took time out from weightier matters to taunt that Hirst had "gone from being an artist to being what you might call the manager of the hedge fund of Damien Hirst's art." The Times editorial sneered that Hirst's genius lay not in his art, but in marketing his work: "That is the real concept in his conceptualism."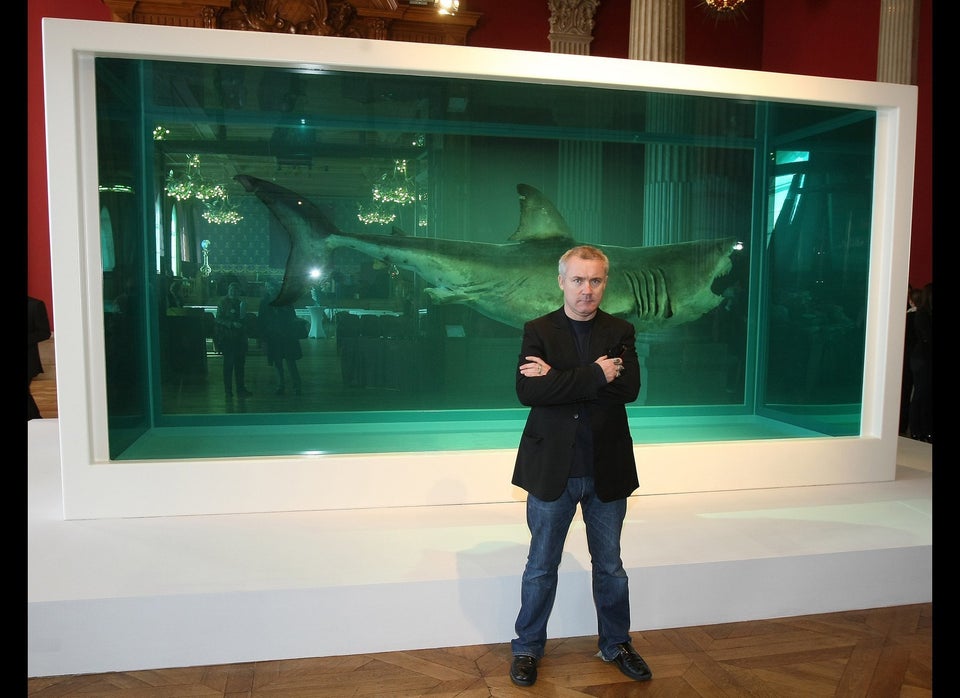 Damien Hirst Birthday
Hirst has since gone on to ever greater heights of both income and publicity. His two-day auction at Sotheby's in London in 2008 yielded more that $200 million. And Hirst has now announced that early next year, all eleven Gagosian galleries worldwide, from New York to Hong Kong, will simultaneously exhibit his spot paintings. This will be followed by a major retrospective of Hirst's art at London's Tate Modern in the spring.
The editors of the Times made a common mistake, of dismissing Hirst as an artist because he is an effective entrepreneur. They might have been more cautious; many critics earlier made precisely the same mistake with Andy Warhol and Jeff Koons, who are now recognized as major figures in contemporary art. Hirst has carefully followed their model. My survey of art history textbooks revealed that Hirst trails only Cindy Sherman, Gerhard Richter, and Koons in the total number of illustrations of individual artists' works executed in 1975 or later. Art historians do not devote valuable space in their textbooks to artists they consider mere hucksters; Hirst, like Sherman, Richter, and Koons, is featured prominently in the narratives of art scholars because he is among the very most influential artists active today.
Hirst has not only influenced many of his peers; he is among the small number of artists who have spawned major artistic movements, and influenced important cultural institutions. The group exhibitions of the work of his classmates that Hirst organized as a student at Goldsmiths College, beginning with Freeze in 1988, led to the identification of a cohort of English artists as the Young British Artists, now widely recognized as the most important movement of their generation. The success of the YBAs in turn helped to create the conditions for the establishment of Tate Modern, now the world's most popular (most heavily attended) museum of modern art. And the very form of Tate Modern, in a converted power plant, owes a debt to Hirst's warehouse shows. In 2000, the critic Jerry Saltz wrote, "Ask anyone on the London scene, 'Did Damien set this in motion? Is he one of the reasons for the new Tate?' and you'll see how much influence he's had. He's their prophet and deliverer, their Elvis and ayatollah." Nor is Hirst respected only in his own country. Arthur Danto, perhaps the most thoughtful critic of contemporary art, wrote in 1999 of The Physical Impossibility of Death in the Mind of Someone Living -- the infamous shark in formaldehyde -- that "The work has in fact the power, sobriety, and majesty of a cathedral."
Andy Warhol wrote, "I have a Fantasy about Money: I'm walking down the street and I hear somebody say -- in a whisper -- 'There goes the richest person in the world.'" As Warhol intended, this offended many in the art world, who cling to the hypocritical tradition that artists, unlike others in our society, should pretend to be uninterested in money. Damien Hirst has expressed his admiration for Warhol's honesty, and his statements about the Sotheby's auction echo his illustrious predecessor: "I like walking down the street and getting recognized by businessmen... Now businessmen are thinking, that man's made £100 million in a single night."
In their 2007 editorial, the New York Times declared that "No artist has managed the escalation of prices for his own work quite as brilliantly as Mr. Hirst." If Andy Warhol were alive, I'm sure he would be proud of Hirst for provoking such impressive free publicity, though I suspect he would also be a bit hurt by the Times' judgment that Hirst has surpassed him as a career manager.
Popular in the Community