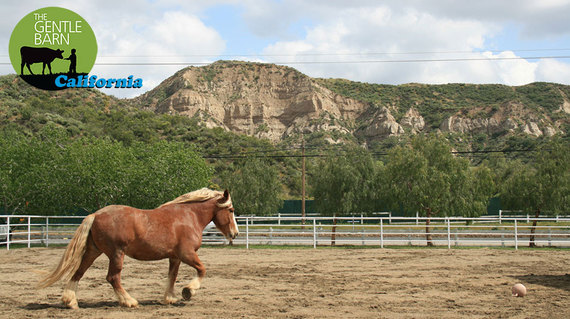 The Gentle Barn was founded 17 years ago by Ellie Laks in her back yard in The San Fernando Valley. Today it is located on a much larger property in Santa Clarita just thirty minutes north of Los Angeles and they have a location in Knoxville, Tennessee also. The Gentle Barn was Ellie's dream since she was seven years old when she started telling everyone that when she grew up she would have a big place full of animals to show the world how beautiful they were. Now The Gentle Barn is now a national organization that helps animals and people alike.
The Gentle Barn gives shelter to unwanted animals - animals that are too old, sick, or lame to be adopted. They have horses, cows, pigs, sheep, goats, chickens, turkeys, llamas, peacocks, dogs, cats, donkeys, and emus. Once the animals are healthy they are given sanctuary for the rest of their lives. And when the animals are ready, they help heal people with similar stories of abuse and neglect.
Through their "Peace Enhancement Program," The Gentle Barn offers programs for at-risk, inner-city, and special-needs children, as well as war veterans, seniors, victims of domestic violence, people recovering from drug, alcohol, or gang affiliation - anyone who needs some hope and unconditional love. They also host school field trips to teach children tolerance, kindness and confidence.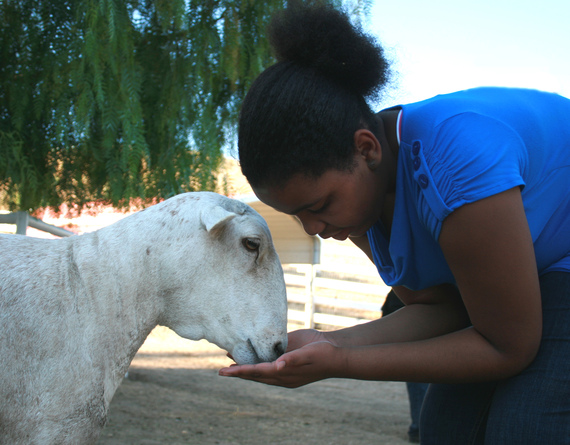 Ellie told me that when she was young she had a hard time fitting in with other children and turned to animals for comfort. "Animals were always there to beckon me back to life and make me feel wanted, loveable, and valuable," she said. Knowing first-hand the healing qualities of animals, Ellie always had a dream that she could heal animals - and once healed the animals could work with her to heal people. To date Ellie's dream has helped hundreds of thousands of people who walk away from The Gentle Barn feeling a little brighter and more hopeful. It is Ellie's goal to have a Gentle Barn in every state and help and heal more animals and people.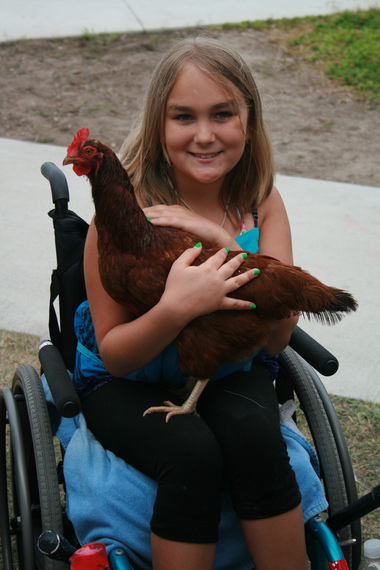 Board treasurer Marc Hernandez told me, "I remember my first visit to the Gentle Barn. I sat down and listened to Ellie give a short talk about how and why she founded the organization. Her constant love and compassion for animals - from saving a little bird as a child to caring for over 170 animals presently - was deeply expressed that morning. I walked up to her, gave her a hug, and vowed I would do anything I could possibly do to help the Gentle Barn organization."
You can visit The Gentle Barn every Sunday from 10-2 to hug the cows, feed the horses, give the pigs tummy rubs, cuddle the turkeys, and hear their stories of resilience. For more information please visit www.GentleBarn.org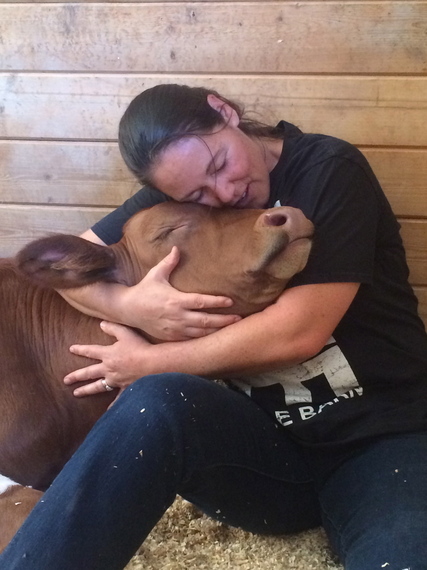 Related
Popular in the Community