Surrounded by gorgeous mountains, cow and horse pastures, shady trees and organic vegetable gardens, the Gentle Barn is a sanctuary that rescues animals and at risk youth.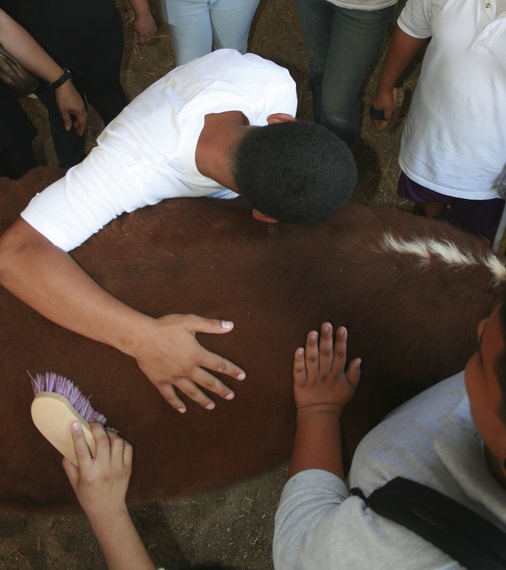 I had the honor of meeting with Ellie Laks, the founder of The Gentle Barn, and I was moved to hear about how opening a place like the Gentle Barn, was her dream since she was seven years old. She wanted to bring home stray animals that no one wanted and together, she and the animals, would invite in all the lonely people and let them heal with her. Animals were always very healing and nurturing to her. They saved her when she felt lonely and depressed. She would turn to animals for support, love and nurturing and noticed how when they chose to be with her, they made her feel wanted. They helped her find herself, fit in, feel understood and face the challenges of growing up.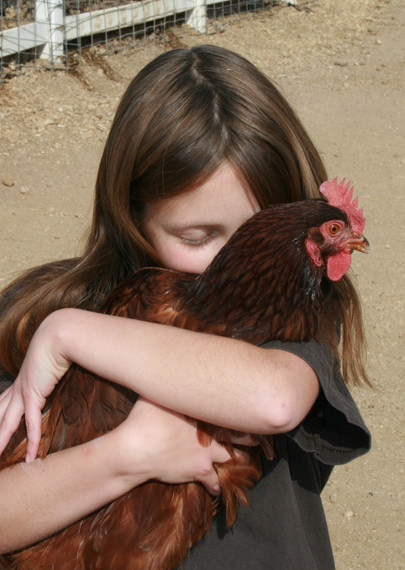 This is why Ellie decided to start her innovative therapeutic program for At-Risk Youth. Her unique approach teaches kindness, compassion and empathy for all living beings, to neglected, abused, and troubled youth, many of whom are on probation, or had been involved with gangs. Research has shown us that when children are abused, they often turn their hurt around and abuse animals, and other people. According to Ellie, it is believed that "if we can reverse their behavior and outlook toward animals, there is hope that we can prevent them from harming people later on."
The animals at The Gentle Barn all have histories of abuse, neglect, and abandonment, similar to the children in the At Risk program, which makes it easy for participants to relate to the animals. Ellie told me that very often, they see youth inspired by the realization that these animals have found safety and happiness, and that they have learned to forgive and trust again. Through the animals, the children see that change is possible, and, as a result, they begin to open up, and feel safe. The animals, with their unconditional love and non-judgmental attitude, can often reach kids more deeply and effectively than people can.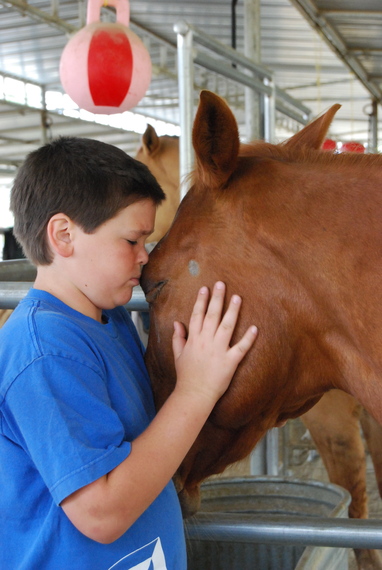 Today our child welfare system is in a state of emergency. Hundreds of thousands of children experience abuse, and neglect and many of these children are too angry or shut down to talk about their experiences and they are not responding to therapy. Unfortunately, so many of these children face, homelessness, sex trafficking, drug use, criminal activity, incarceration and death. The Gentle Barn offers this creative approach, through mindful and hands on activities, and through talking indirectly about the animals stories, which has proven particularly effective for youth who are not improving in traditional therapy.
Ellie explained to me that "through the animals stories, they begin to identify, open up and become vulnerable, and gentle. As the children learn to love the animals, they begin to understand themselves and learn to heal and hope." Through relating to the animals experiences, the youth feel seen and heard, and not alone. According to Ellie, "they see the animals happy, despite the unimaginable abuse they had endured in their past, and they start to believe that if we are willing to love the animals, no matter what, no matter how angry they are, it shows we can love them too."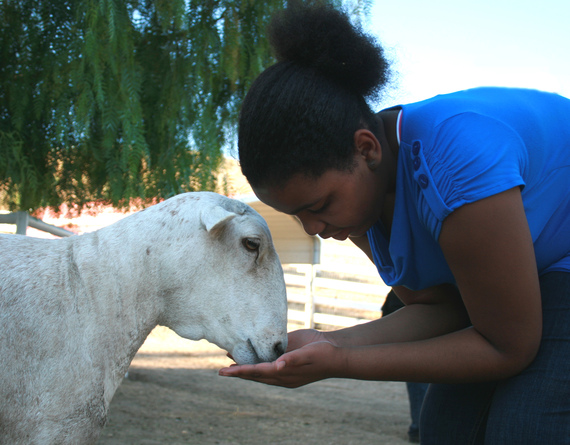 It is very inspiring and emotional to see ex gang members, and youth on probation cuddling a turkey, hugging a cow, and giving a pig a belly rub. When at-risk youth are taught to walk the horses, they don't even realize that they are practicing leadership skills as they are taught to look where they are going, and proceed with their heads high and shoulders back.
The program also includes a farming aspect which teaches the youth to nurture and create as they put their hands in the earth and plant vegetables. They enjoy hikes into nature, where they talk about resilience, and Ellie and the counselors point out "how the forest can look dead, but, in the Spring, everything blooms, everything blossoms, reminding us that life and hope is there." Ellie told me that she takes the youth to the top of a mountain, where in 2007, as far as you could see, everything was burnt and destroyed, and she explains to them that "with a little spring, sun, love and water, it all sprung back to life."
The success rate of this program is incredible. According to Ellie, many of these youth end up going to college, getting married and coming back to visit the barn years later with their families.
The ultimate goal is to open Gentle Barn's across the country so that every animal and child can have a place of healing and safety.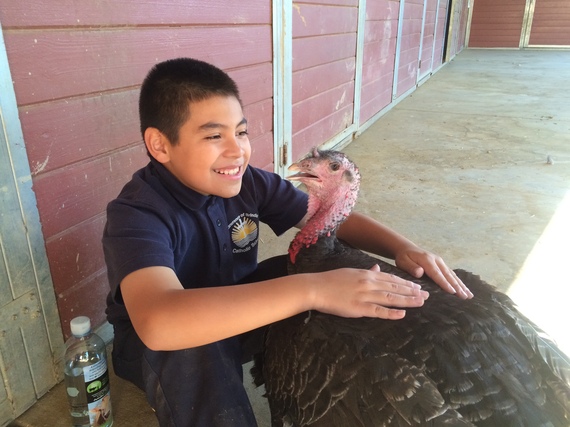 The Gentle Barn is open to the public in California, on Sundays 10am - 2pm and in Tenesee, on Saturdays from 11am - 1pm. Here is their website for more information. www.gentlebarn.org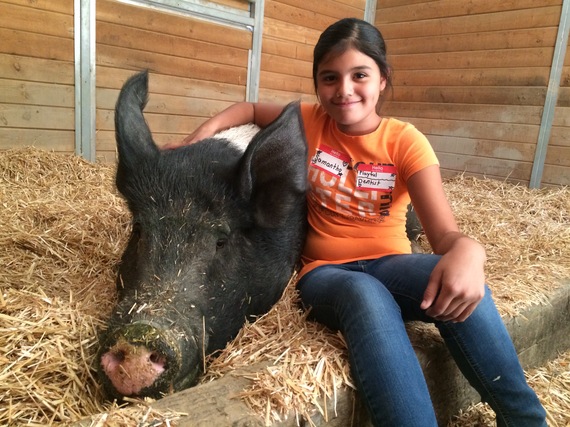 Related
Popular in the Community