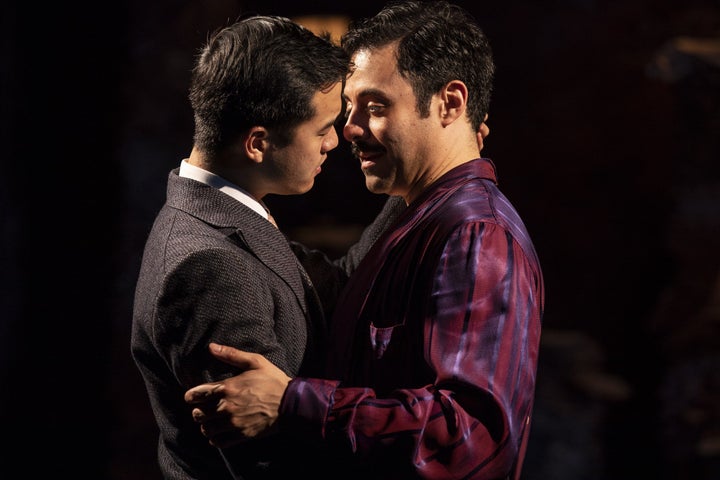 In "The Gentleman Caller," Daniel K. Isaac and Juan Francisco Villa portray two legendary playwrights of the 20th century. Though the story they're depicting is over 70 years old, both actors hope that audiences see their off-Broadway dramedy as anything but a historical slice of life.
The play, which opens Thursday at New York's Cherry Lane Theatre and is produced by the Abingdon Theatre Company, is a fictionalized take on the complex real-life relationship between playwrights William Inge (Isaac) and Tennessee Williams (Villa). Working as a drama critic for a St. Louis newspaper, Inge invites Williams, who is gearing up for the 1944 premiere of "The Glass Menagerie," to his apartment for an interview.
That interview really did take place, and Inge later acknowledged Williams as a mentor who inspired his own decision to write for the stage. For "The Gentleman Caller," however, playwright Philip Dawkins researched memoirs, journals, newspaper articles and personal correspondence to depict what he believes may have happened between the two gay artists in private. In his version, their meeting of minds evolved into a rivalry that was ripe with sexual tension. (Given Williams' romantic history, literary scholars have speculated that he and Inge were lovers; questions over the nature of their relationship also formed the basis of the 2017 play "Billy and Me.")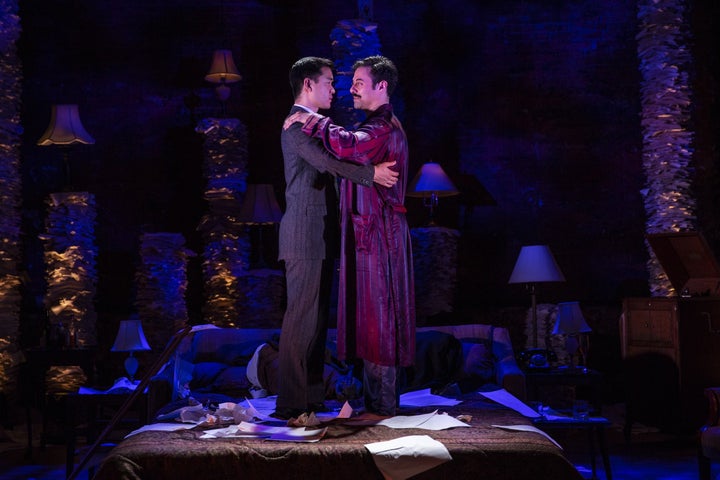 Much of the comedy in "The Gentleman Caller," directed by Tony Speciale, is driven by the characters' contrasting temperaments. Villa plays Williams as unapologetically crass, while Isaac's Inge is a deeply conflicted introvert. That contrast allows the actors to present two very different takes on how gay men might have grappled with their sexuality at a time when same-sex relationships were still illegal in the U.S.
"Tennessee Williams talked about everybody and everyone he slept with. He gossiped about everyone he ever encountered," Isaac, best known for his recurring role on Showtime's "Billions," told HuffPost during rehearsals. "But Inge was very private and closeted and tried to keep a remove [between] his work and his private life."
"The Gentleman Caller" had its world premiere last month in Chicago, starring Curtis Edward Jackson as Inge and Rudy Galvan as Williams. That production earned respectable reviews, with the Chicago Tribune calling it "engrossing" and "a carefully researched affair."
The Abingdon Theatre Company's production, however, breaks away from its predecessor by casting actors of color to play both of the historically white figures (Galvan is of Mexican descent). Villa is of Colombian descent, and Isaac is Korean American. Both actors believe the casting will "inform, enhance and deepen" the experience for a New York audience.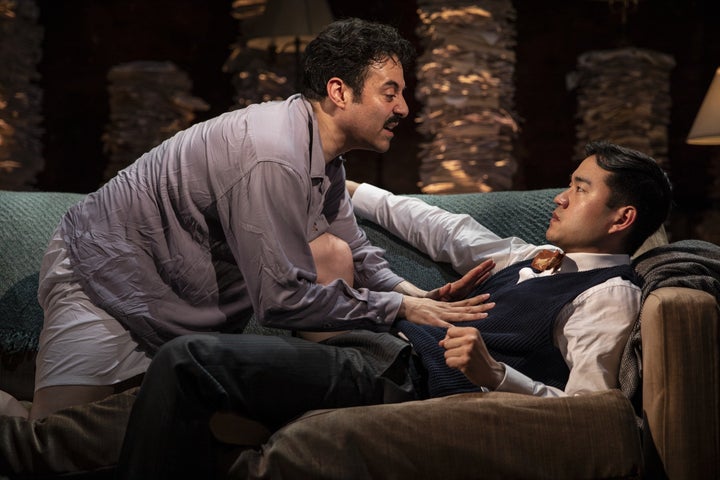 "Philip wanted to look at who these two artists would be today, and our casting reflects that," Villa, whose credits include "Madam Secretary" and "The Blacklist: Redemption," said. "We portray them as artists in their 30s who are dealing with the problems that artists in their 30s deal with, and not as the icons that we know them to be."
While "The Gentleman Caller" may not be as overtly political as those plays, Isaac believes his show's casting is, effectively, a statement in its own right.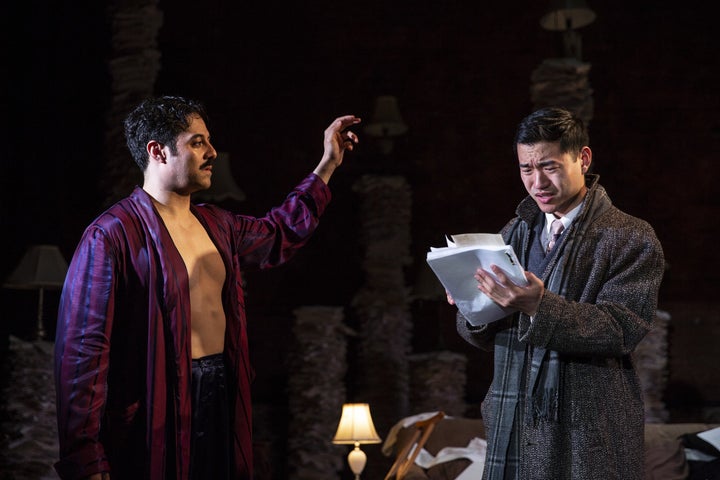 "I think homosexuality or otherness has been explored only through a white lens for the majority of the time. While these are historically white characters, we are getting to see their story portrayed through two people of color," he said. "That's something to be said about the bravery of the artists we're working with."
Ultimately, Isaac sees "The Gentleman Caller" as portraying "two queer people trying to create a safe queer space for each other, before queerness and queer safe spaces existed." Its message of inclusivity, he added, will resonate deeply at a time when many in the LGBTQ community believe their rights are in danger.
"I'm a strong believer that community and family doesn't necessarily come from blood relations, it's created. While it may not have been true for their entire lives, these two did create it for a moment in time," he said. "That was a revolutionary act when the world and society was conspiring against them. Here we are in a world that I think has turned to conspire ― at least very recently ― against otherness. So it feels urgent again, which is all the more reason to tell this story."
"The Gentleman Caller" opens May 10 in New York.
CORRECTION: A previous version of this story suggested the Chicago production of "The Gentleman Caller" featured white actors in the two lead roles. In fact, one of the actors is of Mexican descent.
Popular in the Community