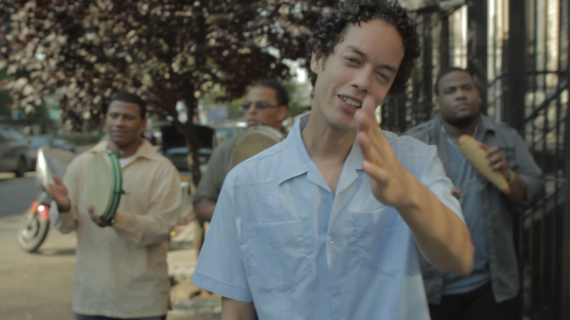 Since I moved to Bushwick, New York in early 2013, I've witnessed the rapid neighborhood changes commonly identified as "gentrification." With Bushwick bordering the notoriously hipster home of Williamsburg, it's easy to recognize the changing social and economic landscape of Bushwick as a reflection of gentrified Williamsburg -- three dollar sign restaurants, rising rent and young freelancers posting up at coffee shops eating acai bowls. My rent alone for a three-bedroom apartment in Bushwick jumped to a $300 increase after one year. I wasn't lying when I said the changes are happening fast!
Williamsburg off the Bedford L stop has gotten so popular (and overpopulated), corporations such as Whole Foods, Madewell and Dunkin Donuts are moving in. The historic Domino Sugar Factory is getting torn down for new development and construction of another high rise condominium has started on Kent Street & N 6th. I wouldn't be surprised if Williamsburg looked more like Manhattan over the next few years. In addition, with the influx of people and corporations in Williamsburg, it isn't surprising that the changes are spilling over into Bushwick.
While attending the CineCause Women's Initiative in Los Angeles last week, I met a talented actress and filmmaker who created an original web series about the inevitable gentrification I've been witnessing around Bushwick. It's called, "East Willy B," and it perfectly packages the story of Brooklyn's changing neighborhood with humor, wit and style.
East WillyB chronicles the adventures of Bushwick Sports Bar owner Willie Jr., and his motley crew of bar regulars, as they deal with the trials and tribulations of living in an ever-changing Brooklyn. Named the "Latino Show for the New Generation," by the New York Times, East WillyB is a fresh new comedy which explores the humors and tensions when cultures collide in the face of gentrification.
Check out the first episode below.
While observing the changes of Bushwick and interacting with long time residents around the neighborhood, it's important that I recognize my own role and presence as a factor in the gentrification process. Sure, I'm not a trust fund kid; but being college educated and having advanced career opportunities put me in a privileged demographic that proponents of gentrification (like my landlord) will want to take advantage of. So am I part of the problem? Yes. Can gentrification be stopped? Probably not. Is it possible for development to happen while integrating the livelihood of longtime residents and diverse cultures? Keep your eyes on Bushwick and find out.
REAL LIFE. REAL NEWS. REAL VOICES.
Help us tell more of the stories that matter from voices that too often remain unheard.