WASHINGTON ― The race for Georgia's Republican gubernatorial nomination is all about the culture war.
The three leading candidates have aired ads showing themselves wielding rifles and handguns. One declared he owned a "big truck" just in case he needed to round up criminal illegals and "take them home myself." Not to be topped, another started a statewide tour with a "deportation bus."
The attention-grabbing ads and stunts have highlighted a seven-candidate race in which, should none get more than 50 percent of the vote in Tuesday's primary, the top two finishers will advance to a late July runoff.
The frontrunners are Lt. Gov. Casey Cagle and Secretary of State Brian Kemp.
In one of Kemp's ads, he holds a shotgun while "interviewing" a young man interested in dating one of his daughters. The requirements for wooing that daughter?
"Respect and a healthy appreciation for the 2nd Amendment," the suitor replies.
The uproar generated by the ad could help Kemp stand out in a field that includes former state Sen. Hunter Hill, state Sen. Michael Williams and former Navy SEAL and businessman Clay Tippins.
Cagle also holds a gun in one of his spots, as a narrator brags about his endorsement by the National Rifle Association. The NRA's backing came after he pushed an amendment to kill a tax break benefiting Georgia-based Delta following the company's decision ― in reaction to February's mass school shooting in Parkland, Florida ― to end a discount program for NRA members flying to the group's national convention. (Never mind that the discount program was rarely used.)
Hill, who has the endorsement of Sen. Ted Cruz (R-Texas), released an ad where he shoots a target and argues the age requirement to buy a handgun should be lowered to 18 from 21. "As governor, I won't give an inch on our 2nd Amendment," he says in the ad.
But those ads were just a set-up for the biggest free media play in the race: Williams' deportation bus, which he drove around the state, promising "to fill this bus with illegals and send them back to where they came from. He would do so by implementing a program that allows state and local police to enforce immigration law under a partnership with the U.S. Immigration and Customs Enforcement agency.
It worked. Williams received attention from local and national media, even landing an interview with Fox News ― a prize for any candidate in a competitive GOP primary. (Williams also received plenty of mockery when the bus briefly broke down.)
The winner of the GOP primary will face one of the two Democrats, both former state representatives, in November: Stacey Abrams or Stacey Evans.
The DCCC vs. Laura Moser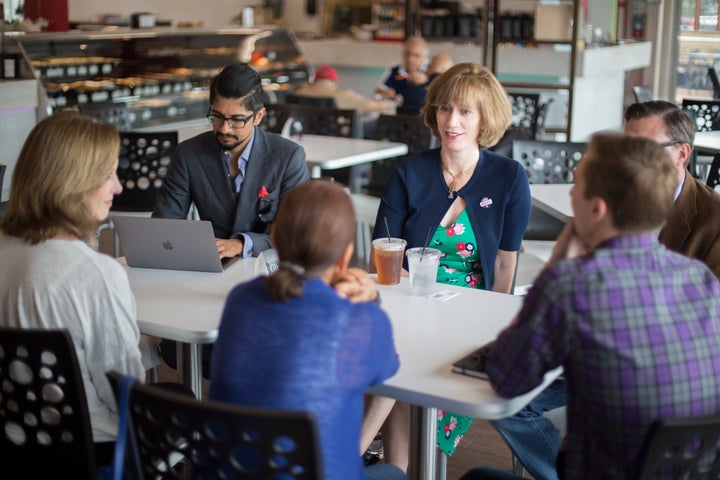 The showdown between journalist and activist Laura Moser and lawyer Lizzie Fletcher has become much bigger than a normal race for a House district nomination.
The decision by the Democratic Congressional Campaign Committee to attack Moser as unelectable turned the contest into a symbol of a broader battle between progressive candidates and the national party apparatus. That drove donations to Moser, helping to lift her over other candidates in the March primary and into a runoff against Fletcher, who has the backing of EMILY's List.
The runoff campaign between the two fizzled somewhat ― The Texas Tribune labeled the contest "boring," and the progressive energy and money animating Moser's insurgency appears to have dried up.
The winner of the race will face Rep. John Culberson in a 7th Congressional District centered around west Houston. Democratic presidential nominee Hillary Clinton won the district by fewer than 2 percentage points in 2016. If Moser does pull off a win in the runoff, the race will become an instant test of whether progressives can win despite Democratic establishment doubts.
The Club For Growth Takes Texas
The Club for Growth, which views itself as the enforcer of GOP orthodoxy on free-market economics, has had an up-and-down few years. Its attacks on Donald Trump in the GOP presidential primaries were unable to stop his march to victory. Still, they ended up loving his tax cuts ― while hating his proposals to enact tariffs and restrict free trade.
The group sees a slew of open House seats in heavily Republican territory in Texas as a chance to reassert its influence. Club for Growth Action, the group's political arm, has aired TV ads in four different districts in the run-up to Tuesday's GOP runoffs. The group backs Michael Cloud (who's also been endorsed by former Texas GOP Rep. Ron Paul) in the 27th District, former Cruz chief of staff Chip Roy in the 21st, local official Ron Wright in the 6th, and GOP activist Bunni Pounds to replace Republican Rep. Jeb Hensarling in the 5th.
Pounds, Cloud, Roy and Wright are all expected to join the House Freedom Caucus if elected to Congress.
Remember Georgia's 6th District?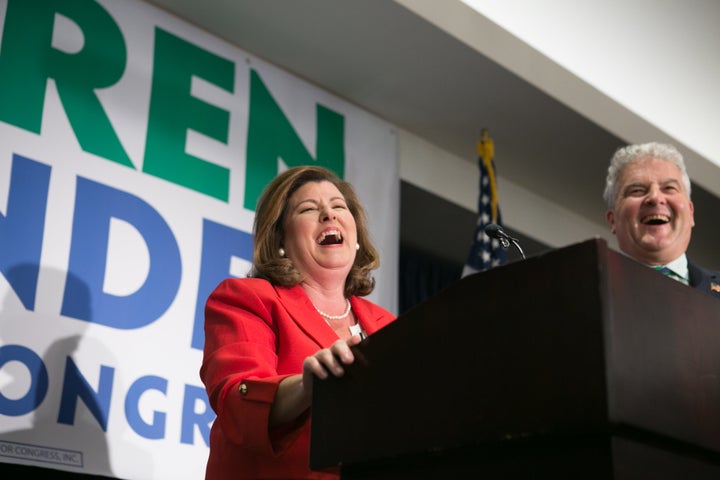 The special election last year to replace then-Health and Human Services Secretary Tom Price in Congress turned into the most expensive House race in the nation's history, with over $40 million spent on TV and radio advertising alone. In the end, Republican Karen Handel triumphed over Democrat Jon Ossoff in an early test of Democratic resistance to Trump.
The Democratic primary to challenge Handel this year has been sleepier, to say the least.
Former TV news anchor Bobby Kaple has raised the most money in the field, and earned the endorsement of former Gov. Roy Barnes and former Atlanta Mayor Andrew Young. Kevin Abel, a businessman, also amassed a significant war chest.
But the late entrance of Lucy McBath, a former Delta flight attendant who became a gun control activist following the shooting death of her son, could shake up the contest. McBath only entered the contest following the massacre in Parkland, but has the backing of EMILY's List. Also supporting her is Everytown for Gun Safety, the Michael Bloomberg-backed group where McBath previously worked. The group has spent more than $500,000 on TV ads supporting her.
Popular in the Community