It wasn't guys with rhymes who started hip-hop. It was guys with turntables, extracting five seconds of the beat from five minutes of a song.
"The deejays were the ones who invented hip-hop," says Grandmaster Flash, who should know because he was one of them. "The rappers were important, too, but they didn't come along until a few years later."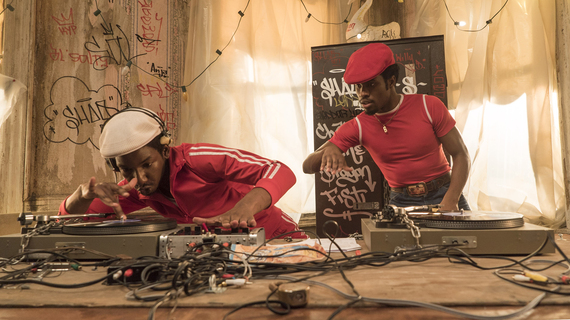 This distinction, along with a lot of other musical and cultural history, forms the core of the new Netflix drama The Get Down, which drops Aug. 12 on the streaming service.
The Get Down, set in the South Bronx in 1977, blends a group of young fictional characters with real-life pioneer hip-hoppers to show how their music began its unlikely and meteoric ascent from a vaguely dangerous street-corner pastime to the world's dominant popular music sound.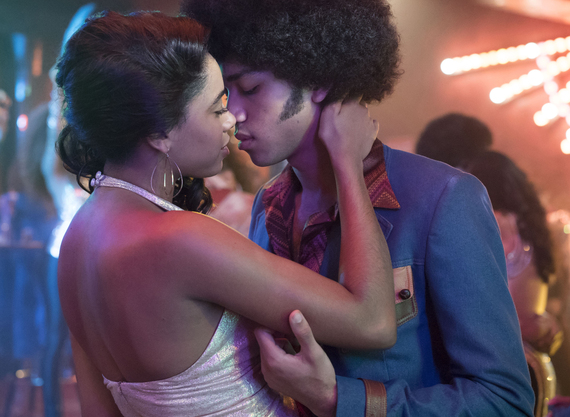 It focuses on a mysterious, elusive aspiring deejay named Shaolin Fanastic (Shameik Moore), who falls into a partnership with a group of musical kids that includes writer Ezekiel "Books" Figuero (Justice Smith) and gifted young singer Mylene Cruz (Herizen Guardiola) (above).
Books has the skills to write poetry and lacks the confidence to put it out to the world. Mylene's father is an evangelical preacher, played by Giancarlo Esposito, who will go to almost any length to keep her from singing the secular music she loves.
Like their family and friends, they live in a world of barely controlled chaos. The South Bronx in 1977 looks like a war zone, with whole blocks reduced to piles of rubble. Traditional services like policing and firefighting struggle to keep up and gangs have moved in to fill some of the void.
At the same time, The Get Down doesn't paint this world as doomed. There are committed teachers. There's a big-money developer and connected hustler named Papa Fuerte Cruz (Jimmy Smits), who is as interested in making life better for the residents as he is in making money.
Mainly, the young characters have a sense of hope, energy and possibility, which Flash says reflects his own experience growing up there in the 1960s and 1970s.
"We didn't have much," he says. "But I had people who encouraged me. I had turntables and I knew what I was looking for: the beat."
That's what The Get Down is about - hunting for the beat, capturing it and incorporating it into something new.
"A record is, say, three minutes long," says Flash. "And right in the middle there's a drum solo. Maybe it's only five seconds. Or two seconds. But to me, that's the record. The rest doesn't matter. What I wanted to do was find a way to take that beat, those five seconds, and make them last 10 minutes."
The solution was to get two copies of the record, set up two turntables and keep playing just the good part - the "get down" - in continuous sequence.
"I was working on that in the late 1960s," says Flash. He and South Bronx peers like Kool Herc and Afrika Bambaataa started playing house parties and block parties and by the mid-1970s their mix had become the silent shadow of disco. While the radio world was playing Donna Summer, the kids on the corner in the Bronx were hearing Flash, Herc and Bambaataa.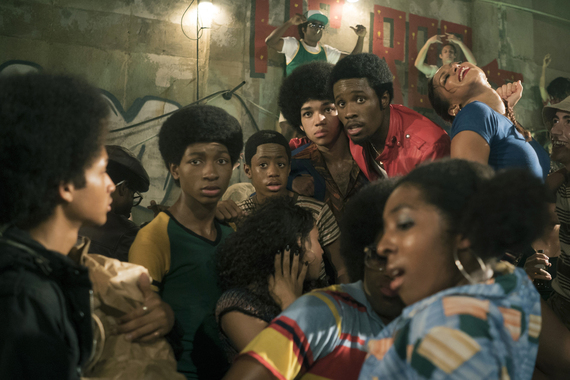 But what's critical to remember here, says Flash, is that it wasn't a competition between musical styles. "Hip-hop wasn't separate from all other styles of music," he says. "Hip-hop incorporated all those other styles. Disco, R&B, popular music, rock, jazz, blues. When I listen to any of those things, I hear hip-hop."
The Get Down explores the thousand tiny dramas of hip-hop. When deejays set up a party in the park, they might tap into the base of street lights for power. Deejays would scour record shops all over the city for obscure records - often "cutouts" that had been abandoned by their record company - with great drum breaks.
Deejays, Flash explains, were one of three core elements in the hip-hop movement, along with break dancing and graffiti.
Rappers were originally the "emcees" whose job was to help keep the show flowing. They were an add-on to the deejays. It was only later, as emcees developed more sophisticated rhymes, that the spotlight shifted to what came to be called rapping. Lyrics also made the music easier to get on the radio and sell.
Flash says he understands that evolution. But what shouldn't be forgotten, he says, is that the deejays are where it started, and they have never gone away. They're still the ones who find the beat, who integrated all those other genres into hip-hop and who today keep pushing the music ahead.
That's what The Get Down is all about, says creator/director Baz Luhrmann, who spent 10 years shaping the idea and putting it on film.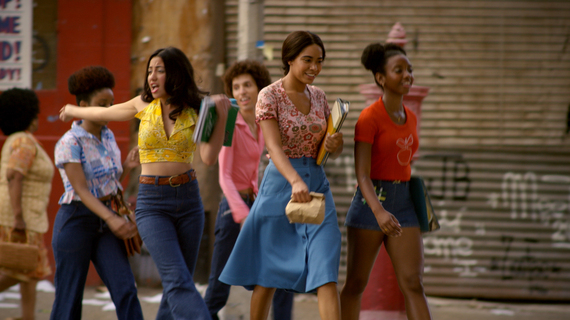 In its final form, The Get Down frames those early years of hip-hop inside a story of families and a community.
"The Get Down is part documentary and part mythology," says Flash. "What's important is that the story it tells is the truth."
REAL LIFE. REAL NEWS. REAL VOICES.
Help us tell more of the stories that matter from voices that too often remain unheard.