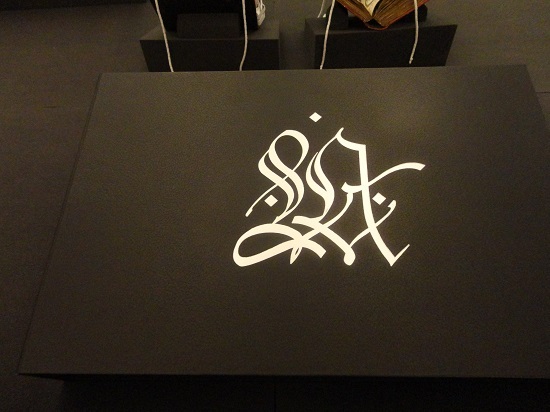 Several years ago I watched a program on A&E's Biography program, the 100 Most Influential People of the Millennium. Amongst the countdown were some of my heroes: Vasco de Gama, Simon Bolivar, Thomas Hobbes, Benjamin Franklin, Pablo Picasso, F.D. Roosevelt, Marco Polo, Machiavelli, Bill Gates, Vladimir Lenin, Rousseau, Mozart, Copernicus, Galileo, Leonardo Da Vinci, Karl Marx, Albert Einstein, and at the number one spot was the phenomenal -- Johannes Gutenberg, for inventing the moveable printing type in Europe and launching the printing revolution in the modern world. After all, where would we be without books? Books have launched revolutions, created religions, saved lives, provided the foundation for education, inspired philosophical thought, encouraged world wars and spearheaded art movements. In short, books took us out of the Dark Ages.
So when David Brafman of the Getty Research Institute was approached by art collector Ed Sweeney to assist in the development of a modern-day rare manuscript, he understood the historical implication it represented. Equipped with a PhD in philosophy from Duke University in Classics and Arabic, and having taught at prominent universities in New York, he made the move out west several years ago to take a position as a curator of rare books. Since then, he has played a pivotal role in the acquisition of several liber amicorum manuscripts, (latin for "book of friends") ranging from the 1500's to the 1700's, depicting scenes of historical battles and coats of arms, along with printed books from the Renaissance that teach calligraphy, perspective, hieroglyphic symbols, and even an engraved catalogue of horse-branding from 16th-century Venice.
As Ed Sweeney and David Brafman leafed through several manuscripts, the closest similarity related to style and use of pen-and-ink, pencil drawings, water colors, and other tools, all of whom inscribe authographs and tell stories of peregrinations, excursions, and adventures, were the current graffiti writers. I can remember many years ago when I first started tagging and practicing lettering, that everyone had a piece book (black book) to practice their technique and style, show it off, and have friends write in it. If you saw someone on the bus with a book, you knew what they represented. Those same books also told stories of adventure, although some more daunting than others such as going to prison, getting shot, getting arrested or getting murdered.
Our history in Los Angeles during the '80s and '90s, related to graffiti and gangs, was a direct result of the political, social and cultural ramifications of the Cold War and the Age of Coldness, which influenced an art style that was dark and progressive. From this concept, the curator and collector understood the relationship between an ancient concept and a modern-day practice. Several graffiti writers were approached and given an opportunity to go to the Getty Research Institute and examine the rare manuscripts, and to grant them the opportunity to be a part of the entire process, from birth to execution. It was no mystery that these artists would identify with these books of friendship, thus the Getty Black Book was born.
A handful of artists who took lead on the project were given sheets of paper, specific sizes, to hand out to friends, and contribute a piece to the manuscript which would be bound into a single work of art. One hundred and forty-three artists responded. The cover page was designed by Joe Reza, Prime from K2S, who executed one of the finest lettering styles with an L.A. silver typeface on a black background. In my opinion, he created the new symbol of Angeleno patriotism, like the Dodgers symbol, but with more style and finesse, which also represents the direction that Los Angeles is moving in, world-class, bold and creative. Moreover, I will quote Prime, "The book is not the best of Los Angeles, it is a black book, a book of friendship that made an impact on our lives, a book of friends, unsung heroes, some even locked up."
I agree, some of the work I saw in the book was questionable while others like: Chubbs, Prime, Cab, Defer, Big sleeps, Cale, Crayola, Jack Rudy, Slick, Retna, Kofie, Chris Brand, Chaz, Axis, Betoe, Cryptik, Patrick Martinez, The Phantom, and Skill demonstrated true craftsmanship. The book is at the Getty Research Institute. This summer in June at the El Segundo Museum of Art, along with Getty staff, Lisa Cambier, who is Project Manager and Curatorial Assistant on the project, you will have the opportunity to see a live book of friendship laboratory as six different artists from the manuscript were chosen to co-curate a wall, along with their group of collaborators. I am looking forward to Defer's wall, along with his comrades: Big Sleeps, Prime, Gajin Fujita, and Patrick Martinez, as they transcend boundaries and create an unprecedented masterpiece that originated in the dark streets of Los Angeles.
Photos courtesy of Rodrigo Ribera d'Ebre 2014
Popular in the Community