I thought I saw a ghost this morning. I was walking down Amsterdam Avenue and I saw a glamorous elderly woman dressed in violet, stopping on the corner to catch her breath. I had to stop and look again, because for a moment I thought it was Lia Van Leer, who passed away this March.



It was exactly a year ago that this legend came to be honored at JCC Manhattan's Israel Film Center Festival. She spent a week walking the streets of New York with her iconic walker and seeing old friends who are all icons in the film industry. She knew everyone. Lia symbolized an era of film appreciation that is sadly passing.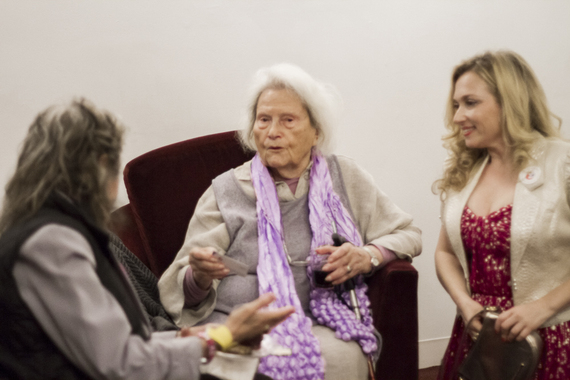 Lia Van Leer established the Jerusalem Cinematheque and the Jerusalem Film Festival, an oasis of progressive culture in a chaotic region. The Cinematheque was a true film center like no other. Even in New York City, it is hard to say that a place like this exists. Lia lived in another time and another place. Her grace stood out (especially in the Israeli context) and touched every element of her work. Her style and class trickled down, from the design of the building to the atmosphere at the events.

I spent many of my formative years in Jerusalem and learned much of my film appreciation from the Cinematheque. In the days before streaming gave you access to lost and found cinematic treasures, the Jerusalem Cinematheque brought all the classics, art-house films and even the quality Hollywood gems to the public. They offered a student rate on memberships that was incomparable. But it paid off for them, as it provided for a generation of youngsters an entry to new and classic films beyond the blockbusters.

The Jerusalem Film Festival was the crown jewel of the Cinematheque's programing. Ten days of a true international festival under the most glamorous settings, beneath Jerusalem's Old City walls. Opening night is always a magical outdoor screening held in the ancient valley of Sultan's Pool, and the week features the finest new films and great parties like at no other festival I have been to. Lia hosted the parties and events like a queen and gave them an international quality.

Crowds would flock from all around the country and the world to see the films of visiting filmmakers. This was the one week when secular audiences came to Jerusalem for culture. For me, it was days of food for my brain, as I would walk home late at night after hours filled with watching film after film, losing track of time space and reality.

When I was drafted into the Israeli Army, I was stuck in a strange loophole with the Cinematheque. I was not a student, and they did not offer a special membership discount for soldiers as they felt there was no demand from that audience. I however, served in the IDF's film unit which was more like a day job, and was home every night, hungry for film. I argued with the unpleasant woman at the box office that soldiers should get the biggest discount, but she turned me down.

I decided to write a letter to Lia, and a few nights later I received a call at home. Lia called me directly to tell me that she got my letter and approved my request. I felt like it was the President calling offering me a pardon. When I went back to the Cinematheque to retrieve my reward, the same woman at the box office felt it was her personal mission to keep me out of the Cinematheque. She claimed to never have heard of this approval and denied that Lia would ever call me at home. And then, like an act of god, her phone rang. "Oh, hi Lia" she said. "There is a soldier..." before she could get another word out of her mouth, Lia magically made it happen. As I rejoiced, the woman saw this as a personal loss. As she laminated my membership pass, she melted my picture, making my face look a bit like the Elephant Man. I took this as a symbol of my victory and proudly showed my warped image at the Cinematheque doors every night.

But it was not just the access the Cinematheque provided to films, it was the curation and the programs they created that made it special. All-night David Lynch film marathons, retrospectives of French New Wave directors, thematic programing and comparative films shown back to back. This is the area that is needed most in a world of endless access. The role of the curator and the film programmer has never been more crucial to help us sort through this sea of media.

Today, Jerusalem has become more polarized and the need for this oasis is more necessary than ever. In addition, like in other places around the world, film festivals are popping up on every corner in Israel. After Lia's passing, the Cinematheque is at a crossroads. Over the years, since Lia gave up the reigns, the festival lost some of its charm and support and internal issues held it back from developing. But new blood has come into the organization and there is now an opportunity to bring Jerusalem back to its golden era.
We live at a time were the communal experience of film watching is shifting. Teens feel that going to the movies is the experience for older people and would much rather access most films on their various devices. Hollywood has become more void of content than ever before. We need film festivals and Cinematheques like the on in Jerusalem to keep this experience alive.

I look forward to the new leadership at The Jerusalem Film Festival taking the program to fresh and exciting places, and see this as an opportunity for new directions and growth. It will be strange to be in Jerusalem without Lia. I can't imagine a festival without Lia showing up late in the day, out of breath from the walk, dressed in white, handing out pouches of lavender to guests. Every year I save her handmade pouches and bring a scent of this magical week home with me. A blessed memory indeed. Her Life's story was told in a film from a few years ago that premiered at the Berlin Film Festival.