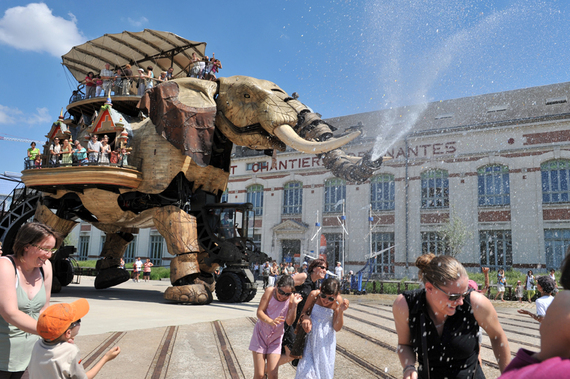 "Les Machines de l'île" is a fantasy artistic project created by François Delarozière and Pierre Orefice -- a crossover dream mixing Jules Verne's invented worlds with the mechanical universe imagined by the genius of Leonardo da Vinci.
Two hours from Paris with the TGV (bullet train), the city of Nantes' industrial history, where the creatures are located, landed itself well to the adventure, located on the site of a former shipyard. A ray manta, a sea snake, and a gigantic elephant are part of the visionary universe of their creators.
The Grand Eléphant ride is a 30-minute voyage atop the magnificent animal, while it sprays around massive amounts of water, just like a real one. Besides the elephant's main attraction, a vast gallery houses many other giant animals, such as an ant, a heron, and a caterpillar.
Also in the park, a marine carousel, 82 ft. high and 72 ft. in diameter, showcases various sea creatures from all the world's oceans: the Giant Crab; the Reverse Propulsion Squid; Deep-Sea Lantern Fish; plus Jellyfish, in a raging whirlpool of 24 big mechanical waves.
An exploring machine that dives deep and a bathyscaphe climbing a central mast are part of some 14 elements fixed onto a rotating plateau completing the carousel.
Nantes is a city in the western part of France, on the Loire River banks, of about 9000,000 residents. Only 30 miles away from the Atlantic Ocean, it is one of the largest town in the province of Brittany.

More info:
Closed now for the winter holidays, the park re-opens Feb 6th.
Watch a video of the elephant.
Questions / Comments = sidoniesawyer@gmail.com
Visit my website for more stories.