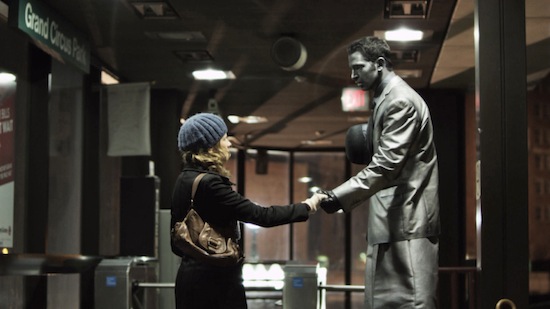 Your soulmate could turn out to be that performer on the street corner, the one you pass each day on your way to work:
In Lee Kirk's wonderfully romantic upcoming Tribeca Film release, The Giant Mechanical Man, Tim (played by Chris Messina) is a devoted street performer, whose unique talents include painting his face with metallic pigment, donning a grey suit and stilts and standing perfectly still in front of street audiences for money -- hardly the kind of high art that pays the bills. But one day, he meets Janice (Jenna Fischer), and their shared inability to grow up to what society considers proper adulthood sparks a connection. Kirk got the inspiration for his film when he was living in Chicago, where, he explains "there's a lot of really great avant-garde theater in Chicago and I was always a fan of those performers, those artists. They'd do shows in the theater where there'd be ten people but they were so passionate about it and kept doing it. I admired that."
Sometimes real life is even better than the movies:
In case you didn't already know, Kirk and the film's star and producer Jenna Fischer are now married. They are also the proud parents of a seven-month old son. They met because Fischer was looking for a film to produce and Kirk's idea immediately felt right to her. But while discussing the project, they found themselves organizing meet-ups just so they could see each other again. He confesses "pretty soon, we were just planning meetings as an excuse... meeting to talk about our film over dinner or the movies." When I tell Kirk that the story of his film is now my new ideal for a great romance, he discloses, "in the process of making this film, Jenna and I fell in love and got married. So, I think that's probably why you feel that, because there was a lot of romance happening as I put the film together."
With enough willpower, you can make a film for the price of a small NYC apartment:
The Giant Mechanical Man is a feat of filmmaking: 19 days of shooting in the dead of winter in Detroit for a total budget of $900,000. It features some of the most beloved stars of indie filmmaking, like Fischer, Messina, Topher Grace, Malin Akerman and Rich Sommer for a final product that will leave you utterly in love with the story and the characters. Had Kirk had his way the film would have been shot in Chicago: "In my head, the film took place in the fall in Chicago and we shot in the winter in Detroit, so it was very different," he told me, but "the reason we shot in Detroit is because Michigan gave a huge tax incentive and we were able to afford to shoot there."
Ultimately, Detroit lent itself perfectly to the story because, Kirk explains, "it's a grayish city with spirit, much like the mechanical man" but his main concern while filming there was "snow... I mean it's hard for the audience to get behind a guy when you say God, you're kind of an idiot out there in the snow and ice doing this stuff." But thankfully, the weather cooperated.
Art has its challenges, but in the end, it's all worth it:
The tagline for the film is "What if only one person understands your art?", which will ring true to anyone who has ever opened their laptop to write, dabbled in acting or picked up a paintbrush. Kirk is one of those multitalented individuals who make up for their genius by being really, really lovely. When I ask him about his favorite aspects of being a filmmaker, an actor and a writer and the challenges of each discipline, he confessed "acting is very exciting when it works. I especially like acting in the theater," while he said "the downside of acting is that you need someone to give you permission to act, someone has to give you a job." That's why he started to write, because he was tired "of waiting for the phone to ring." Kirk confirms that writing is best done alone and what he loves about it is "the time you have to spend with your thoughts, figuring something out, your feelings." The downside for him is "when you get stuck and you write your way into a corner, that's always very frustrating." Filmmaking presents its own obvious challenges which include, in Kirk's words, "just getting a movie made, pounding the pavement, keeping the script afloat, keeping it in people's heads and getting the money together." His favorite part of the job is "being on the set." He continued, "directing actors is so much fun and so fulfilling when you see it work. It's a collaboration, so when an actor brings something unexpected it's so exciting to see them make it their own."
Life is all about getting your priorities straight:
At the end of our interview, I ask Kirk to think of three words that describe him. He obliges and his answer says it all "now I would say dad, husband and... I guess I'd have to say filmmaker."
The Giant Mechanical Man, a Tribeca Film release, begins a limited theatrical run on April 27th in NYC and May 4th in Detroit, with personal appearances at select screenings by Jenna Fischer and Lee Kirk. It is also currently available through your local cable company's VOD, iTunes, Amazon and VUDU.
Top image ©Doug Emmett, all courtesy of Tribeca Film, used with permission
Popular in the Community