Bosses day is Friday, October 16th. While it's a day described as one where employees show appreciation to bosses. I find it a bit uncomfortable. I never want my employees to feel obligated to do anything out of the ordinary. Instead, I always think, it is a day that makes me pause and reflect gratefully that I am a boss. That's because as a boss, (I'm the CEO of Aegis Living, a senior housing company with 2,000 employees across the west coast.), I have the power to impact my employees who nurture and care for an equal number of senior residents. And I consider the people who are on the front lines of our care and service the most important in our company. So this year, I decided to do something kind of crazy.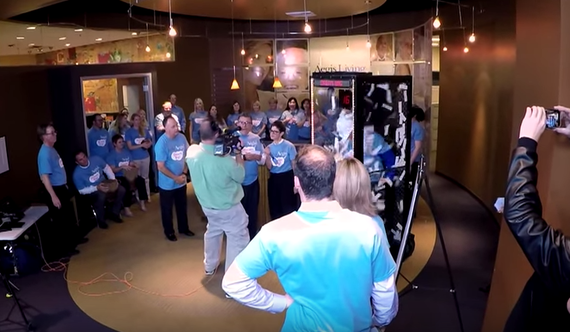 A few weeks ago, I gave away $50,000 in an employee lottery. I wanted to reward employee loyalty outside of traditional pay and benefits in a way that encourages them to stay and shows them how much they are appreciated.
My belief is that we needed to do something disruptive. If you really want a look at how disruptive, please watch our Facebook video and hear the high-pitched screaming! It was caught on smartphone video when one of our employees heard me call her name during our live streamed lottery event from our home office in Redmond, Washington. I had just read her name: Irene Magana.
Irene who works as a care manager at Aegis of Aptos in California and she had just won our grand prize of $35,000 in cash! The video has gone viral on our Facebook page with more than 103,000 views so far and has become a rather galvanizing moment of joy in our company. That's because everyone who works with Irene loves her. Before I announced her name in the event that we dubbed the Dream Big Lottery, I called 15 other names of employees who had won $1,000 prize each. It was a pretty hysterical high energy event that involved pounding rock music and stuffing our CFO into a large cash box with fans blowing papers bearing employee names on them.
The results have been so heartwarming to me personally, that it makes me think, Wow, I'm lucky to be able to do this. Irene is now planning on buying a home. She had lost hers in the recession. Others are putting their cash prizes into their children's college, transportation or one is visiting her sick father in Africa. I didn't expect our company moral to be at an all-time high. But it is. To keep the momentum going, I thought, let's make more dreams come true! So in March, we're planning to give away vacations to a bunch of people. Our Dream Big Trips will include vacations to Disneyland, Las Vegas and Hawaii. I can't wait to see who on our staff will have their names pulled for those.
So on Bosses Day, when I look back at where I was 30 years ago, (a one-time state prison guard), to where I am now, I certainly don't take my position for granted. Sure it's been hard work. The road to building your own company is not a 9-5 job. But I look at the opportunities and possibilities that I have to make positive impact on people's lives in our company and I see how they in turn, make positive impact on our residents lives and I can't help what I feel. I just feel lucky.
Calling all HuffPost superfans!
Sign up for membership to become a founding member and help shape HuffPost's next chapter