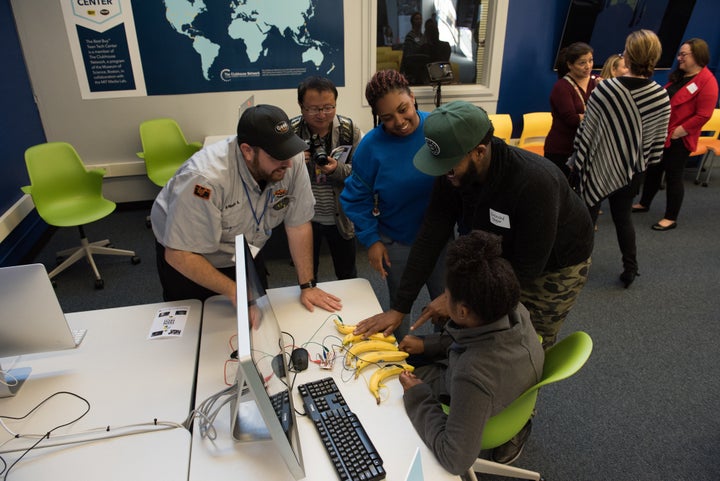 Americans almost universally believe that success and prosperity are achieved through initiative, hard work and perseverance. If only it were that simple. Today there are obstacles facing young people in lower-income communities that only widen the opportunity gap. Urban youth lack access to quality education and to basic technologies, such as the Internet.
The significance of technology access and knowledge in establishing a positive career trajectory can't be underestimated. In the coming decade, 77 percent of all jobs will require technology skills. Yet dependence on technology is now so ingrained, it is easy to overlook the millions of people in our country who lack basic tech understanding and resources – creating a ripple effect for our nation's economy and future.
This holiday season, as we reflect on a decade of serving the technology education needs of youth, I am sharing a few lessons Best Buy has learned about unlocking talent and preparing underserved youth for a brighter future. Through our growing network of Teen Tech Centers and other community-based programs, we are awakening the potential of technology for tens of thousands of young people. In service to this future generation of engineers, entrepreneurs and dreamers, we have come to recognize that: 
Tech consumers become creators: Hands-on training in stimulating fields such as digital music and film production, digital photography, coding, 3D design, robotics and more promotes active learning. By introducing ideas in new ways, young people realize a myriad of career possibilities through technology. Our partner at Denver's Gold Crown Foundation said it best: "Sometimes students learn career skills and don't even realize it at first, because they're applying a familiar concept without making the link between the skill they've mastered and a job."

 

Exposure to tech creates opportunities for life: Ralph Waldo Emerson said, "Be an opener of doors," and with the right opportunity, students can do that for themselves. That's what Devonte Gooding, an alumnus of the Teen Tech Center at the FBR Branch Boys & Girls Club of Greater Washington, taught us. After taking photography classes there, a chance meeting at an art auction selling his photos led to a first-ever photo internship at the U.S. Department of Energy. He's not alone: in a 2015 survey, 92 percent of youth said they believed they would use the skills learned at these centers in their future careers.
Employees also are more engaged in a purpose: Employees can be the most passionate advocates of an organization's mission. A PwC report found workers "most committed to their organizations put in 57 percent more effort on the job," and research from the University of Georgia Terry College of Business found that employee volunteerism raises job performance and increases overall satisfaction. In 2015, our employees donated nearly 90,000 volunteer hours to helping underserved teens and others in their local communities. 
Partnerships galvanize potential: With the unique perspectives of industry, government and local community partners, we can deliver the access and quality of programming that fits the needs of youth, no matter where they live. This locally-driven model works: when opening up its coding lab in Oakland, Google conducted a listening tour with local organizations to understand their needs – designing with the community, not for them. Similarly, Minneapolis teens enthusiastically attend the GRAMMY Foundation's camp, working with music professionals and production software to create, edit and mix tracks and express their artistic ambitions. 
A gift that keeps on giving: Closing the nation's opportunity gap is a complex, difficult task. But by offering the technology education we know ignites young people's potential, we can and will continue to be part of the solution. When we unite our partners and employees, and engage the communities in which we live and work, we collectively empower youth who are our nation's best chance for success.
Calling all HuffPost superfans!
Sign up for membership to become a founding member and help shape HuffPost's next chapter